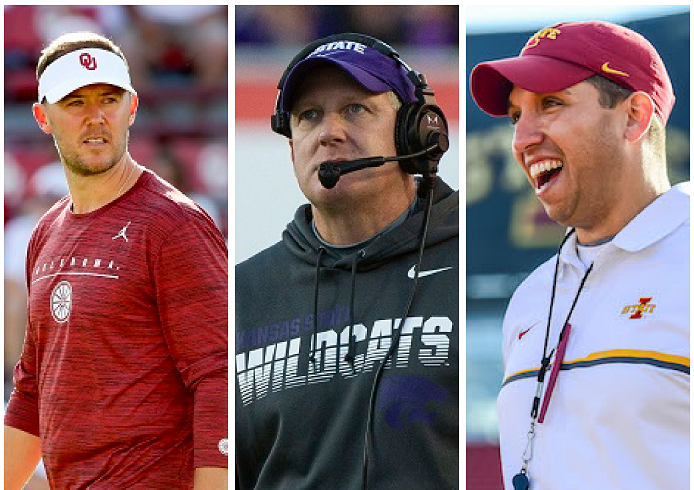 As we continue through the college football offseason, every coach finds himself at a different place in his career and with his program. Some are trying to take the next step from great to excellent, others are looking to snap a streak of mediocrity, while others are on the proverbial hot seat and need to show serious improvement to keep their jobs. But regardless, all these coaches are at the top of their profession, so this is always a tough challenge. But, as we enter the 2021 Big 12 football season, let's go ahead and rank the coaches in the conference.
1. Lincoln Riley, Oklahoma
The haters will say that Lincoln Riley inherited one of the best programs in the sport and just kept a good thing going. However to be in your early 30's, take over a blue blood and win four-straight Big 12 Championships, go 45-8 over that stretch and 30-5 in the Big 12 is an incredible feat. Put another way, Riley has never NOT won a Big 12 Title as a head coach. Now the challenge for Riley is to get over the hump in the CFB Playoff to play for a National Title. And this season he just might have the defense to do it.
2. Matt Campbell, Iowa State
Matt Campbell built up his coaching prowess at Toledo and then took his talents to Iowa State where he has turned around a program that's traditionally been at the bottom of the Big 12 standings into one that played for a conference title last season and will be a preseason Top 10 team this year. Campbell is 70-43 as a head coach and 35-28 at Iowa State, while going 26-19 in Big 12 play. Unfathomable for a coach at Iowa State until he came along.
3. Gary Patterson, TCU
We go from the young guys to the vets in Gary Patterson, who has been the head coach at TCU since 2000 and has coached in three conferences. He's won the conference title in three conferences (Conference USA, Mountain West, Big 12) while at TCU and has gone 178-74. Yes, TCU is on a three-season streak of mediocrity, but Patterson has still proven himself as a coach who can win at every level and taking a program from the Mountain West to a Power 5 and winning the conference in three seasons remains a very impressive feat.
4. Mike Gundy, Oklahoma State
Mike Gundy is going on 16 seasons at Oklahoma State and has taken the program from mediocre to consistently in the Top 25, while occasionally competing for a conference title. He's 137-67 and 83-55 in Big 12 play. The 2011 Oklahoma State team should've played for a National Title and had they gotten into that game, Gundy just might have a natty to his resume. He's finished the season in the Top 25 eight times during his career, and while some might give more credit to T. Boone Pickens for the facilities upgrade, we can't take anything away from Gundy and what he's accomplished.
5. Chris Klieman, Kansas State
Speaking of National Championships, Chris Klieman has won four of them, in the FCS at North Dakota State. After going 69-6 in five seasons there, he took the Kansas State job to take over for Bill Snyder and is 12-11 overall and 9-9 in Big 12 play. Starting this season, we will have a better idea of what Klieman has accomplished on the recruiting trail as he enters Year 3.
6. Neal Brown, West Virginia
Neal Brown has been a head coach for six seasons at Troy and West Virginia and has gone 46-27 overall. In two seasons at West Virginia, he's 7-10 in conference play. At Troy he won one conference title and while there is still a ways to go for WVU to be in that conversations in the Big 12, his 2022 recruiting class is proving to be an impressive one. Brown was reportedly considered for the Auburn job this offseason, proving he's highly regarded around college football.
7. Steve Sarkisian, Texas
Steve Sarkisian is the new head coach of the Texas Longhorns, and while expectations are incredibly high, there is a lot for Sarkisian to prove. He's 46-35 as a head coach at Washington and USC, while obviously his USC tenure didn't end on a good note. There is a lot for him to prove in one of the most pressure-packed jobs in college football.
8. Matt Wells, Texas Tech
Matt Wells has been a head coach for eight seasons at Utah State (6) and Texas Tech (2). He's 52-48 between both jobs. He has not won a conference title in either place, and has struggled in the Big 12, going 5-13 in two seasons in conference play in the Big 12. His time at Utah State fluctuated as well, including a 3-9 season and a 10-2 season. The jury remains out on Wells and 2021 will be a telling season.
9. Lance Leipold, Kansas
Lance Leipold certainly has experience as a head coach, but obviously the Big 12 will be a different beast. He's won six National Championships at the Division 3 level at Wisconsin-Whitewater. Then at Buffalo, he won his division in the MAC twice, while going 37-33 as their head coach. If he somehow manages to take Kansas from being the worst Power 5 program in the country into decency, it will be one of the great turnarounds in college football history and he will fly up this list.
10. Dave Aranda, Baylor
Dave Aranda has been a great defensive coordinator during his career, with stops at places like Utah State, Wisconsin and LSU. But his one season as a head coach didn't go as planned with a 2-7 record at Baylor. However, it was an incredibly difficult situation to enter with the COVID-19 issues as a first-time head coach. Aranda can also move up this list quickly if this turn around fast in Waco.