Big 12 News
Bob Bowlsby 'Had No Clue' if Football Would Be Played in 2020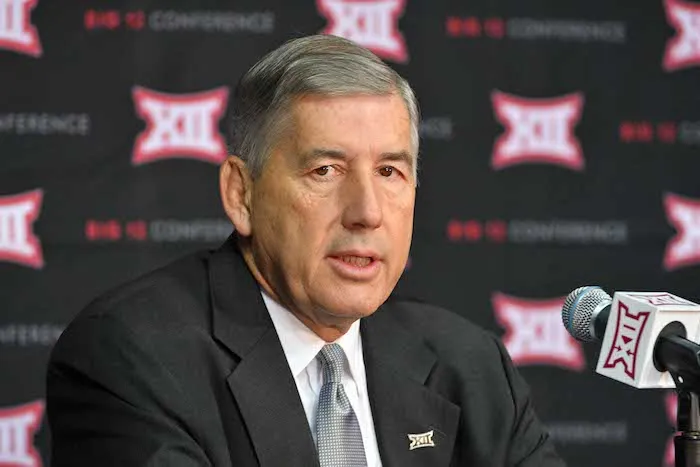 Bob Bowlsby said on Wednesday that at this time last year "we had no clue if we would be playing football in 2020," as he kicked off 2021 Big 12 Media Days on Wednesday in Arlington.
Bowlsby proved reflective at the start of his time with the media. It's the first time Big 12 has held football media days since July of 2019. The COVID-19 pandemic canceled Big 12 Media Days in 2020, and at this time last year most college football conferences were trying to navigate.
"It was a long year," Bowlsby said. "Frankly, I'm exhausted. I wasn't excited about revisiting protocols for this fall. But if you're honest with one self, you have to be honest with yourself and say, 'We wish we were done with it, but we're not.'"
This time last year Bowlsby was meeting with his Power-5 colleagues every day to try and navigate the pandemic and make sure that a football season could be played. Once the Big 12 got going, Bowlsby noted that 90 percent of its events throughout the 2020-21 season were played without delay or cancellation.
He talked about the beginning of the summer last year, trying to figure out if football could be played. And, while he credited Big 12 staff, he also talked about how the players had a significant role in making sure football could be played. Bowlsby said they had a lot of questions about eligibility, opting out and what would happened if they tested positive for COVID-19.
"That's one of the reasons we go through the year the way we did," Bowlsby said. "The student-athletes were bought into the confidence that those questions could be answered."
Bowlsby sounded optimistic about the upcoming season, but noted that his athletic directors did not "warmly receive" bringing up COVID-19 protocols for the 2021-22 season. Bowlsby said there will be protocols for the upcoming school year, and the league is working through those right now. He noted the Delta variant will influence their discussions, as will whether players anc coaches are vaccinated or not. Bowlsby made a plea for everyone to get vaccinated.
"Frankly, anyone not being vaccinated is taking an unnecessary risk," Bowlsby said. "And that isn't just athletes."
Bowlsby added there have not been any decisions made on protocols for the 2021 season and that those decisions "will be made in the next 30 days".
READ MORE: Top Five Storylines to Watch at 2021 Big 12 Media Days
READ MORE: HCS Mailbag: Bijan Robinson Hype, Big 12 Statistical Leaders and Iowa State Fans Dreaming
The 2020-21 athletic year was, of course, anything but normal.
It actually started in March of 2020 when the proliferation of COVID-19 caused the shutdown of major college and professional athletics for several months. Most college and professional leagues were looking for a path forward in the summer. The Big 12 was, in fact, one of the major college conferences that led the way in terms of trying to find a balance between competition and safe play. The Big 12, the ACC and the SEC were the three power conferences that chose to augment their football schedules, as opposed to outright canceling them (the Big Ten and Pac-12 did, and later came back for a truncated season).
But the Big 12 wasn't immune to COVID-19, of course. As early as June of last year football players were testing positive for it, including ones at Oklahoma State. Most Big 12 football programs had to suspend practices at some point in the summer and fall, with Texas Tech reportedly working with 21 active COVID-19 cases in August. Some schools were transparent in reporting COVID-19 numbers, and some weren't. But the football season was played, with a few cancellations along the way (Baylor's schedule was the most impacted), and at least two football coaches — former Kansas boss Les Miles and Texas Tech head coach Matt Wells — tested positive.
Basketball season saw similar issues, but the Big 12 planned for some of them by re-doing its league schedule and planning time at the end of the season to make up games. Baylor's Scott Drew tested positive in November, while TCU's Jamie Dixon and former Texas coach Shaka Smart tested positive in January. Every men's team in the Big 12 was impacted by COVID-19, but the league was able to play its conference tournament in Kansas City and send its team to the NCAA Tournament, which Baylor won for the first time.
And the best news? A study by the American Heart Association noted in April that researchers found signs of possible, probable or definite myocarditis, or heart inflammation, in 21 of 3,018 athletes (0.7 percent) who had tested positive for COVID-19. Myocarditis was a significant concern to medical experts as a potential side effect of COVID-19.
You can find Matthew Postins on Twitter @PostinsPostcard.
**Want to win a $20 gift card? Go sign up here and join our conversation! The best poster each week wins a gift card to your favorite establishment!**