Big 12 News
Bob Bowlsby: The 'Sky Didn't Fall' on NIL Day on July 1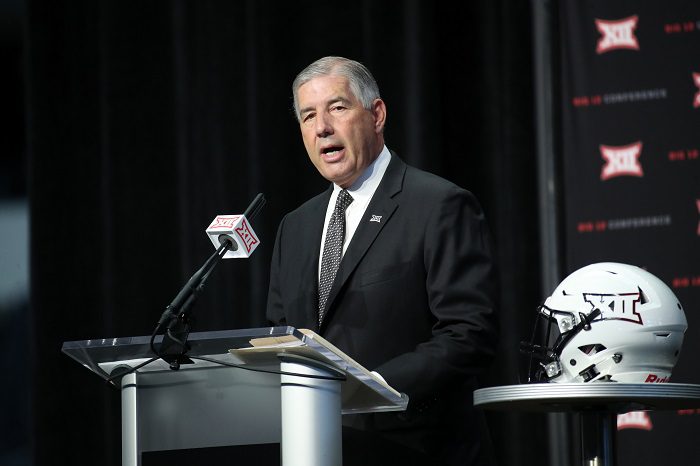 Big 12 Commissioner Bob Bowlsby was happy to let everyone know that the "sky didn't fall" when NCAA players were free to start selling their brand via NIL (name, image and likeness) on July 1.
During Wednesday's state of the conference discussion, Bowlsby ranked Name, Image and Likeness as one of the top three issues that he's dealing with from a competition standpoint. Fourteen days in, Bowlsby noted that while the ride has been a bit choppy, it's hasn't been as if the rug has been pulled out from under college sports, either.
"There was a commonly-held misperception that the sky was going to fall on July 1 and we would be in some sort of Armageddon scenario," Bowlsby said. "That hasn't happened. Some things have occurred that raised eyebrows. But by and large schools are managing it well."
Now that's part of the landscape, Bowlsby wants some consistency to how it will work across the country, though he knows that is going to take some time.
"We have to live with the confusion for a while," Bowlsby said. "I couldn't tell you what conduit we'll have to follow to resolve it, whether it be state, federal or NCAA (legislation). We'll get to something other than a 50-state patchwork eventually."
READ MORE: Top Five Storylines to Watch at 2021 Big 12 Media Days
READ MORE: HCS Mailbag: Bijan Robinson Hype, Big 12 Statistical Leaders and Iowa State Fans Dreaming
NIL is now a part of the college sports landscape, whether the NCAA, athletic directors and coaches like it or not. The final trigger was a Supreme Court ruling and concurrent opinion in June. The Court ruled unanimously in the Alston vs. NCAA case that colleges could no longer bar colleges from providing student-athletes with education-related benefits.
That same day, Supreme Court Justice Brett Kavanaugh wrote a concurrent opinion in which he blasted the NCAA's current model for NIL as it relates to student-athletes, writing that the NCAA isn't 'above the law.'
NCAA president Mark Emmert had been pushing somewhat tepidly for nationwide language on NIL by July 1, which was the date that several states had their own statewide NIL legislation that would take effect. Emmert even went to the U.S. Congress to lobby for legislation, and while there are bills under consideration, none are being imminently considered.
On June 30, the NCAA Board of Governors approved the suspension of the organization's rules surrounding athletes selling their NIL rights. Ordinarily, that would be an NCAA violation. For now, student-athletes can sell their NIL rights the same way that a pro athlete can. Many college athletes have already been cashing in.
You can find Matthew Postins on Twitter @PostinsPostcard.
**Want to win a $20 gift card? Go sign up here and join our conversation! The best poster each week wins a gift card to your favorite establishment!**