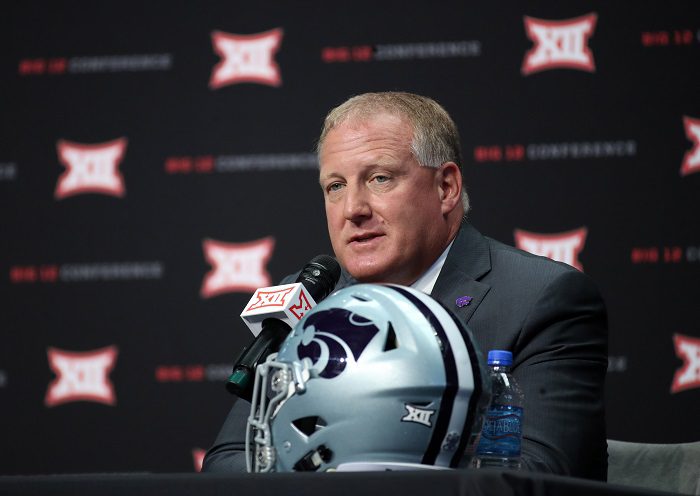 Looking back at the year 2020, it was a wild one. COVID-19 reared its ugly head on the world and at one point, we weren't even sure we would have a college football season last year.
Every school had to deal with COVID-19 in their own way. Some programs were affected more than others but when I think about schools in the Big 12 conference, no team was on a crazier roller coaster ride than Kansas State.
On opening weekend, the Kansas State Wildcats were upset at home by Arkansas State and a week later, they walked out of Norman, Oklahoma with a 38-35 win over the Sooners. That's like having five dollars to your name one week and the next week soaking up the sun on your private yacht.
Of course, the craziness didn't end there because the very next week after beating Oklahoma, starting quarterback Skylar Thompson went down with a shoulder injury and was done for the year. So, in a span of three weeks, Kansas State lost to Arkansas State, beat Oklahoma, and lost their starting quarterback. I can say for a fact that no other team in college football had a more maddening three weeks of football but to Chris Klieman, it was no different than the entire 2020 season. "The first three weeks was the same roller coaster ride it was for the rest of the season." Klieman said. "You never knew who was going to be at practice and never knew who was going to play in the game. We learned an awful lot as a staff last season."
Klieman described last for having good times and the bad but when you look at the 2020 season for Kansas State, they ended the season on a five-game losing streak.
But last season was an odd one and most importantly, it was last season. 2021 is a new year and a fresh start for Kansas State.
"I feel really good about us going into 2021." Klieman said. "We have two starting quarterbacks returning. Our offensive line is in-tact and have a really good nucleus of wide receivers and tight ends and a very good tailback in Deuce Vaughn."
While it is good to have most of the offense back for another season, the Wildcats will have some work to do. "We have to make great improvements on defense because we lost some good players on that side of the ball." Klieman said. "We had some good moments, but we were not good enough last season to be successful."
As whacky as the 2020 season was, the Wildcats somehow managed to make it back-to-back seasons with a win over conference champion Oklahoma. However, the season is more than just one big win as Klieman stated, "It's not a one game season, it's a body of work."
As for Klieman, his motto is simple, "Don't worry about what's on the front of the jersey or what the experts say, we just got to play our game."