Big 12 News
Lincoln Riley Believes Spencer Rattler is Prepared for the Pressure of 2021 Season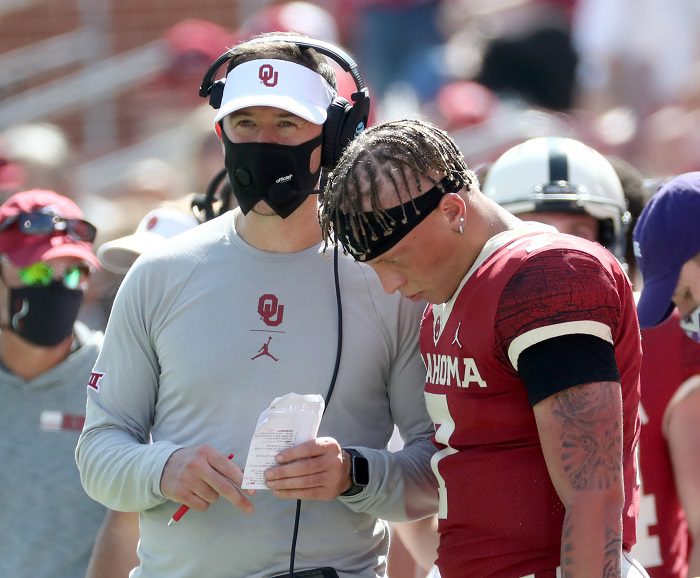 The Oklahoma Sooners are in a familiar position. They're the Big 12 favorites and the expectations are to be in a College Football Playoff. The Name, Image and Likeness issue has only added to some of the pressures and intrigue for some players, and there's likely no one facing more of that new, unique pressure than Sooners quarterback Spencer Rattler.
Rattler is projected to be the Big 12 Offensive Player of the Year and he is also working through new business opportunities in the "wild west" of NIL.
So how is Rattler prepared for this?
Riley said at Big 12 media days on Wednesday, "I think he's very well equipped for this. He's had some great examples to look up to (Jalen Hurts, Kyler Murray, Baker Mayfield). Spencer is a team-first guy. He has been his entire time here. We have visited about it. You can't ignore it and you've got to have a philosophy in place."
Riley added that they're on the same page on the attention he is expected to get and how to deal with it.
Rattler finished the 2020 season with 3,031 passing yards, 28 touchdown passes and seven interceptions, while completing 68% of his passes. He also ran for 160 yards and six scores. And when you do a deep dive into the stats for Rattler, they could have been even more impressive than what they were in 2020.
Rattler is also the favorite to win the Heisman Trophy this season. He is trying to follow the footsteps of previous Oklahoma quarterbacks like Baker Mayfield and Kyler Murray who both won Heisman Trophies and ended up being the No. 1 picks in the NFL Draft. Last season, Jalen Hurts was a Heisman Finalist, but did not win the award.
And while OU has won six Big 12 Championships in a row, there is some pressure for this to be the year for the Oklahoma Sooners to finally win a College Football Playoff game and play for a National Championship. Lincoln Riley has his most-balanced team since he's been the head coach of the Oklahoma Sooners.
Big 12 Media Days is taking place this week from AT&T Stadium in Arlington, Texas and Riley brought halfback Jeremiah Hall and linebacker Nik Bonitto to talk with the media.