Big 12 News
Lincoln Riley Calls Playoff Expansion Proposal a 'Great Start'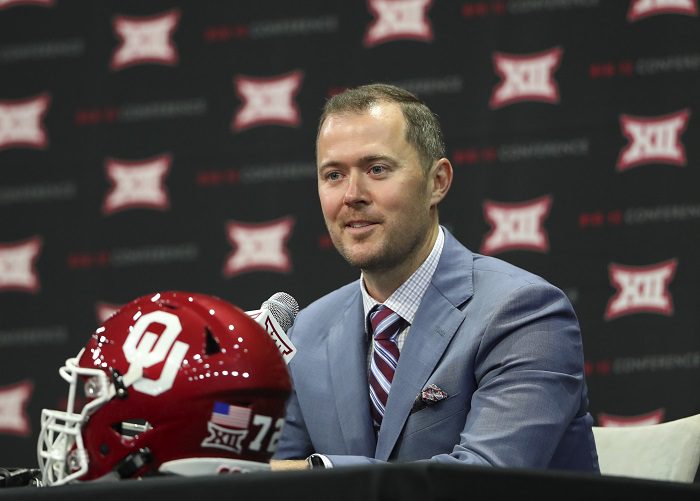 Oklahoma coach Lincoln Riley called the proposed expansion of the College Football Playoff a "great start" as teams around the country discuss the potential to move to 12 teams.
The Sooners, who have been to the College Football Playoff more than any other Big 12 team, were the pick to win the league in 2021, per the preseason media poll.
Riley and his Sooners failed to reach the Playoff last year, despite winning the Big 12 championship game. The Sooners lost back-to-back games in the regular season to Kansas State and Iowa State and were never able to work their way back into the Playoff's Top 4 teams by season's end.
"I think the expansion that's been proposed is a great start," Riley said during Big 12 Media Days in Arlington on Wednesday. "I commend the committee that put it together because you've got to put yourself out there. You've got to start somewhere. And I think their proposal was really good in a lot of ways. I think it addressed, you know, maintaining the Bowls which are so important to the history of our game that I hope we never turn our back on.
"I think it addressed getting the conference champions in the playoff, which has needed to happen. I think it addressed a pathway for a group of five member to be able to get into the playoffs, which honestly hasn't been realistic under the current system. In my mind, those are all great things."
But Riley, like most of college football's coaches and administrators, have questions they would like answered.
"There's still work to be done and questions to be answered. The obvious one of how many games you want to play in a season is certainly one. Is 12 too many? Certainly, some of those things are up for debate. I think it was a great proposal and something we can all work off of to make the system better."
Big 12 commissioner Bob Bowlsby said Wednesday morning that he hopes that playoff expansion would be settled by the College Football Playoff's board meeting in September, but admitted that was not a firm deadline.
READ MORE: Top Five Storylines to Watch at 2021 Big 12 Media Days
READ MORE: HCS Mailbag: Bijan Robinson Hype, Big 12 Statistical Leaders and Iowa State Fans Dreaming
The College Football Playoff is considering expansion, and the recommendation under consideration is a 12-team playoff. Announced in June, the 12-team proposal would be based on the College Football Playoff's final season rankings, and would include the six highest-ranked conference champions and the six highest-ranked at-large teams.
Bowlsby was part of the four-person committee that worked rather stealthily on playoff expansion, as Sports Illustrated's Ross Dellenger noted in a story last month. Bowlsby, SEC commissioner Greg Sankey, Notre Dame athletic director Jack Swarbrick and Mountain West commissioner Craig Thompson were also part of the working group. The quartet managed to work in secret for nearly two years, without leaking any information about any of the proposals they vetted, before presenting their recommendation to the College Football Playoff board of directors.
During the week of the proposal's announcement, Bowlsby also told reporters that he felt an expanded playoff could solve one tricky of the postseason — player participation. Players are opting out of bowl games at a growing rate, and an expanded playoff might mitigate some of that, per Bowlsby.
"You know, as we start to see some young people opt out of their postseason experiences, you wonder if there will be as much of that among a larger number of teams that have a dog in the fight for a national championship," he said.
You can find Matthew Postins on Twitter @PostinsPostcard.
**Want to win a $20 gift card? Go sign up here and join our conversation! The best poster each week wins a gift card to your favorite establishment!**