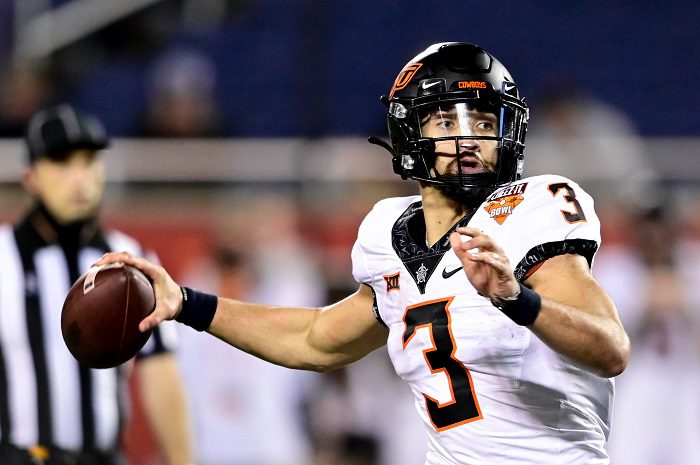 Throughout Mike Gundy's time at Oklahoma State, the program has always been known for its high-flying offense. From the days, of Zac Robinson to Brandon Weeden and Mason Rudolph, the Cowboys offense could light up a scoreboard on week-to-week basis. 
2020 was supposed to be the Cowboys year where they made it to Jerry World. The defense showed improvement in 2019 and took an even bigger step forward in 2020. In fact, Oklahoma State had one of the best defenses in the Big 12. Despite being ranked fourth in the conference in points allowed per game, they still only gave up 23.5 points per game which was over three points better than the previous season. 
With the defensive making strides what else could hold this Oklahoma State team back? It was quarterback Spencer Sanders. Sure, the injuries to Chuba Hubbard and Tylan Wallace did not help nor did the offensive line that was decimated before the 2020 season even started. 
Spencer showed flashes in his freshman season (2019) using his legs to get him out of trouble and make plays. He wasn't perfect by any means and threw 14 touchdowns on 8 interceptions while completing 62.8% of his passes.
Ironically enough, he had the same completion percentage in 2020 and while he did throw for two more touchdown passes, he had 11 interceptions last season. The turnovers were an issue, and the decision making was bad at times.
A New Season for Sanders
However, this is a new season and a with a new season comes a fresh start. 2020 was a wild year and with a normal offseason, it gives player a chance to get better. It was clear to Mike Gundy that spencer was making improvements this offseason. 
"We have been very impressed and excited about Spencer's development." Gundy said. "My personal is that last year the spring ball that he missed and the summer conditioning he missed because of COVID set him back. I feel like that in the two months that we have watched him during spring ball he has developed more than he has in two years. I think that Tim Rattay has done a fantastic job at developing him and he looked very comfortable during the spring." 
As Spencer continues to improve during the offseason, he mentioned the two things he was working on to get better. "I would say operating and decision making." Sanders said. "I have come a long way with coach Rattay this offseason. He has helped me progress phenomenally." He would also add that patience was a key in his development as well. 
Mike Gundy's Growth
Mike Gundy admitted that he wasn't exactly a patient man himself at times but did understand that it was key for Spencer's development saying "Spencer is very athletic and very competitive. He needed to learn how to control his emotions which is common. I would rather have to pull that dog out of the fight than kick it and make it go in. I have a passion for his competitive level that he brings to the table. He has matured and has learned some patience to calm down. He learned you can't make a play every time."
Good plays and bad plays throughout the game are going to happen. Mike Gundy understands that, and it appears that Spencer Sanders understands that more than he did a year ago. Despite losing key players such as Chuba Hubbard and Tylan Wallace to the NFL, I would not be surprised to see this Oklahoma State offense take a step forward in 2021. The offensive line will be better, and the Cowboys will return receivers Tay Martin, Braydon Johnson and Brennan Presley as well as running backs Dezmon Jackson and LD Brown. All these guys played meaningful snaps last year. 
There are some pieces in place for the Cowboys offense to improve from a season ago and if Spencer Sanders can take that next step, Oklahoma State could surprise some people. Combine Spencer's improvements as a quarterback and a great defense on the other side of him, Oklahoma State has a chance to compete at the top of the Big 12.