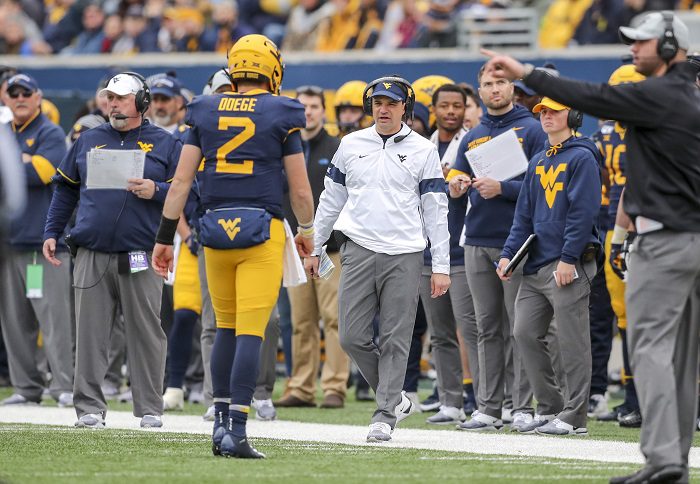 If you turn on ESPN or a typical college football podcast not named Heartland College Sports, you're likely to hear a whole lot about the SEC, Clemson, and Ohio State, and very little about the Big 12, especially if you're looking for Big 12 news about any team other than Oklahoma, Texas, or possibly, Iowa State. While Oklahoma and Iowa State certainly deserve their preseason hype as the Big 12 teams to beat, and Texas always looks like a contender on paper, the Big 12 should again be a veritable cauldron of speedy, bruising teams, and nearly all of them have the potential to get hot and rise to the top.
What to make of a league where just about any team except Kansas has the potential to be a contender? Probably the wisest prognostication for so much parity in one conference is a total blood bath – a red mist rising from the field as carnivorous dark horses cannibalize each other on Fox's Big Noon Kickoff. Yet at least one of those teams should rise from gladiatorial fray and pose a legitimate threat to reach the championship game.
I've already looked at TCU's potential to be a dark horse this season, and while the Frogs are definitely an intriguing team, the West Virginia Mountaineers might be even more so. Here's a look at the case for and against West Virginia rising from the cauldron of blood to challenge Oklahoma and Iowa State for a spot in the championship game.  
The Case for WVU
1. Defense, Defense, Defense
WVU played elite defense throughout the majority of the 2020 season and finished as not only the best defense in the Big 12 but one of the best in the nation, allowing an average 20.5 points on 291.4 yards per game. Any time you allow less than 300 yards per game, you're getting it done on defense, and this is even more true in the Big 12 where elite offense is the norm. While WVU loses some key pieces on defense coming into the season, including standout nose tackle Darius Stills to the NFL and safety Tykee Smith via the transfer portal to Georgia, they also gain enough through the portal and players returning from opting out last season to believe that it will remain one of the best in the league even if it takes a slight step backwards.  
2. Offense Stepping Up
WVU returns nearly its entire offense from last season, including RB Leddie Brown, who rushed for over 1000 yards, and QB Jarret Doege, who threw for more yards than any other QB in the Big 12 not named Spencer Rattler. Doege has his share of doubters (see #2 below), and the receiving corps had more than its share of drops last season, but with a veteran offensive line and another year under head coach Neil Brown's system, West Virginia should be poised to take some pressure off the defense.  
3. Key Home Games
While the schedule has its challenges (see #1 below), WVU gets several key conference games at home in the back half: Iowa State, Oklahoma State, and Texas all must travel to Morgantown. All three would make for nasty road trips, but in Milan Puskar Stadium all three are very winnable, including a potential trap game for Iowa State. If the 'Eers can sweep those three late season battles at home along with the trip to K-State, that 4-0 run should put them very much in the hunt for the title game when they travel to Lawrence for the end of the season layup against the Jayhawks.  
The Case Against WVU
1. Slow Start Scenario
While the schedule offers a real opportunity late in the season, WVU could quickly find itself in a nightmare to start the season and never fully wakeup. The 'Eers open 2021 by traveling to College Park, MD, for a potential beartrap of a game against Taulia Tagovailoa and a Maryland team that should take a big step forward this season. Then, after a layup game against FCS Long Island, WVU hosts rival Virginia Tech before traveling to Norman to take on the Sooners. While WVU certainly could be 3-0 when it arrives in Norman, wins against Maryland and VA Tech are far from guaranteed, and a 1-2 start would quickly become a 1-3 start in Norman. While a run at the championship game would still be possible at 1-3, such a dismal start would likely make WVU too psychologically fragile to successfully push through the long, difficult stretch that follows its bye week when it faces TCU, Iowa State, Oklahoma State, K-State, and Texas.  
2. Doubts about Doege
While QB Jarret Doege completed 64% of his passes last season and placed second in the league in passing yards, his doubters point to a deeper set of his 2020 numbers, such as 6.9 yards per attempt and completing 35% of his passes targeted 20+ yards downfield. More importantly, the doubters say, Doege has never been more than a competent game manager and lacks the ability to extend plays with his legs. For WVU to truly be a contender, the detractors argue, the 'Eers need a QB who can take games over and contribute in the running game. Thus, many WVU fans are clamoring to see redshirt freshman Garrett Greene take over for Doege this season. While playing Greene now will certainly improve WVU's outlook for 2022, starting a QB with practically no game experience would set the offense too far back to realistically expect a run at the league championship game this season. On the other hand, according Doege's doubters, his lack of versatility renders the offense too impotent to make a championship push anyway.   
3. Nothing Special
While WVU's defense was often elite last season and the offense appears to be on an upward path, the team has been lifeless in the third phase of the game. Last season, WVU only blocked one kick, failed to block a punt, and averaged just 20 yards on kickoff returns and a meager 5 yards on punt returns while failing to take a single kickoff or punt return to the house. The worse-than-mediocre special teams were rarely helped by turnover margin as WVU finished just +2 on the season. Winning big games and pulling off upsets requires stealing momentum and getting short fields with special teams and turnovers.  
Conclusion
WVU should start the season 3-0, but even with a season opening loss at Maryland, a win versus a floundering VA Tech program in Milan Puskar feels like a good bet, so a 2-2 start with losses to the Terps and Oklahoma is probably the worst-case scenario. If so, the key to WVU's season will certainly lie in the long stretch following their bye week, and with several key games during that stretch at home, the Mountaineers could be in business.
It may be true that Doege lacks the ability to consistently stretch the field with his arm and extend plays with his legs, but much is to be said for being a consistent game manager and taking what defenses give. Doege's detractors lament his 6.9 yards per attempt average, but in 1999 Josh Heupel dinked and dunked at precisely the same clip; one year later, he brought that average up just a hair to 7.6 yards per attempt, taking what every defense in front of him gave him, and led Oklahoma to a 13-0 season and a national championship – and like Doege, Heupel wasn't a threat in the rushing game. The game has changed since 2000, but it hasn't changed so much that a good game manager can't dink and dunk a team to victory.
Of course, I don't know what's going to happen this season any more than any other fan of the game, but I think it's a safe bet to say that this will be Neil Brown's most complete team in Morgantown to date. However, the thing that may hold WVU back from contending for a league championship is its lack of a pulse on special teams.
Winning the big game or pulling off an upset in a place like Norman, OK, requires doing things like blocking kicks and creating turnovers. Look no further than K-State, which has a 3-2 record in Norman going back to the 2012 season, and the seeming miracle it pulled off in Norman in 2020. That miracle required a blocked punt, 3 interceptions, and a fumble recovery, and the biggest of those plays was the blocked punt.
WVU has the potential to the gladiator to emerge from the blood cauldron that will define the race for third place in the Big 12 this season and perhaps steal Iowa State's seat in Arlington for the conference championship game. However, doing so will require the 'Eers to hold the fort on defense, take a step forward on offense, and make a quantum leap on special teams.