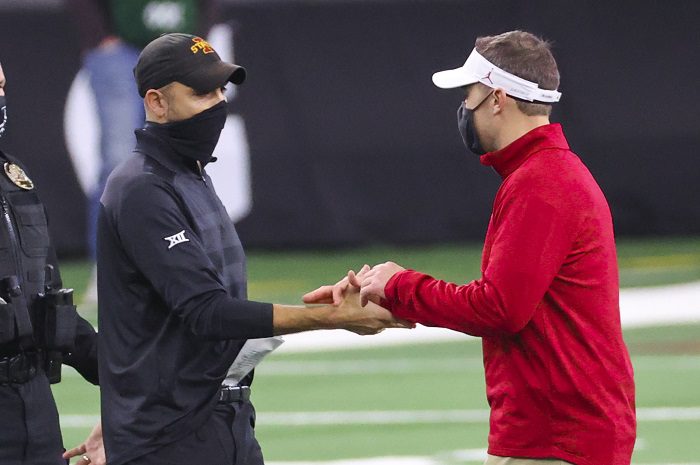 With just two months until Big 12 conference play kicks off, starting with Kansas travelling to Baylor on Saturday, September 18, I thought I'd put together my top five most important conference games of the 2021-2022 college football season. These matchups will factor heavily into who we see playing in Arlington for the Big 12 Championship come December 4, as well as potential playoff hopes for some teams.
5. TCU at Iowa State
The Cyclones will end the year hosting the Horned Frogs in what Heartland Commander in Chief Pete Mundo deemed one of the five "trap" games going into the season. This game will be crucial for Matt Campbell's Cyclones if they perform how we think they will this season. Should they come into this game with one loss to say, Oklahoma or Texas, then this game could decide if the 'Clones make back to back conference championships games. But if Iowa State can run the table and stay undefeated up until this game, then TCU may be the only thing standing between the Cyclones and a potential playoff spot.
4. Oklahoma at Oklahoma State
Bedlam always seems to play a big factor in the outcome of the Big 12 Championship game. It will be no different this year as both teams end their season against each other in Stillwater on Saturday, November 27. OU will be favored in this game and likely will be fighting for a conference championship and playoff berth, but the Sooners should be careful not to overlook Oklahoma State and look ahead to the postseason.
Oklahoma has had its in-state rival's number the last few seasons, winning the last six meetings against the Cowboys and expected to make it seven, but I wouldn't count OSU out quite this early. The Cowboys return all but two starters from an elite defensive unit a year ago, and head coach Mike Gundy seems to think QB Spencer Sanders will take a tremendous leap his junior year. 
Oklahoma State has the luxury of playing at home this season and Oklahoma will be fresh off a battle with Iowa State the week before, but most are still taking the Sooners in this matchup. A win for either team could massively shift the conference rankings and the CFB Playoff picture. It's called "Bedlam" for a reason.
3. Texas at Iowa State
Another big test for the Cyclones, Texas travels to Ames on November 6, to avenge their loss from a year ago. Both teams will be looking to make a push for the Big 12 title and whoever comes out on top in this one will have the edge on the other. We all know what Cyclones QB Brock Purdy can do, but it's the Texas quarterback I'm most interested in. Whether it's sophomore Casey Thompson or freshman Hudson Card, this game will be a major trial for either young Longhorn QB. 
Should Iowa State lose this game, they will still have Oklahoma on their schedule, leaving them in a bit of a bind in regards to the conference standings. If they run the table up until they face Texas and beat the Longhorns, they'll have more wiggle room and could afford to drop a game to OU while remaining in the Big 12 hunt.
Should Texas lose this game and the Red River Showdown, they'll be in a tough spot because they wouldn't have tiebreakers over either Iowa State or OU. To me, the Longhorns' season depends on this game.
2. Oklahoma vs. Texas
Much like Bedlam, the Red River Showdown in Dallas always seems to play a pivotal role in the Big 12 race. Taking place on October 9, in the Cotton Bowl, whoever comes out on top in this heated rivalry will likely have an edge in the conference standings heading into the meat of the season. Whoever loses will have ground to make up and will have to win some tough games remaining on their schedule, as both teams will still have to play teams like Iowa State, Oklahoma State and Texas Tech after this showdown.
It's very possible that we see these teams rematch each other in Arlington on December 4, like we saw in 2018, where Texas won the regular season matchup but OU took the dub in the conference championship.
1. Iowa State at Oklahoma
My early pick for game of the year in the Big 12, Iowa State faces Oklahoma in Norman on November 20, hoping to repeat their performance from last year's regular season matchup with the Sooners. With it being each teams' second to last game of the season, I think both teams will be undefeated going into this game, making it the precursor to the Big 12 championship. 
Sooners QB and Heisman hopeful Spencer Rattler will look to replicate his performance in the conference championship win against the Cyclones a season ago, rather than his performance in OU's regular season loss. The inverse goes for Iowa State's Brock Purdy, who threw three interceptions against Oklahoma in Arlington to zero in the regular season matchup.
If the Cyclones are undefeated going into Norman, they can afford to lose and still make the championship, but their playoff hopes will probably dwindle. The same goes for Oklahoma, but should the Sooners lose to ISU in this game but win the Big 12, I can see the Playoff Committee giving them a playoff berth due to name and star player value.
Ultimately, this will be the most important and impactful matchup of the season in the Big 12 in terms of conference title and playoff hopes. As long as each team doesn't drop any games they shouldn't, I foresee a rematch in AT&T Stadium reminiscent of last season.