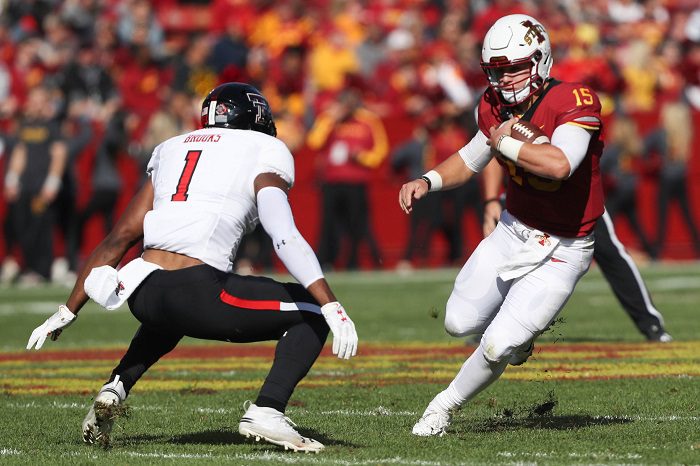 Welcome to the HCS Big 12 mailbag! This mailbag is for all you football junkies out there who root for a Big 12 school who not only have questions about your team, but other teams in the conference as well. So, join me, grab your favorite drink, and relax as I answer all your Big 12 questions. For those interested, I will send out a tweet (@Derekduke25) every Monday until last call (No, not 2 AM) at 8 PM CT for you to send in your questions to be answered every Tuesday right here at Heartland College Sports.
I want to thank each one of you who submitted a question this week and for those reading, I am glad you could join me. I am doing this on late Monday evening and of course this mailbag wouldn't be nearly as fun without a beverage right next to me. Tonight's drink of choice? An ice-cold Dome Faux'm from 8th Wonder. Cheers! 
@ISUCYFred asks: What is a dream scenario for the Big 12 from a writer's aspect? What would sports journalists want to see the most?
Duke: Well, I am sure my colleagues will laugh but I don't even consider myself a writer. I classify myself as a blogger because I am lazy and like to drink. My personal scenario would be to have two teams from the Big 12 in the college football playoff or to have a Big 12 team win it all. Heck, I would even settle for a good game. I am not a fan of blowouts and when I go cover a game, I want an exciting back and forth type of game.
@clonesjer asks: Why is Brock Purdy so roundly trashed by other fanbases? He's our greatest QB all time and it seems like he's beaten more Big 12 teams than most of the other 100+ years put together. Yet he got compared to Jarret Doege & Max Duggan on a Big 12 pod yesterday.
Duke: Well, I can't speak for other fanbases, but I am not sure why he would be trashed. Brock Purdy had a phenomenal 2019 season throwing for 27 touchdowns and 9 picks. Last season was a bit off a drop off as he threw for 16 touchdown passes and 7 picks, but he struggled a little early to be fair. From the second half of that Baylor game to the end of the season, Brock was the second-best quarterback in the Big 12 in my opinion. I still think he is the second-best quarterback in the Big 12 behind Spencer Rattler at Oklahoma. Also, I am not sure what Big 12 podcast you listen to, but I doubt it was ours if they were trashing Brock Purdy.  
@philo_Beddeaux asks: Is winning hard?
Duke: According to Tom Herman and Steve Sarkisian, yes winning is hard. For Steve Sarkisian's sake let's hope that's all they agree on. Also, being on time for Steve seemed to be hard at media days.
@RPTexan asks: Derek, it's time for your first crack at each team's final regular season record and order of finish! (I'm sure it'll change after a few weeks of camp but got to start somewhere!) thanks!
Duke: This is what my rough draft would look like right now
Oklahoma: 12-0
Iowa State: 11-1
TCU: 9-3
OSU: 9-3
Texas: 8-4
KSU: 7-5
WVU: 7-5
Baylor: 5-7
Tech: 5-7
KU: 1-11  
@FireWellsTTU asks: How long till the Red Raiders get back to being the mischievous bowl busters we used to be?
Duke: I am really not sure, but I will say, if Matt Wells can get to 6-6 this season, I think he will keep his job for at least another year. I am kind of down on Texas Tech as I did pick them to finish ninth in the conference. I think that would be their floor, but I think their ceiling could be a potential bowl team who finishes like sixth in the Big 12. As far as the consistency part goes, they need a quarterback who can carry them to wins along with a little defense. I am not sure if they have that right now.
@Dillon1933 asks: Did anything surprise you at Big 12 media days? What was your biggest takeaway?
Duke: I don't think anything really caught me that off guard at media days. I enjoy these things to see some people I don't see very often, and it is always great to get to talk to these head coaches. As far as my takeaway goes, I would say the positivity these coaches have. Neal Brown especially stuck out to me and so did Matt Wells. Matt Wells said he has his best quarterback room there in Lubbock right now since he arrived, and Neal Brown thinks West Virginia is ready to turn the page and take the next step from 2020. Those two coaches caught my eye the most. Keep in mind, this is all talk right now and the result on the field is what is going to matter.