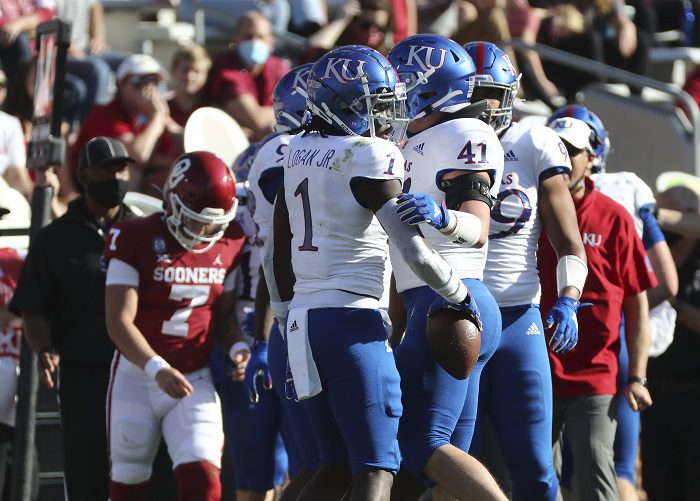 It's safe to say that the Vegas sportsbooks don't think new Kansas head coach Lance Leipold will find much success this season. Most of them have set the over/under on wins for the Kansas Jayhawks at 1.5. After looking deeper into their schedule, I can see why the number is that low.
I heard a radio interview with Lance Leipold last week and was pretty impressed with how he conducted himself. He's humble and knows the tough task that he has ahead of him. Most importantly, he knows football and can talk X's and O's. He appears to know what it's going to take to win at Kansas, but how long will it take to find success?
As I did last week with K-State, I thought I'd break down the schedule game by game and give my prediction on each one, followed by my pick for the over/under along with the best-case scenario and worst-case scenario for their upcoming football season.
September 3 vs. South Dakota
South Dakota competes in the Missouri Valley Conference in the FCS division. The Missouri Valley played a spring football season, and South Dakota was 1-3. Their final four games were canceled.
This is a Friday night game and a home game for Kansas. I couldn't find a point spread on this game, but I found one site that predicted a 10 point victory for South Dakota. That sounds about right to me. I'm not going to predict a victory in the opener since Kansas has a new coaching staff, new system, etc. Most teams in a similar situation struggle in their first game.
Prediction: Loss.
September 10 at Coastal Carolina
Coastal Carolina is picked to win the Sun Belt conference again after finishing as the 14th ranked team in last season's final AP football poll. Almost everyone is back for Coastal, and they are playing at home, so this one appears to be an easy pick.
Prediction: Loss.
September 18 vs. Baylor
Baylor beat the Jayhawks 47-14 last season. With such a discrepancy between the talent of the two programs, I can't make a case that Kansas can win this one.
Prediction: Loss.
September 25 at Duke
Duke is expected to finish last in the Coastal Division of the ACC. Will Leipold have the Jayhawks in a position to compete and possibly win this one? Honestly, I don't have a strong feeling either way, but I'm going with Duke since they have the home-field advantage.
Prediction: Loss.
October 2 at Iowa State
Iowa State beat Kansas 52-22 last season, and I don't think this season will be any different.
Prediction: Loss.
October 16 vs. Texas Tech
Texas Tech won a close game over Kansas last season, 16-13, despite outgaining the Jayhawks almost two to one. This could be interesting and there might be a chance for Kansas to get a victory. That being said, I'm not going to pick them.
Prediction: Loss.
October 23 vs. Oklahoma
Oklahoma beat Kansas 62-9 last season, and I expect the game between the two teams this season to go pretty much the same way.
Prediction: Loss.
October 30 at Oklahoma State
This game was another blowout, with Oklahoma State getting a 47-7 victory last season. I don't see the Jayhawks walking into Stillwater and winning.
Prediction: Loss.
November 6 vs. Kansas State
Chris Klieman took care of the Les Miles version of Kansas with ease. It may not be quite as easy this season, but with Skylar Thompson and Deuce Vaughn leading the way, it should be another victory for the Wildcats.
Prediction: Loss.
November 13 at Texas
Two new head coaches will be squaring off against each other for the first time. Texas should be able to take care of the Jayhawks.
Prediction: Loss.
November 20 at TCU
TCU beat Kansas by 36 points last year. Hard to predict a victory in this one, especially going on the road to Fort Worth.
Prediction: Loss.
November 27 vs. West Virginia
West Virginia took care of Kansas rather easily last season, winning by three touchdowns. As of right now, there's no way to make a strong case for a Kansas victory
Prediction: Loss.
Season Prediction
0-12. Since we don't have much to go on except past results from an ex-coach with similar talent as they will have this year, I can't make a strong case for a victory for the Jayhawks. When I saw the over/under I thought it was low, but now I see why it is set there. The non-con schedule is not easy and there's not a definite win on the schedule.
Best Case: 3-9. Let's face it, going winless is pretty hard. Kansas did it last season, going 0-9, but even though they've been bad lately, they usually find a way to get a couple of wins. It wouldn't shock me if they get victories against South Dakota, Duke and get a conference win against Texas Tech, but I think 3-9 is the ceiling.
Worst Case: 0-12.
The bet: There's not one sure win on the schedule, so if you put a bullet to my head, I'd bet the under. However, my advice is to avoid this bet altogether. There's too many unknowns at this point.