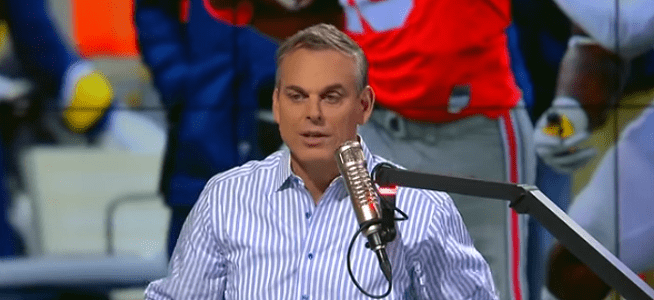 Colin Cowherd is one of the most popular talking heads in the sports industry. And with the explosive news that Texas and Oklahoma could be on their way out the door to the SEC, Cowherd had strong commentary coming out against the move for the Texas Longhorns.
"They feel more Pac-12 to me. They're progressive, they're cool, they're tech-y. They don't feel like Starkville, Oxford or Gainesville. They feel like LA with cowboy hats," Cowherd said on his FOX Sports Radio and FS1 show on Thursday.
Cowherd went on to point out that during COVID, the biggest exodus of Californians was moving to Austin, Texas.
He then said about the SEC, "The recruiting is a pit of cheating and paying off players. Sorry, that's the reality with the SEC. I don't think Texas feels like the SEC. They're a regal, glamour brand, like USC. The SEC is a snake pit, it's intense. I don't think Texas fits it. Be careful what you wish for."
"Texas doesn't feel southern, they don't feel that intense. They feel kind of cool and casual. I'd say in the Big 12 or go to the Pac-12 or go Independent. Texas A&M is different. They'd sell their soul to win football games. I've never once felt that about the Longhorns."
Cowherd went on to point out that it would be great if college football had some leadership as an $8 billion business. That has been one of the great failures of the sport over the last generation.
Cowherd ended his commentary by saying, "You are not the south. You are not the SEC. There is a refined polish and progressiveness to Texas. I think you're right where you should be."
Speaking of commentary, you can listen to our podcast on this week's huge news below, or subscribe to our Big 12 podcast on iTunes, Spotify, or Google Play.
Powered by RedCircle