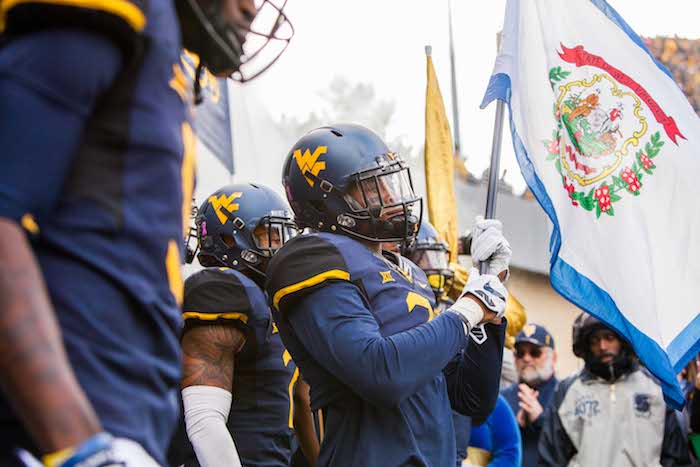 With Oklahoma and Texas leaving the Big 12 Conference, if the conference falls and and dies, what should the West Virginia Mountaineers do next? 
West Virginia was, frankly, an odd fit for the Big 12, and everyone knew that when the program joined the league nearly a decade ago. But, the Mountaineers brought great football tradition and great basketball tradition to the table, so everyone overlooked the geography and embraced those traditions. And Huggy (Bob Huggins).
The Mountaineers' football team has always been a bit itinerant. They were independent three different times. They were part of the West Virginia Intercollegiate Athletic Conference from 1925-27, the Southern Conference from 1950-67 and the Big East from 1991-2011.
READ MORE: Oklahoma, Texas Reach Out to SEC About Joining Conference: Report
READ MORE: If Oklahoma, Texas Leave, the Big 12 Conference Must Expand Fast
There was hope that the Big 12 offer stability. If that stability ends, the Mountaineers really only have two options if they want to remain among college football's power base — the Atlantic Coast Conference and the Big Ten Conference.
ACC or Big Ten for WVU?
The ACC would be the natural move for the Mountaineers. It would reunite them with some of their old Big East mates like Pitt, Virginia Tech and Syracuse. It would reduce their travel dramatically. It would keep them in the chase for the postseason. And it would provide the Mountaineers with a similar payout they're getting from the Big 12.
The Big Ten would be a harder sell. The Big Ten likes their schools to be members of the American Association of Universities. They didn't waive that requirement when Rutgers and Maryland joined the conference a few years ago. They didn't waive that requirement when Nebraska, either, but Nebraska is no longer a member of the AAU. The Mountaineers are not members of the AAU. They also don't provide access to a large media market like Rutgers (New York City) and Maryland (Baltimore and Washington D.C.). The Big Ten would probably see West Virginia as a secondary option, if their top choices didn't work out.
In times like these, it's good to see how well-connected the athletic director is. And, well, Shane Lyons is the perfect fit if you want the Mountaineers to get into the ACC. Lyons, of course, is a West Virginia native who got his bachelor's and master's degree from WVU. As he worked his way up the ladder, guess where he spent a decade? Yep, associate commissioner of compliance and governance for the ACC.
Honestly, the ACC should be a slam dunk for WVU, if the Big 12 falls apart.
You can find Matthew Postins on Twitter @PostinsPostcard.
**Want to win a $20 gift card?  Go sign up here and join our conversation! The best poster each week wins a gift card to your favorite establishment!**