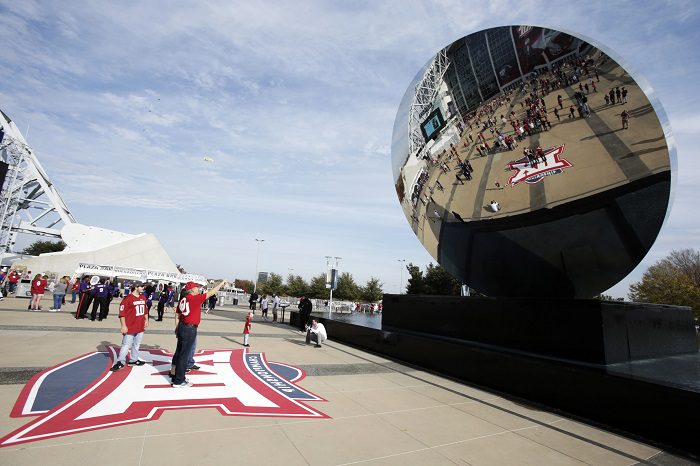 When Texas and Oklahoma depart the Big 12 for the SEC, the Other Eight will be left in quite an undesirable spot, and many have already speculated that it would be best for each team to start looking for a landing spot outside the Big 12 right now. However, there are several reasons that might not work out or be the best plan.  
Reason One: Make OU and UT Pay
If Oklahoma and Texas want to bolt for the SEC before the Big 12's current grant of rights ends following the 2024-25 academic year, they will have to pay a substantial penalty which the Other Eight athletic departments would split up. How much is unclear to me, but it would be substantially more than the roughly $12.5 million Missouri and A&M each coughed up to leave the conference following the 2011-12 academic year.
However, if the Big 12 is defunct because the Other Eight scatter, Oklahoma and Texas wouldn't owe the league a dime.
Reason Two: Where to Go?
Matthew Postins speculated in a recent article that the Other Eight would be snatched-up by the remaining power conferences in a bid to keep up with the SEC. At first blush this makes a lot of sense, especially since each school in question will be looking for stability and an escape from a hobbled Big 12. However, the ACC, Big 10, and Pac 12 might not see anything they like on the menu and stand pat.
I know this idea is hurtful and probably offensive to every single fanbase within the Other Eight, so, using Postins' article as a leaping off point, let me explain in more painful detail why each team may not appeal to the remaining power conferences. To be clear, this exercise is not to criticize Postins' thoughts, but to take a closer, realistic look at the chances.
The ACC
Postins sees West Virginia and TCU heading to the ACC. This makes sense for WVU, of course, as WVU is a perfect geographic fit, and the ACC is home to many of West Virginia's old rivals. As for TCU, the argument is that the Frogs offer the fourth largest metro area in the nation, Dallas-Fort Worth, and gives the ACC a tie to Texas' fertile recruiting grounds. However, countering the SEC's grab of Oklahoma and Texas by scooping up WVU and TCU rings as a bit underwhelming, and there are reasons the ACC would pass on both.
Like the Big 10 and the Pac 12, the ACC is a snooty conference, and it has already declined to add WVU due to the school's academic profile and (probably) prejudice against the West Virginia stereotype which does not mesh well with Boston, the D.C. suburbs, the Research Triangle, or Florida. WVU's football and basketball programs were strong enough to catch the Big 12's eye, but the ACC has eyes for Notre Dame and thinks it's too good for WVU.
TCU's biggest drawback is its distance from the rest of the conference. Also, while TCU has won one Big 12 football title and turned in several nice seasons, it doesn't necessarily move the needle much for a conference with Clemson, Florida State, and Miami, even if Florida State and Miami are decades removed from their heydays, especially with Notre Dame lingering in the background. Moreover, the ACC loves its basketball and TCU has little to offer there.
The Big 10
Postins speculates that the Big 10 will add the Big 12's only two remaining AAU members, Kansas and Iowa State. These schools make perfect geographic and academic sense, but again, if the point is to counter the SEC's grab of Oklahoma and Texas, this move would be rather underwhelming.
Kansas has a gem of a basketball program (that is awaiting NCAA sanctions), but the football program is in complete shambles and has been the worst Power 5 team in the nation for over a decade with poor facilities to boot. Moreover, while adding KU's basketball program would be splashy, the Big 10 may not want to tie itself to an athletic department that lately seems to go from scandal to scandal.
Iowa State has a decent basketball tradition, even if the program is currently the worst in the Big 12, and its football program has enjoyed a lot of success recently. ISU fans will quickly point out that their football stadium is largest of the Other Eight programs (note: its capacity is 61,000 as opposed to the 60,000 of OSU and Tech). ISU sells out, travels well, and has rabid fans. However, ISU has never won more than nine games in a single season, and as Big 12 fans said to Memphis fans hopeful of being invited to the league a few years back, "sure, you're good now, but for how long?"
As one Big 10 football observer put it, inviting Iowa State would feel more like charity than adding value to the conference. The same is probably true of KU.
Again, if the point is to counter the SEC's grab of OU and Texas, is taking KU and ISU an apt response? The Big 10 might be better served by standing pat or trying to pick-off disgruntled SEC members, like Mizzou and perhaps A&M. At least the SEC would feel that.
The Pac-12
Postins sees Baylor, K-State, Oklahoma State, and Texas Tech all going to the Pac 12 16. This would make sense in that adding that many teams would create some real value for the Pac 12, even if none of the name brands move the needle much. However, the name brands still matter.
For one, from USC and UCLA's point of view, are those four schools really worth creating a conference that spans three time zones? Stanford is upset about having to kickoff at 9:00 AM PST vs. K-State in Arlington to open the 2021 season. Does the league want to invite 9:00 AM PST kickoffs on a regular basis?
Moreover, each of the brands involved has its flaws.
Baylor, fresh off a national championship in basketball has its appeal, including strong academics, but a Baptist university and the Pac 12 are not a good match. Also, as much as Baylor fans will hate to read this: the stench of the Art Briles scandal is not yet forgotten, no matter how much Baylor wants it to be. Finally, while Baylor has had some very strong seasons on the football field, their total body of work in the Big 12 is not great. They spent more than a decade as the doormat of the Big 12 before Briles brought the program to the cusp of a playoff berth and two Big 12 titles, fell off a cliff with the scandal, rebuilt to a Big 12 contender, and then fell off again. They'll be back if the recruiting numbers are any indication, but when and for how long? Finally, Baylor has a relatively small alumni base and wouldn't necessarily capture any of Texas' big TV markets.
K-State has been in contention for a national title twice in its Big 12 run, won two Big 12 titles, and has posted eight seasons as a Big 12 member with 10 or more wins. But no one cares. K-State has never won a national title in any sport, lacks academic prestige, and as any K-State fan will tell you, they're chronically underrated. Being underrated is great when Oklahoma is overlooking you the weekend before Red River, but it's a shackle when trying to attract a suitor like the Pac 12. Moreover, it remains to be seen if anyone not named Bill Snyder can consistently win at KSU. Finally, as the only competent football team in Kansas, K-State does offer a large share of decent TV markets in Kansas City and Wichita, but the largest, KC, is split three ways with Mizzou and KU.
Oklahoma State has won one Big 12 title, has a slew of national titles in numerous sports dating back before the advent of the Big 12, and the Cowboys probably have more athletic prestige than K-State and Baylor. However, they likely aren't academically strong enough for schools like Cal-Berkeley and Stanford. Like K-State, OSU offers a share of two decent TV markets in Oklahoma City and Tulsa, but the Cowboys are second fiddle in both markets to OU. Of all the schools listed as possibilities for the Pac 12, OSU seems like the most likely one to get an invitation, but on an island in the central time zone, it may lack the oomph to justify the addition. That is, Oklahoma State's biggest drawback may be its cohorts. If the Pac 12 doesn't want the others, there may not be much point in adding OSU alone.
Texas Tech has never won the Big 12 in football, but its basketball program has been excellent in recent years. That probably isn't enough, however. Moreover, while Tech has a law school and is in better shape academically than K-State and OSU, it still probably isn't snooty enough for the people in Silicon Valley. As to TV markets, Lubbock's metro population of 314,840 is less than half of Wichita's (644,888) and less than a third of Tulsa's (991,561), and while it's sort of the official team of West Texas, it's not the favorite in any of Texas' big cities. Tech does offer a path into Texas for recruiting, but it's at best third fiddle in the state and won't open recruiting avenues the way Texas or A&M would.
Reason Three: Stronger Together, a Super Big 12
While the Big 12 without Texas and Oklahoma will be markedly weaker, the Other Eight do have considerable value, especially together. A conference with Baylor, Iowa State, Kansas, Kansas State, TCU, Texas Tech, and West Virginia is far stronger than the Mountain West or American and would be very attractive to teams in both of those conferences as well as BYU.
Moreover, by staying together, the bulk of the conference maintains geographic contiguity and old rivalries. A bit of a bridge to West Virginia could be built by adding Memphis and Cincinnati. Throw in UCF, USF, Tulane, San Diego State, Fresno State, and BYU, and you've got the makings of a national super conference good enough not to be completely ignored. Moreover, with two teams in California, two teams in Florida, and two teams in Texas the new Super Big 12 would have a unique recruiting and market share advantage.