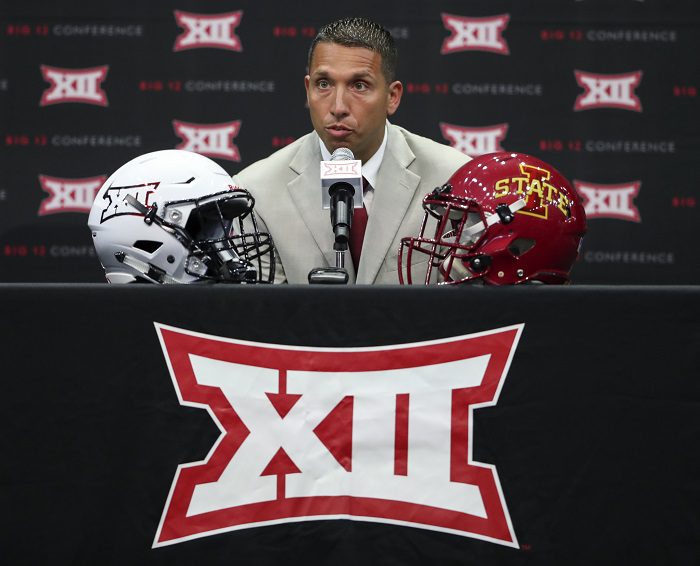 With Oklahoma and Texas leaving the Big 12, and if the conference falls apart and dies, what should the Iowa State Cyclones do next? 
The Cyclones started in the Missouri Valley Conference in 1908, where they lasted until 1927. They became one of the original Big 6 members in 1928, which then turned into the Big 7 and Big 8 until 1995. In 1996, the Big 12 Conference was formed, where Iowa State has been for the last 25 years.
It's been nearly 100 years for Iowa State being a part of this conference, but could that all come to an end if the Big 12 falls apart and dies?
The Big Ten is the Best Fit
The Big Ten is the natural move for the Iowa State Cyclones. They'd have a built-in, in-state rivalry with the Iowa Hawkeyes. They'd see an old Big 12 team in Nebraska in the Big Ten West. Wisconsin, Minnesota, Purdue, Illinois, and Northwestern are also geographical fits with similar values as well from a program and University standpoint.
A big sticking point in the Big Ten is having any new program being an AAU (Association of American Universities) member. The good news is Iowa State is classified among "R1: Doctoral Universities – Very high research activity" and, yes, is a member of the Association of American Universities. That is a hurdle that Iowa State does not have to worry about, but other Big 12 schools would have concerns around.
For what it's worth, Athletic Director Jamie Pollard has Big Ten ties, as he spent seven years at Wisconsin as an associate and deputy AD before coming to Iowa State in 2005. And from my conversations, Iowa is not going to pull a Texas A&M and try to prevent Iowa State from joining the Big Ten Conference over petty political nonsense.
And last, but not least, getting Matt Campbell into the Big Ten would be a dream come true for Iowa State fans. Not that Campbell's loyalty should be questioned at this point, but we know he's a guy who is from and recruits Big Ten country. Now getting to join that conference and compete against the Big Ten West, plus occasionally Ohio State and Michigan, might be enough to make sure he never even entertains the idea of leaving for either program (not that I think it'd be a slam dunk anyway if either program called).
Pac-12 as Back Up
The Pac-12 is a less ideal fit, but if Iowa State can't make the Big Ten work for some reason, then it's a much better option than having to explore the Mountain West or the AAC. Iowa State doesn't have much in common culturally, or otherwise, with any of the Pac-12 schools, but it would preserve Iowa State as a program in a Power Conference and continues to allow them to make tens of millions of dollars every year. Also, with the race to 16 teams now officially on in big-time college sports, this gives the Pac-12 a viable option and a major Power 5 program.
I would have travel concerns about going from Ames to Pullman, Washington (Washington State) for a Tuesday night basketball game. But at this point, we are entering an era with Name, Image and Likeness of major college athletics simply becoming the minor leagues and those concerns aren't shared by most others.
What about the ACC? I don't see it as a viable option at this point in time. I believe the ACC would be wise to target West Virginia and then find a suitable AAC team that fits their geography better than Iowa State does. Plus, the Pac-12 may have fewer obvious options and picking off multiple Big 12 teams would at least bring some cohesion to a theoretical "Pac-12 East".
But like everything we are living through right now, the conversations are moving at a rapid pace and this can all change on a dime. Of course, we will keep you posted here at Heartland College Sports and hope you hop on our free forums to join the conversation.