Big 12 News
Texas, Oklahoma Are Leaving the Big 12 Conference: Report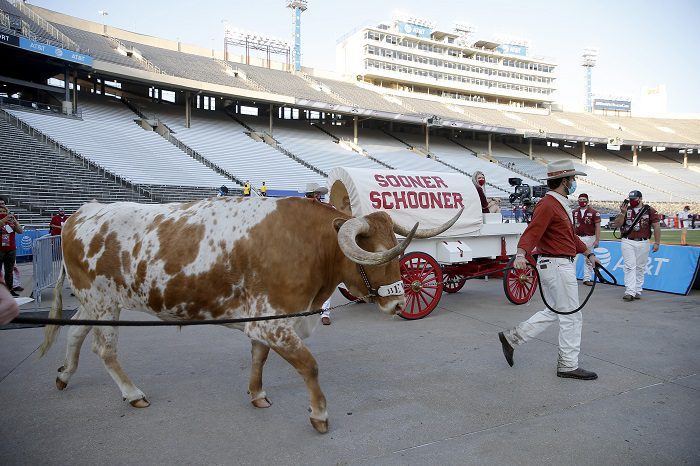 Just hours after it was rumored to be "almost done", a new report from Chip Brown at Horns247 says that Texas and Oklahoma are out the door and planning to leave the Big 12 Conference for the SEC.
Per Brown:
"Texas and Oklahoma, the founding members of the Big 12, are leaving the league – and barring any unforeseen developments, will join the Southeastern Conference, a high-level source close to the situation told Horns247."
The two Universities are expected to inform the Big 12 on Monday that they have no plans to renew the media contracts that run through 2025. This would then go to a vote of the SEC, where 11 of 14 teams need to approve the addition of these two programs and other than Texas A&M, it's not clear any other team is a "no" vote at this point in time.
The final impediment to this could be state legislatures in Texas and Oklahoma who may try to block the move to protect entities like Oklahoma State, Texas Tech, Baylor, TCU and others. Plus of course Texas A&M, who wants to part of Texas joining them in the SEC.
This is not a shocker as Oklahoma and Texas didn't even bother to show up to the emergency Big 12 meeting that took place with CEO's and athletic directors from the conference on Thursday afternoon.
However, the conference did release a statement that, for now, presented a united front for the Big 12.
After the Big 12 meeting took place, a statement of notes was released by the conference that read as follows:
Oklahoma and Texas are founding members of the Big 12 and we value their traditions and history of success.
The eight members strongly desire to retain the current composition, which has proven it can compete at the highest levels.
There is a recognition that institutions may act in their own self-interest, however there is an expectation that members adhere to Conference bylaws and the enforcement of Grant of Rights agreements.
This is a time of dramatic change within intercollegiate athletics that presents both opportunities and challenges, and the Big 12 Conference looks forward to continuing to play a major role in its evolution.
The Big 12 was founded in 1996 when the Big Eight (Oklahoma, Oklahoma State, Nebraska, Colorado, Kansas, Kansas State, Missouri and Iowa State) and four schools from the Southwest Conference (Texas, Texas A&M, Texas Tech and Baylor) came together.