Big 12 News
Big Ten Has Engaged in Unofficial Talks with Oklahoma State: Report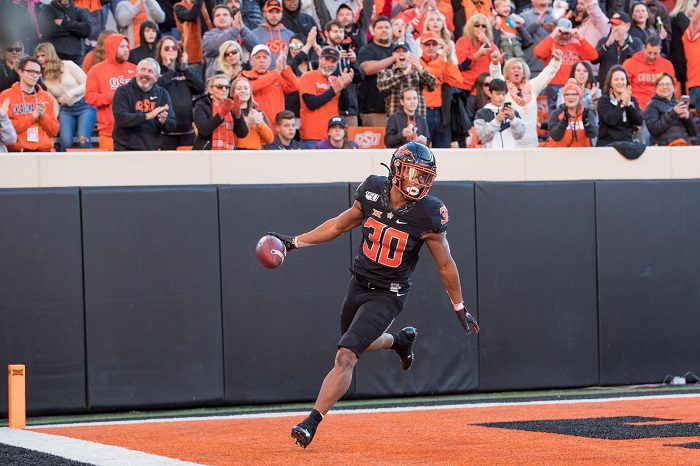 As the upheaval in the Big 12 Conference continues, with Oklahoma and Texas reportedly on the verge of leaving for the SEC, other Big 12 schools could be looking for a new home.
Oklahoma State will be one of the most desirable programs of the eight remaining. Oklahoma State's athletics department hasn't just succeeded in football, it's been incredibly successful in several other sports, like golf, wrestling, basketball, baseball, cross country and others. In total, Oklahoma State has 52 NCAA team national titles, which ranks fourth in most NCAA team national championships.
And a new report from Robert Allen at GoPokes says that, the "Big Ten has reportedly engaged in unofficial third-party interest with Oklahoma State University".
The report added that Oklahoma State has been very proactive and has interest from the Big Ten, ACC and Pac-12.
This news comes one day after Oklahoma State's president Kayse Shrum released a statement saying, "Our commitment to our student-athletes is top of mind, and their best interests will be represented prominently. We enjoy a proud athletic heritage with more National Championships than any other Big 12 university, and we will aggressively pursue the opportunities ahead."
In addition, Dylan Buckingham of KFOR in Oklahoma City had a similar report on Saturday.
What happens from here remains unknown for Oklahoma State and the entire Big 12 Conference, but it sounds like Oklahoma State is in a good of a spot as it can be in right now, given the circumstances.
The Cowboys have been more connected to the Pac-12 than the Big Ten, but the Big Ten would likely be a preference for those in Stillwater. The Pac-12 has been relatively mum on expansion, with their new commissioner saying on Friday he is not actively seeking to poach any teams, but that he would listen if any one calls.
There are already reports that TCU, Baylor and Texas Tech have set their eyes west and have reached out to the Pac-12 Conference. But the good news for Oklahoma State is that any of the other Power conferences could justify the Cowboys as a suitable fit based on geography and athletic standards and success.