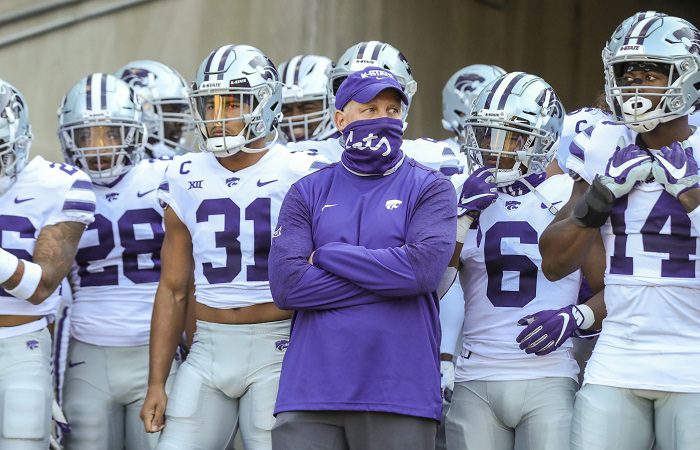 With Oklahoma and Texas leaving the Big 12, the conference could fall apart and die, what should the Kansas State Wildcats do next?
Kansas State presents a tricky proposition. The Wildcats aren't the state's flagship institution. Manhattan isn't a large media market. But the Wildcats boast a solid, well-rounded athletic department with quality facilities and good leadership, headed by athletic director Gene Taylor. K-State doesn't have that 'name-brand program' like Kansas basketball or Texas football, but in the right situation the Wildcats can be a great fit for the future and become a backbone for that new conference.
Like Kansas, the Wildcats spent their early days in the Missouri Valley Intercollegiate Athletic Association, which eventually split, with K-State moving into what would become the Big 8, and then the Big 12. If the Big 12 is no longer an option — it could fall apart and die — what should the Wildcats do next?
READ MORE: An Oklahoma State Fan to Texas, Oklahoma: 'Good Riddance, I'm Tired'
READ MORE: If the Big 12 Fails, Does Iowa State Fit in the Big Ten or Pac-12?
ACC Out
First, let's eliminate the ACC. I think that conference would be more likely to add West Virginia (as we wrote earlier this week) or even Kansas. Heck, I think the ACC would be interested in pursuing a Texas school like TCU or even Houston before entertaining Kansas State.
Can They Convince the Big Ten?
Next, there's the Big Ten. Geographically, the Wildcats would be a solid fit. The Jayhawks, reportedly, are already talking with the Big Ten. In a 16-team alignment, there are two spots in the Big Ten. If Kansas were to pursue the Big Ten, would the Jayhawks try to make themselves and K-State a 'package deal?' Well, if OU isn't willing to do that for Oklahoma State, and Texas A&M wasn't willing to do that for Texas (and now that the Aggies are pitching a fit about UT joining the SEC), I wouldn't count on it. This is a 'look out for yourself' situation.
Pac-12 a Last Resort?
That leaves the Pac-12. Geographically, it's not great. But, geography doesn't matter nearly as much these days. In a 16-team scenario, Kansas State would be attractive because it's a good fit with the Pac-12's non-west coast schools (including former Big 12 rival Colorado). It's a program that is built to be competitive immediately. If the Pac-12 does pick up other Big 12 schools, K-State would have familiar mates. I could see a Pac-12 East with K-State, Oklahoma State, Texas Tech, TCU, Colorado, Utah, Arizona and Arizona State. And I could see K-State being successful in that alignment.
The Big Ten is probably the 'better' home for the Big Ten. But, as the Wildcats aren't in a bigger media market, and because the school doesn't have American Associations of Universities membership (and Kansas does), the more LIKELY home is the Pac-12. K-State won't get as much revenue from the Pac-12 as it would the Big Ten, but in a competitive division and an expanded playoff, who knows? Maybe the Wildcats make more noise on a national stage.
You can find Matthew Postins on Twitter @PostinsPostcard.
**Want to win a $20 gift card? Go sign up here and join our conversation! The best poster each week wins a gift card to your favorite establishment!**