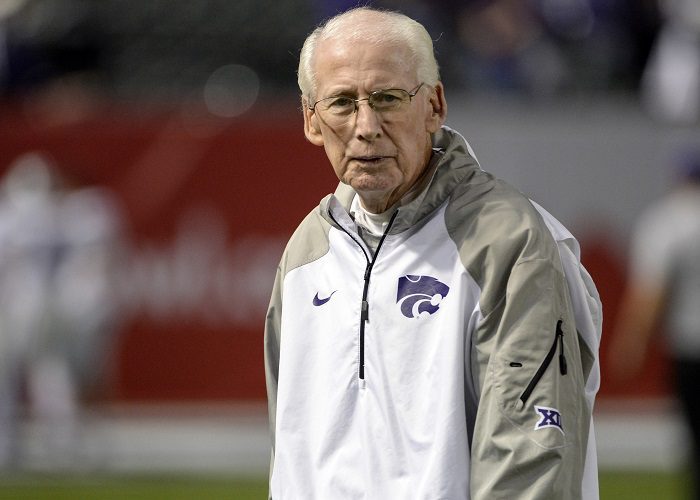 With Texas and Oklahoma on the verge of leaving the Big 12 for the SEC, emotions are hot, but leave it to legendary Kansas State head coach Bill Snyder to try and calm everyone down and remain optimistic.
Snyder released a public statement on Twitter for his first words since all the news of the last several days and said, "The Big 12 came thru this before and will again. Keep the faith. Bob Bowlsby and school Presidents are good leaders-negative talk won't help."
The Big 12 released a statement on Thursday that it has a "desire" for the eight remaining teams to stay together. What exactly that looks like remains to be seen.
The statement was a list of bullet points that read as follows:
Oklahoma and Texas are founding members of the Big 12 and we value their traditions and history of success.
The eight members strongly desire to retain the current composition, which has proven it can compete at the highest levels.
There is a recognition that institutions may act in their own self-interest, however there is an expectation that members adhere to Conference bylaws and the enforcement of Grant of Rights agreements.
This is a time of dramatic change within intercollegiate athletics that presents both opportunities and challenges, and the Big 12 Conference looks forward to continuing to play a major role in its evolution.
However it hasn't helped that since then the remaining eight teams have all been rumored to be looking elsewhere in the Power Conferences. TCU, Baylor and Texas Tech have reportedly reached out to the Pac-12. Meantime, Kansas has a reportedly call set up with the Big Ten.
Of course, the Big 12 was on the verge of extinction a decade ago and hung on. It seems less likely this time around, but if there is anyone who is willing to "keep the faith" and keep us all positive, it's Bill Snyder.