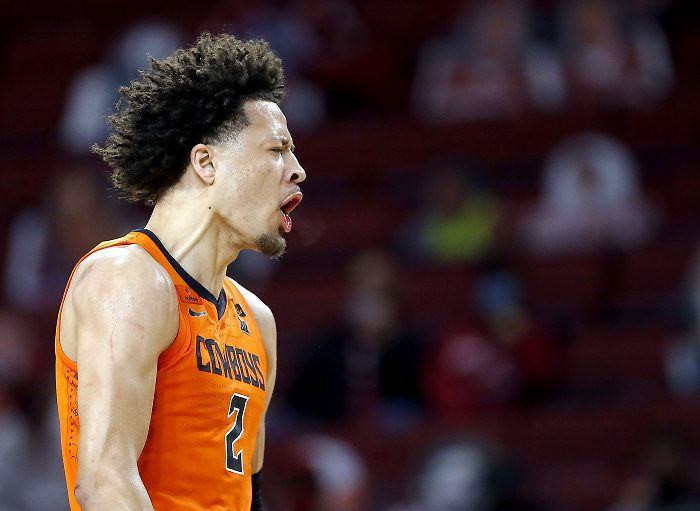 Cade Cunningham figures to be the No. 1 overall pick in the 2021 NBA Draft on Thursday night, making the Oklahoma State Cowboys quite happy.
But what about the rest of the Big 12? This could be a bumper draft for the entire conference, with four projected picks in the first round and another three or four players that could either slip into the first round or end up in the second round. Based on mock drafts, as many as eight players could be taken on Thursday night.
But where, exactly, could they end up? We don't have NBA sources, but we do have ideas.
G Cade Cunningham, Oklahoma State
First Round, No. 1 overall
While every other Big 12 player on this list will have a range, there is little question Cunningham will go No. 1 overall to Detroit, or to whichever team trades up to move into the No. 1 spot (there are rumors, of course). As it stands two days before the draft, a trade doesn't look imminent. Cunningham has worked out with the Pistons, and there doesn't appear to be any posturing from Cunningham's camp along the lines of 'don't pick me.' Plus, a story posted at The Ringer talked about Cunningham being a 'new breed' of NBA player, like a Nikola Jokic or a Luka Doncic.
READ MORE: Dear Detroit Pistons, Stop Thinking and Just Take Cade Cunningham
READ MORE: Report: Cade Cunningham 'very excited' about joining Pistons
G Davion Mitchell, Baylor
First Round, No. 8-13 overall
Mitchell's value has ranged a bit in mock drafts of late, citing that he's a plus defender, a combo guard and a quality shooter. Some, however, have asked questions about whether his surge in 3-point shooting was a fluke or not (I don't buy that personally). He appears to be a lock for the Lottery (picks Nos. 1-14). The question is where? Right now, his most popular position has been No. 13 with Indiana, but it wouldn't surprise me to see him go a smidge earlier or later.
F Kai Jones, Texas
First Round, No. 11-24 overall
Jones has a huge range because, based on reporting and mock drafts, scouts are trying to figure out what his 'ceiling' is. He has the type of skills the NBA wants from a 6-foot-11 forward — he's quick, he can put the ball on the floor and he's developing a sharp 3-point shot. There are questions about how good a defender he can be in the NBA. That's the reason for the range. He could go in the lottery, with a team like Charlotte a possible destination, or drop into the mid-20s where Houston has a couple of picks.
First Round, No. 19-24 overall
Now that Butler is medically cleared I've seen his mock range go up to No. 19, where the New York Knicks have a pick, and down to No. 24, which is the last of Houston's three first-round picks. His high-level 3-point shooting, ball handling and defense is going to interest any team in that range. His most popular destination in mocks, by far, has been the Los Angeles Lakers at No. 22, where he could be a bench contributor immediately.
G Miles McBride, West Virginia
First Round, No. 26-30 overall, or Second Round, No. 31-36
McBride feels like last year's Desmond Bane. The TCU senior started the 2020 NBA Draft as a solid second-rounder and ended up a late first-rounder to Memphis. McBride has played his way into a potential first-round pick, thanks to a great NBA Scouting Combine and individual workouts. One recent mock had him going No. 27 to Brooklyn. Another had him going No. 31 to Milwaukee. It's hard to see him dropping past Oklahoma City at No. 36.
G Austin Reaves, Oklahoma
Second Round, No. 40-50
Reaves takes a quality 3-point shot to the NBA, and he's remained a consistent second-round pick the past few months in most of the mocks I trust. But in the last three mocks I reviewed, he's been a steady at No. 45 to Boston.
F Greg Brown, Texas
Second Round, No. 40-55
At one time Brown was considered a lottery pick. But scouts know he has work to do offensively. His rebounding and energy are an immediate fit for the league. He needs to go to a team that knows how to develop offensive talent. A recent mock had him going No. 40 to Atlanta.
F Jericho Sims, Texas
Second Round, No. 45-60
Like McBride, Sims played his way into the Draft at the NBA Scouting Combine. Just a month ago, he wasn't popping up in mock drafts at all. Now, he's going as high as No. 48 to Atlanta. Another mock had him going No. 52 to Detroit. He's the most likely player on this list to fall out of the draft entirely.
As for the rest …
Baylor guard MaCio Teague and Texas Tech guard Mac McClung, among others, are not appearing in mock drafts as of late. But the second round of the NBA Draft can be incredibly volatile, and both have the talent to be considered potential selections. They're the two most likely Big 12 players that are on the outside right now that could end up looking 'in' on draft night.
You can find Matthew Postins on Twitter @PostinsPostcard.
**Want to win a $20 gift card? Go sign up here and join our conversation! The best poster each week wins a gift card to your favorite establishment!**