Big 12 News
Texas, Oklahoma Notify Big 12 They Won't Renew Media Rights in 2025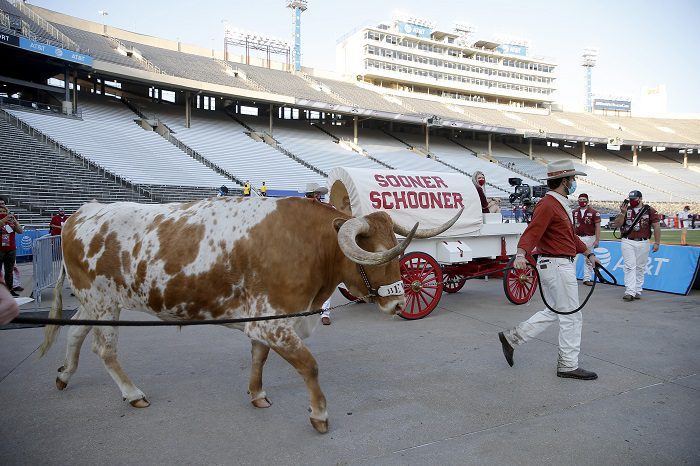 It's starting to become a reality that Oklahoma and Texas are going to leave the Big 12 for the SEC. The two Universities released a joint statement on Monday morning announcing their intentions to not renew their media rights deal with the Big 12 when it ends in 2025.
The statement read as follows:
"The University of Oklahoma and The University of Texas at Austin notified the Big 12 Athletic Conference today that they will not be renewing their grants of media rights following expiration in 2025. Providing notice to the Big 12 at this point is important in advance of the expiration of the conference's current media rights agreement. The universities intend to honor their existing grant of rights agreements. However, both universities will continue to monitor the rapidly evolving collegiate athletics landscape as they consider how best to position their athletics programs for the future."
This is not a shocker as Oklahoma and Texas didn't even bother to show up to the emergency Big 12 meeting that took place with CEO's and athletic directors from the conference on Thursday afternoon.
Then on Sunday, the Big 12 had an emergency meeting with the Texas and Oklahoma presidents, but the conversation didn't appear to clarify much.
This meeting came one day after it was reported that the Big 12 had discussed on its conference call last Thursday the idea of giving Oklahoma and Texas and larger share of the Big 12 revenues (1.5) to keep them on board. As HCS owner Pete Mundo wrote on Sunday morning, that idea is a worthy one to consider.
Will the Big 12 continue to exist? That remains to be seen. The conference did release a statement last week that, for now, presented a united front for the Big 12.
After the Big 12 meeting took place, a statement of notes was released by the conference that read as follows:
Oklahoma and Texas are founding members of the Big 12 and we value their traditions and history of success.
The eight members strongly desire to retain the current composition, which has proven it can compete at the highest levels.
There is a recognition that institutions may act in their own self-interest, however there is an expectation that members adhere to Conference bylaws and the enforcement of Grant of Rights agreements.
This is a time of dramatic change within intercollegiate athletics that presents both opportunities and challenges, and the Big 12 Conference looks forward to continuing to play a major role in its evolution.
The Big 12 was founded in 1996 when the Big Eight (Oklahoma, Oklahoma State, Nebraska, Colorado, Kansas, Kansas State, Missouri and Iowa State) and four schools from the Southwest Conference (Texas, Texas A&M, Texas Tech and Baylor) came together.