Big 12 News
Bob Bowlsby Reacts to Oklahoma, Texas Leaving for SEC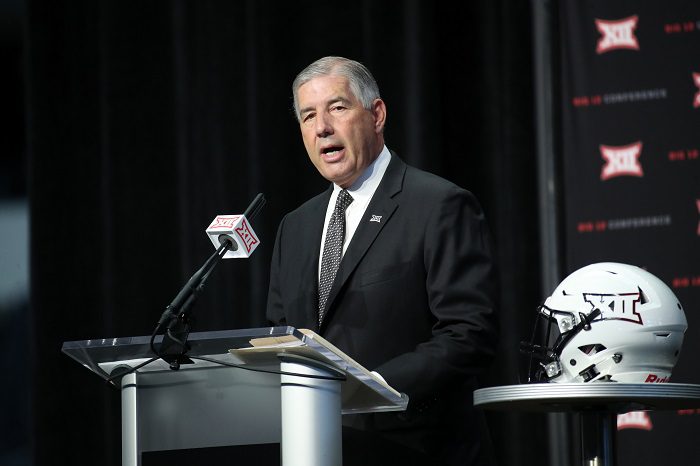 With the news of Texas and Oklahoma heading off to the SEC, it has caused quite the stir around the Big 12 conference.
While athletic directors and university presidents have released plenty of statements over the last few days, including the Big 12 Conference, we have our first official reaction to the news on Tuesday that Texas and Oklahoma have officially reached out to the Southeastern Conference about becoming members.
Big 12 commissioner Bob Bowlsby released the following statement: "The Big 12 Conference has learned that the University of Oklahoma and the University of Texas have submitted formal requests to the SEC to be considered for membership beginning with the 2025-26 athletic year.  The events of recent days have verified that the two schools have been contemplating and planning for the transition for months and this formal application is the culmination of those processes. We are unwavering in the belief that the Big 12 provides an outstanding platform for its members' athletic and academic success.  We will face the challenges head-on, and we have confidence that the Big 12 will continue to be a vibrant and successful entity in the near term and into the foreseeable future."
Two weeks ago at Big 12 media days, Bowlsby did not seem worried about expansion or teams possibly leaving the conference and to me, he was as clueless as can be. The landscape of college athletics is constantly changing, and Bob Bowlsby needs to do everything he can to evolve with that change in order to preserve the Big 12 Conference. If not, the eight teams remaining could end up elsewhere, leaving the Big 12 as an extinct conference.
But if you're looking for optimism, legendary Kansas State head coach Bill Snyder is still positive regarding the future of the Big 12. We can only hope he's right.