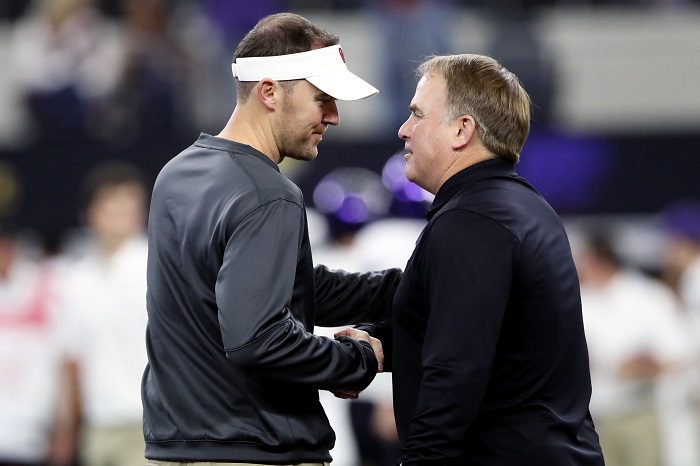 Welcome to the HCS Big 12 mailbag! This mailbag is for all you football junkies out there who root for a Big 12 school who not only have questions about your team, but other teams in the conference as well. So, join me, grab your favorite drink, and relax as I answer all your Big 12 questions. For those interested, I will send out a tweet (@Derekduke25) every Monday until last call (No, not 2 AM) at 8 PM CT for you to send in your questions to be answered every Tuesday right here at Heartland College Sports.
I want to thank each one of you who submitted a question this week and for those reading, I am glad you could join me. I am doing this on late Monday evening and of course this mailbag wouldn't be nearly as fun without a beverage right next to me. Tonight's drink of choice? An ice-cold Dome Faux'm from 8th Wonder. Cheers!
@fraseriii asks: I believe that UT and OU said that they aren't extending past 2025. What are the odds that the conference implodes before then? And if that happens, will it be because those two left early or maybe it's the other teams leaving for new conferences first.
Duke: That's right, neither Texas nor Oklahoma will be in the Big 12 past the 2024 football season. However, if I had money on this, I would say that Texas and Oklahoma don't even make it that long. At some point, they will bolt to the SEC before then and that will start the breakup of the Big 12. I am sure other schools are already in contact with other conferences but this whole thing started when the two schools said they wanted to go to the SEC.
@Vectoze_ asks: So, the Big 12 was trying to keep Texas and Oklahoma by offering more money ($56 million) to stay. If you were the other 8 teams, would you be "offended" (or upset) by that ($37 million) or okay with it by taking less money to keep the Big 12?
Duke: If I am one of the other eight schools in the Big 12, I would take that deal. Texas already makes more money than any other program so what does more money change? Money doesn't mean more wins on the field because if it did, Texas would be winning a lot more. If that deal was on the table, it would provide stability for the other eight schools because there is a guaranteed place for them right here in a power five conference making good money. Stability means a lot in this day of college athletics because it is constantly changing and when you have a seat at the power five table, keep it. Maybe some schools make out better after all this however not every school can say that.
@clonesjer asks: How have all these wealthy colleges convinced fans of generally average means to cheer on their cash chasing?
Duke: I can't speak for every fan, but the suits of college athletics are the ones who ruin the sport. This is no longer about fans or what is convenient, it is all about money. No matter what we think, the only thing that matters is money. If fans get behind that, then that is their opinion but none of those dollars are going into the pockets of the fans. Maybe some schools can thrive from this move, but I don't think that will be the case for some schools and I worry about their future.
@Dilon1933 asks: In terms of attracting potential conferences; How much pressure will be on the remaining 8 teams to perform every week? Fans to sell out stadiums and travel to away games?
Duke: I know you asked a few questions, but I went with this one because nobody else asked it. I think it depends on how long this conference stays together but I don't think a whole lot will depend on results. If you want to really look at something look at the eyeballs on the tv during games. Some schools are just more popular than others and are better draws. Selling out games is great but if people outside the stadium are watching, that is what drives this bus because it means more money. With that said, I find it funny that all these people from ESPN are knocking Texas and Oklahoma for making this move and how negative it is for the sport, but little do they know that their employer is playing a part in this.
@OffCydes asks: What's the best way to see the conference off?
Duke: My hope is to continue this conference for as long as it can go. Then hope each school is set up for the future with plenty of money coming in. The goal is for each team to do better than where they are now but that's all it is at this point is hope.
@Philo_Beddeaux asks: How can the Big 12 stay intact long enough to extract the most money possible from the tail-tuckers?
Duke: I think that depends on how long Oklahoma and Texas can stay in the conference. Legally, they are supposed to play four more seasons in this conference, but I highly doubt that will be the case. I would say no more than two years until the breakup starts happening for real.
@jeffstraight76 says: The Big 12 is dead. Everyone abandon ship!
Duke: That may be true, but I will stand on this ship until it sinks, and I can't cover this conference anymore. I will continue to provide the best coverage I can and the same goes for this site. Until we are forced to do something else, we aren't going anywhere despite the ship sinking down.