Big 12 News
Iowa State AD Jamie Pollard: 'It's Not a Time to Panic'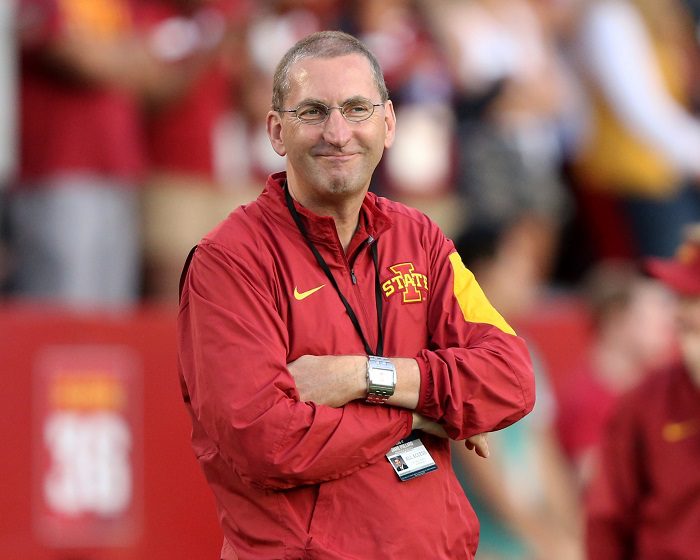 With Oklahoma and Texas informing the Big 12 Conference that they plan to leave the league, the question is what happens next for the remaining eight programs?
While fans and media are painfully going through every realignment scenario humanely possible, athletic directors from across the conference started releasing official statements on Monday afternoon. At Iowa State, AD Jamie Pollard and President Wendy Wintersteen put out a video on Monday night for Cyclones fans.
Pollard went on to note that it was "not a time to panic" and that the college football landscape is rapidly changing. Those are the lines that we've heard from most of the athletic directors. However where Pollard went beyond what has been said by other ADs is when it came to the issue of the media grant of rights. Oklahoma and Texas said in their statement they planned to remain with the Big 12 until their media grant of rights deals ended in 2025. If they choose not to, they would owe a penalty north of $70 million.
It doesn't sound like Pollard has any intentions of letting OU and Texas get out of that deal early. I hope the other seven universities are on the same page with this.
Pollard said in the short video, "Grant of rights means each institution has turned over their media rights, meaning their opportunity to be on television, and the conference in turn sold that to our media partners. In the Big 12, the grant of rights is through 2025. That means that not any of the 10 institutions can go become a member of another conference without, one, leaving their media rights behind, and number two, paying a penalty. That is why I am so encouraged the Big 12 is led by commissioner Bob Bowlsby.":
Pollard went on to add, "As we learned, Oklahoma and Texas intend to honor their grant of rights through 2025. If that remains the case, we know that for the next four years the Big 12 is going to stay viable, the Big 12 is going to continue to win national championships and all 10 members are going to continue to receive their full media shares. That allows up the opportunity to spend the next 4 years evaluating the landscape and understanding what is change, or what isn't changing, in college athletics. I know that gives us the best possible opportunity to position Iowa State University for what comes next."
Jamie Pollard doesn't sound like an AD who is ready to pull the trigger on jumping to another conference tomorrow, next week, or next month.
But here's what we do know: OU and Texas want out of the Big 12 and into the SEC as quickly as possible. It is in Oklahoma's and Texas' best interests for the Big 12 to implode as quickly as possible. It may also be in ESPN's best interests for this to happen as well. That's a lot of juice getting behind the destruction of your conference.
However, if Pollard and the other seven ADs and Presidents stay unified in this moment, which they have every incentive to do so, no one should acquiesce to the demands of OU and Texas. Make them earn every last damn penny from this conference before they go anywhere. Then they can enjoy getting it handed to them by Alabama every fall.
Here's the full video to watch: