Big 12 News
Pac-12 Commissioner Throws Cold Water on Possibly Adding Big 12 Teams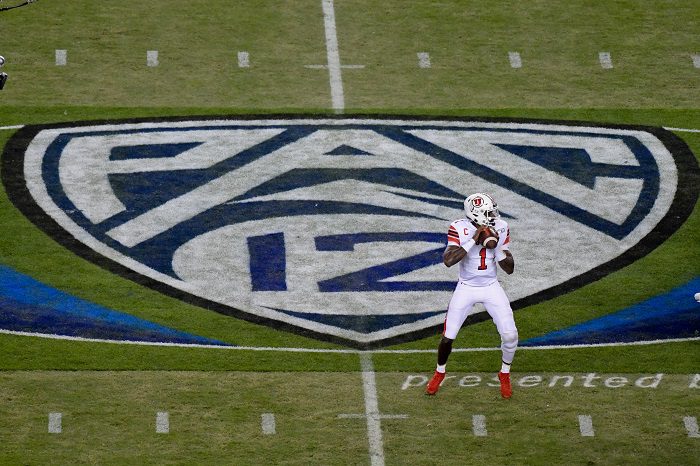 Pac-12 Media Days got underway on Tuesday and obviously the entire event took on a whole new meaning with conference realignment once again at the forefront of the discussion in college athletics. Oklahoma and Texas announced their plans to leave the Big 12 for the SEC, which means eight Big 12 teams could be looking for a new home.
There have been reports that some Big 12 teams are looking west. Already, TCU, Baylor and Texas Tech have apparently reached out to the Pac-12 Conference.
But Pac-12 commissioner Greg Kliavkoff opened Pac-12 Media Days on Tuesday throwing some cold water on the idea that the conference is actively seeking out Big 12 teams, by saying, "We believe the move by Texas and Oklahoma strengthens our unique position as the only Power 5 conference with teams in the Mountain and Pacific time zones."
Well, considering none of the remaining eight teams are in the Mountain or Pacific time zones, that's not a great sign for the Big 12 teams who may be looking west.
He also added, "We don't think there's any risk to staying at 12 teams."
Maybe this is all posturing by the Pac-12 and a form of slow-playing, but regardless, if Kliavkoff really wanted to make a mark in the state of Texas, he would've said as much this week. There would've been nothing wrong with expressing an interest based on how the last week has played out in college athletics. He didn't do it.
This also confirms a point we wrote about yesterday, that as much we want to talk realignment, the strong possibility that these eight Big 12 teams stay together in some capacity is more likely than many suspect.
But what's also interesting is that just a few days ago, Kliavkoff said he would at least "listen" to Big 12 teams, if they called. What has changed since then? We don't know, but there will be plenty of time for Kliavkoff to address this during the week at Pac-12 Media Days and we will follow all his comments on the Big 12 here at Heartland College Sports.