Trending Now
SEC Commissioner Greg Sankey is Full of Hot Garbage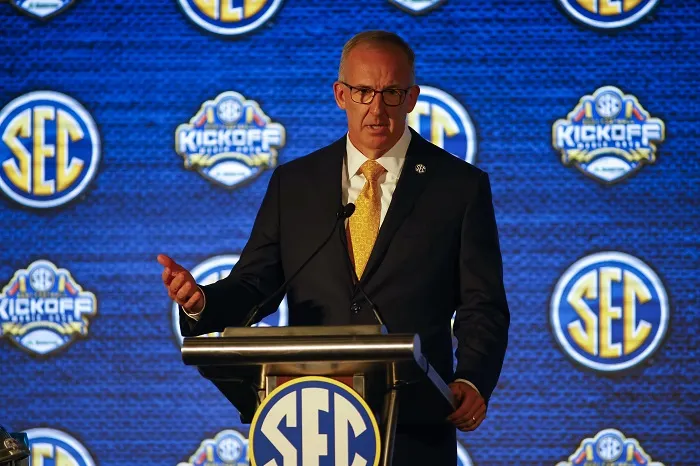 The University of Texas and University of Oklahoma made it official on Tuesday applying to become members of the SEC. If you told me one week ago today that would be the case, I would've called you absolutely crazy. But here we are.
As a result, the entire college sports landscape is facing uncertainty.
But don't blame SEC commissioner Greg Sankey, who released one of the most ridiculous statements in recent history saying in part, "While the SEC has not proactively sought new members, we will pursue significant change when there is a clear consensus among our members that such actions will further enrich the experiences of our student-athletes and lead to greater academic and athletic achievement across our campuses. The Presidents and Chancellors of the SEC, in their capacity as the conference's Chief Executive Officers, will consider these requests in the near future. Per the Bylaws of the SEC, a vote of at least three-fourths of the SEC's 14 members is required to extend an invitation for membership."
Does anyone for a second believe Greg Sankey when he says, the "SEC has not proactively sought new members"? If you buy that, I've got some great beachfront property to sell you in Salina, Kansas. That's BS. Sankey knows it, but it's called "CYA".
The SEC nearly helped destroy the Big 12 Conference a decade ago, and if they have their druthers, they will kill it off for good this time around. That's not to take away most of the blame from Oklahoma and Texas, they're still responsible. But the SEC clearly was a willing accomplice in this move.
Now there are eight teams left wondering what's next for them, their programs and their fan bases. But don't worry, Greg Sankey wants you to believe his head was buried in the sand this entire time and magically OU and Texas showed up and pitch themselves to the conference. It's amazing how that works.
But then again, lying while playing fast and loose with the rules is very on-brand for the SEC. So why stop now?