Big 12 News
Big 12 Discussed Possibility of Adding BYU, Cincinnati, Houston: Report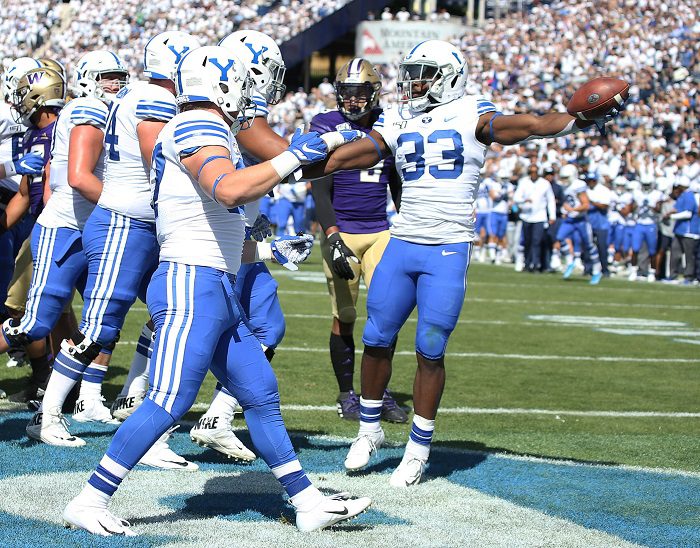 With Oklahoma and Texas making it official this week of their intentions to leave the Big 12 Conference, the question is now what is next for the league? Teams could look the other conferences, the Big 12 could go ahead as eight teams, or they could look to expansion.
But on expansion, ESPN's Heather Dinich pointed out that the Big 12 has already had preliminary discussions to add BYU, Cincinnati and Houston.
Dinich said on ESPN's Get Up that the Big 12 has considered adding three schools. Though none would match the brands of Oklahoma and Texas, it's an effort for the conference to stay alive.
"Well, the question then becomes, 'Does the Big 12 dissolve,' as many think it will, 'in the conference?'" Dinich said. "They obviously want to keep it going, and who do they grab? I can tell you, last week, they talked on a shallow surface of, 'What do we do if Oklahoma and Texas leave?' And they talked about Cincinnati, Houston, BYU. They're all great programs, but none that obviously bring the value of Oklahoma and Texas and those brand names, right? So you've already got schools like West Virginia saying, 'Hey, can we get to the ACC?' It depends on if that's reciprocated — probably not."
"But absolutely, this is going to be a snowball effect — not even five years from now, 10 years from now. I've heard all kinds of speculation, including the possibility one day down the road of a 32-team NFL-like type conference. So nothing would surprise me down the road. This is only the tip of the iceberg."
Dinich is right to point out that these brands aren't Oklahoma and Texas, of course, but it makes the Big 12 Conference a very competitive conference, which may not be the Power 5 level, but it certainly would be a head and shoulders above the AAC and the Group of 5.
However, the AAC may have something to say about that, as reports came down earlier this week that the AAC was interested in poaching the Big 12. If it comes down to who poaches who first, the Big 12 has $37 million reasons to win out with that battle, since that's what their TV contract pays each team on an annual basis. Sure, that number would likely decrease if Oklahoma and Texas leave early, but the Big 12 can still promise more money than the AAC, which pays out less than $10 million per year per school.