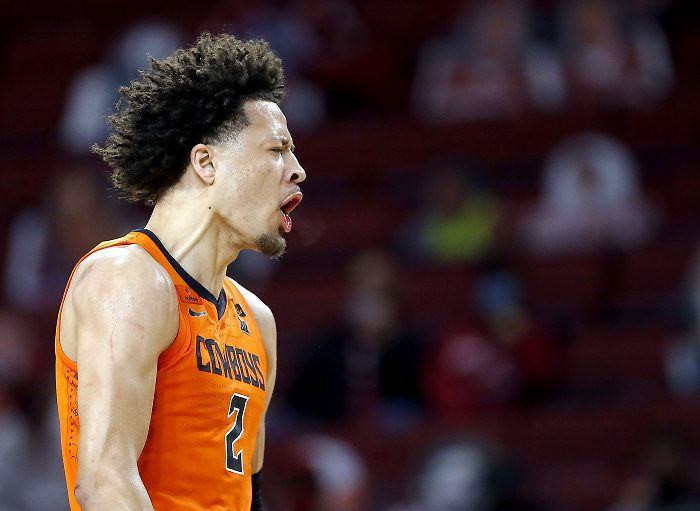 With the 2021 NBA Draft quickly approaching this Thursday night and Oklahoma State star Cade Cunningham expected to be taken first overall by the Detroit Pistons, I decided to look back on previous Big 12 hoopers taken with the coveted No. 1 pick. 
Only five players from the Big 12 have been picked first in NBA/ABA history, with many others taken with the second overall pick, including Kevin Durant, Wayman Tisdale, LaMarcus Aldridge and Michael Beasley. 
I won't be including guys from teams that weren't a part of the Big 12/Big 8/Big 7 at the period they were drafted. West Virginia had two players drafted first overall from the 1950s, Hot Rod Hundley and Mark Workman, but the Mountaineers were members of the Southern Conference at the time.
Andrew Wiggins – Kansas, 2014
Taken first by the Cleveland Cavaliers in the 2014 NBA Draft, Wiggins spent a season in Lawrence after coming out of high school as the No. 1 ranked player in the class of 2013. He had so much hype around him that scouts and analysts were even drawing comparisons to LeBron James. Coincidentally, Wiggins would be traded to the Minnesota Timberwolves shortly after being drafted for Kevin Love in a move to entice James to Cleveland.
He's enjoyed a semi-successful career thus far. Currently with the Golden State Warriors, he's averaged 19.5 points for his career with his best season coming in 2016-2017, where he put up 23 points and four rebounds per game in Minnesota.
Blake Griffin – Oklahoma, 2009
Arguably the most successful player on this list, Blake Griffin played for the Sooners for two seasons before declaring for the 2009 NBA Draft. He came out of Oklahoma Christian Academy in Edmond, Oklahoma, as the 16th-ranked player in the country for the class of 2007, and he soon made quick work of college basketball. Griffin led OU to the regional final round of the 2009 NCAA Tournament, losing to eventual champions North Carolina.
His play in college would land him as the first overall pick, where the Los Angeles Clippers scooped him up. He would sit out his rookie year due to injury, but came back and won the 2011 Rookie of the Year award since he was still eligible. Since being drafted, Griffin has earned six All-Star selections, three All-NBA second team selections and was also the 2011 Slam Dunk Contest champion. He now plays for the Brooklyn Nets.
Danny Manning – Kansas, 1988
Picked first overall in 1988 by the Los Angeles Clippers, Danny Manning earned a John Wooden and Naismith award while leading KU to an NCAA Tournament championship victory his senior year. His 2,951 career points leads the Big 8 and he also leads it in career rebounds. Manning is considered by many to be one of the best college basketball players of all time, and his No. 25 is retired by Kansas.
Manning played for seven different NBA teams during his 15-year pro career, including the L.A. Clippers, Atlanta Hawks, Phoenix Suns, Milwaukee Bucks, Utah Jazz, Dallas Mavericks and the Detroit PIstons. He was selected for two NBA All-Star games in 1993 and 1994 as well as one Sixth Man of the Year award in 1998.
Bob Boozer – Kansas State, 1959
Coming first in a 1959 draft that included Wilt Chamberlain and Rudy LaRusso, Bob Boozer left Kansas State a two-time All-American as well as leading the Wildcats to a Final Four appearance in 1958. His 1,685 career points broke the school record at the time and currently sits him at sixth in K-State history.
Boozer was drafted by the Cincinnati Royals after winning a gold medal for the U.S. in the 1960 Olympic games. He would later play for the New York Knicks, Los Angeles Lakers, Chicago Bulls, Seattle SuperSonics, and even won a championship with Oscar Robertson and the Milwaukee Bucks in 1971. The former Wildcat averaged 14.8 points and 8.2 rebounds for his career while also earning an All-Star vote in 1967 with the Bulls.
Howie Shannon – Kansas State, 1949
The Wildcats started the process of eventual Big 12 teams' players being drafted No. 1 by recording the first two. Howie Shannon was a 24-year-old college senior when he transferred to K-State in 1947 after previously playing for North Texas. He earned Second-team All-America honors while in Manhattan while leading the team in scoring and taking the Wildcats to the West Regional Final of the NCAA Tournament.
Shannon's journey to the NBA is a bit confusing, as he joined the Providence Steam Rollers of the BAA after college because he was ruled ineligible to be drafted to the NBA. He would later gain eligibility in 1949, where he was taken first overall by the Boston Celtics where he played one season. Shannon averaged 10.8 points and 2.5 assists across his two total seasons of professional basketball before retiring in 1950.