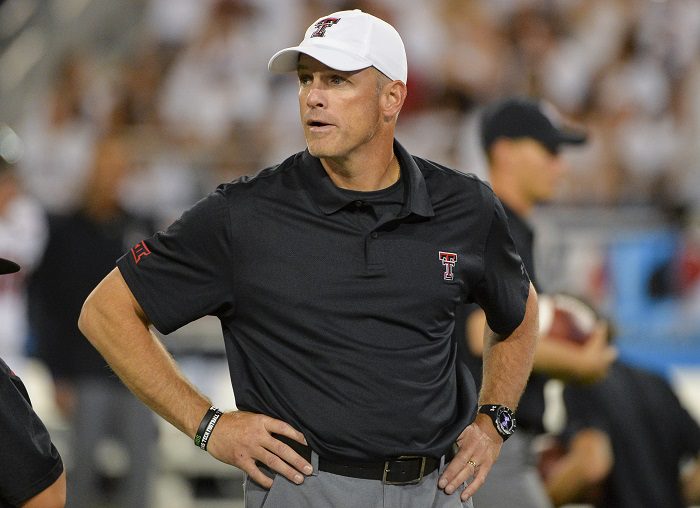 It's clear that Texas Tech should be in aggressive pursuit of Pac-12 membership. The Big 12 is on the ropes for the second time in a decade and the Red Raiders don't want to be the last dog at the bowl if the conference dissolves.
What if the Pac-12 declines to add Texas Tech though? After all, Tech isn't in the AAU. The Red Raiders failed to win a Big 12 Championship through its time in the Big 12 Conference. Really, they never won an outright Southwest Conference title either. It's true that Tech fans are passionate, but attendance has also dwindled as its administration's football decision making is on par with the performance of Kansas football. They fired Mike Leach just before his best team took the field for an off-field issue, retained Tommy Tuberville despite his horrible on-field performances and publicly recorded abuse of a graduate assistant. Finally, they canned their own kin only to see him become a rising star as a head coach in the NFL for a replacement whose team struggles to even defeat Kansas.
Let's face it. As much as I love the City of Lubbock and West Texas, it's not an attractive market for the Pac-12 either. Perhaps, the biggest reason the Pac-12 would like to add Texas Tech is for the recruiting pipeline and the fact there is a strong alumni presence in San Antonio and the Dallas/Fort Worth Metroplex.
If that is not enough for the Pac-12, Texas Tech should avoid the American Athletic Conference. It would be better for Tech to either become an independent or join the Mountain West Conference.
Non-Power Conference Options
Let's first look at the Mountain West option. TCU had tremendous success in the Mountain West and it helped launch them into the Big 12. This, as opposed to Connecticut, which saw its amazing basketball program go down the gutter for the sake of being in a football conference. When it comes to visiting the opposite division, the destinations are wildly more attractive in the Mountain West: Honolulu, San Diego, Napa Valley (Fresno and, to an extant, San Jose), Las Vegas, Reno. This as opposed to Cincinnati, Annapolis, Maryland and Greenville, North Carolina. Also, intradivision opponents likely include traveling to crime-ridden cities such as Houston, Memphis and New Orleans.
Tech has historic rivalries with members in both conferences. Obviously, Tech was in the Southwest Conference with Houston and SMU. SMU is basically a conference killer. The Southwest Conference and the WAC no longer sponsor football, albeit the WAC is bringing football back at the FCS level. Then, there is the conference SMU most recently abandoned: Conference USA. One could make the argument that the Sun Belt has passed Conference USA in terms of competitiveness on the field, which would make it the worst conference in the nation. Hardly anyone attends a Conference USA game plus one of its best teams, UAB, killed its football program only to bring it back a couple of years later. If the ACC grabs West Virginia, there is a solid chance they will also bring on Cincinnati or Connecticut, cutting deeper wounds into the AAC (for UConn, this proves leaving the conference was a good decision). Essentially, this revives the Big East Conference in the form of a potential ACC Division (Boston College, Cincinnati or Connecticut, Louisville, Miami (FL), Pittsburgh, Syracuse, Virginia Tech, West Virginia). The teams from the original eight who wouldn't be in this conference would be the Big Ten's Rutgers and Temple, who at one point got kicked out of the Big East Conference for its dismal competition, lack of attendance, and poor facilities.
Meanwhile, Tech has a historic rivalry against New Mexico. Tech used to dominate Arizona, Arizona State and New Mexico in the Border Conference. They were the Oklahoma of this conference. If he makes it through this season, Matt Wells is the previous head coach at Utah State. You can bet the Aggies fans will show up to heckle the man who left their program for greener pasture. Also, Boise State has competed year-in and year-out with the best. They are a big reason why the four-team playoff is a travesty. In fact, I would say the four-team playoff was created specifically to deny Boise State from being in college football's biggest games of the year. Yet, Boise State has competed and won big games they qualify for. Every Oklahoma fan reading this just smacked their head on the desk. Admit it, Sooners fans are still beating themselves up for the Fiesta Bowl loss. If you are a Sooners fan, you may want to go through some concussion protocols.
Geographically, bouts with Wyoming and Colorado State make more sense than trips to Florida and Philadelphia. Let's remember, there are two counties in Texas that are located in the Mountain Time Zone: El Paso and Hudspeth. Lubbock, Texas is closer to the Pacific Ocean than it is the Atlantic Ocean. It's really not even close. A trip to San Diego takes over 15 hours whereas a trip to Florida takes over 20 hours.
Is Independence an Option?
As for the Independent narrative, I can see this working out for Connecticut. If the ACC adds West Virginia, I can easily see them adding Connecticut over Cincinnati. Connecticut would provide close rivalries with Boston College and Syracuse. They were an original Big East member, but did not join the conference for football until the turn of the new millennium. The Big East was originally a basketball conference who added football later, which brought in Boston College, Miami (FL) and Virginia Tech. Thus, if Texas Tech takes time to itself as an independent, it can schedule Pac-12 games and still keep its rivalries with TCU and Baylor. Tech can also learn how to win again. They can schedule its old Border Conference rivalries with New Mexico, New Mexico State and UTEP. BYU should be an easy addition to the schedule. If Abilene Christian and Texas State are on the schedule, Tech should be bowl eligible. Many Mountain West schools have to play 13 games because of the rule about traveling to Hawai'i. In fact, Hawai'I will need a 13th game. Why not start playing them year-in and year-out? Tech has a Hawaiian pipeline through the Fehoko family. There Is no reason to visit the old Texas rivalries any longer. All of those teams long to look East. A&M and Texas clearly could care less about playing Tech. It's time to break up with those who aren't committed to the relationship. Texas Tech needs to go west.
It might make geographical sense for Baylor and TCU to renew rivalries with Houston and SMU if they are left out in the cold. However, Texas Tech needs to realize the best thing for Texas Tech is to go their separate way and look toward the west. They are never going to join the ACC, the SEC, or the Big Ten. They are looking at the Pac-12 and solely the Pac-12. As Toby Keith once sang in Should've Been A Cowboy, "Go west young man. Haven't you been told? California's full of whiskey, women and gold."
While the rest of the Big 12 looks east, Texas Tech is natural fit in the west.