Big 12 News
Big 12 Alleges ESPN Trying to Move Other Eight Teams to AAC: Report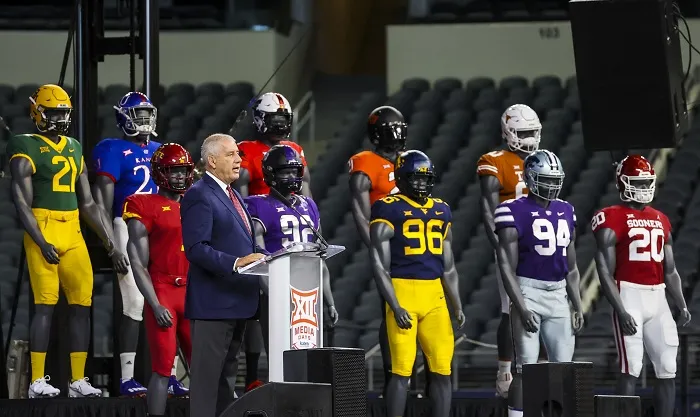 The Big 12 Conference sent a "cease and desist" letter to ESPN on Wednesday night and suddenly the relationship between the league and one of its biggest TV partners enters an incredible uncomfortable place.
In the letter, Big 12 commissioner Bob Bowlsby didn't just allege that ESPN conspired to get Oklahoma and Texas to the SEC, but he told Dennis Dodd of CBS Sports that "I'm absolutely certain [ESPN was] involved in it with the [American] trying to poach our members."
Bowlsby also told CBS Sports that ESPN's actions are, "tortious interference".
While Bowlsby said he's "certain" ESPN employees discussed this potential deal with the AAC, he also noted that the way Oklahoma and Texas would get out of the $70-80 million they would owe to leave the conference before 2025 was for the conference to cease to exist, which is what he alleges ESPN was helping facilitate.
So for the Big 12, the conference isn't going to go down without a fight, even if it means going after one of its two biggest TV partners. I respect the fight from Bob Bowlsby and the Big 12, but the biggest question that has to be asked right now is, "Is it all too late?"
Bowlsby hopes not. According to the report, the Big 12's bylaws are written in such a way that a program (even if there is just one left) can individually sue the SEC, the AAC or even ESPN.
The Big 12 intends to make the migration of Texas and Oklahoma to the SEC as difficult as possible by using the "disinterested directors" clause in its bylaws.
These bylaws came about nearly 10 years ago after the Big 12 nearly imploded when Texas A&M, Missouri, Colorado and Nebraska left the league. They stand for a period of 99 years, and per sources, it was OU and Texas who wanted the longest agreement possible.
ESPN has responded to these accusations in a statement saying the "claims have no merit".
Regardless, as the Big 12 digs in its heels, the key for Bowlsby is keeping the eight teams together in a united front. It will be easier said than done, but Bowlsby knows its his best chance for the conference to survive, saying, "The eight remaining schools are dealing with a lot. They're coming off a COVID year. They're coming off a rough year on ticket sales. … If we stay together, I think we'll have some options [in realignment]."
Big 12 schools each make approximately $37 million annually compared to less than $10 million for the AAC schools. It's believed the conference's worth could decline more than 50% if the Longhorns and Sooners leave.