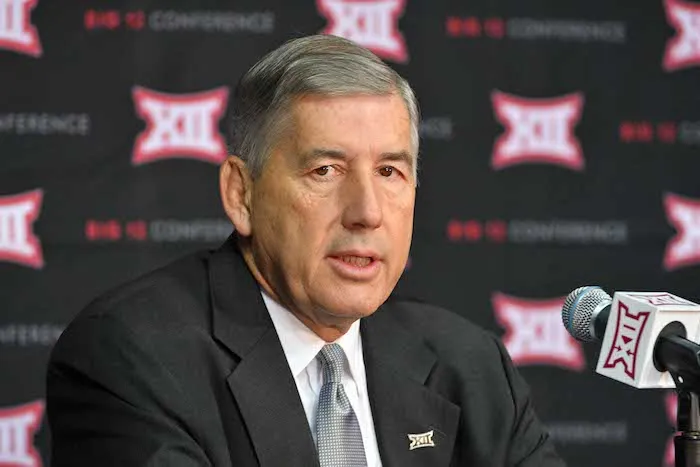 It's been a back-and-forth couple of days between Big 12 commissioner Bob Bowlsby and ESPN. After Bowlsby shot off a cease and desist letter to ESPN, alleging collusion in helping Oklahoma and Texas move to the SEC, the network fired back.
ESPN responded directly to Bowlsby on a letter on Thursday afternoon, saying, "The accusations you have made are entirely without merit. Apart from a single vague allegation that ESPN has been 'actively engaged in discussions with at least one other' unnamed conference, which ESPN disputes, your letter consists entirely of unsubstantiated speculation and legal conclusions. To be clear, ESPN has engaged in no wrongful conduct and, thus, there is nothing to 'cease and desist.'" 
Well as we know, Bob Bowlsby isn't going down without a fight, and he quickly responded to ESPN within hours on Thursday night, releasing a statement that read as follows on the Big 12 website:
Today's SEC announcement reaffirms that these plans have been in the works with ongoing discussions between the parties and television partner for some time. We are disappointed these discussions went as far as they did without notice to, or inclusion of, other Big 12 members.  Despite our concerns for the process and for the overall health of college athletics, we will do everything possible to make sure that the student-athletes at both universities enjoy an excellent experience throughout the remaining four years of their participation and competition in the Big 12 Conference.
Bob Bowlsby just went ahead and doubled down on the collusion allegations between Oklahoma, Texas and ESPN, but kept it classy on the back end regarding OU and Texas student-athletes, exactly how it should be. Now, the lawyers will get involved, as north of $1 billion in TV contracts are on the line (the amount the Big 12 would theoretically make between now and 2025).
So while many think it's a done deal that OU and Texas are out of the Big 12 before 2025, Bowlsby clearly has other ideas. Oh, and so do athletic directors around the league, like Iowa State's Jamie Pollard, who insinuated as much in his statement as well this week.
This story is just getting started.