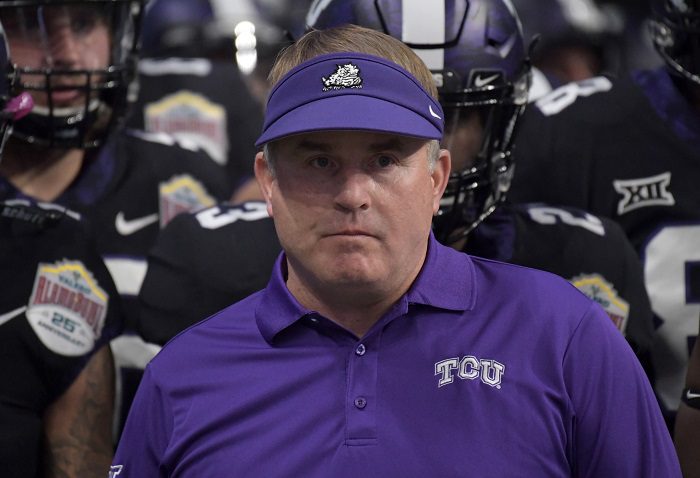 With each passing day, it's becoming clear that Texas and Oklahoma are SEC bound.
It's just a matter of when.
As the eight remaining Big 12 teams fight for a spot in a power conference, whether it's a revamped Big 12 or leaving for an existing conference, one team might have a tougher climb than its peers.
TCU snuck into the Power 5 during the last round of conference realignment. The Horned Frogs nearly became a Big East member in 2012 but fled before it was official. TCU paid a $5 million exit fee and joined the conference it could have been in since 1996.
When the Big Eight became the Big 12, the Southwest Conference was falling apart and TCU, along with other Texas schools, needed a new home. Texas politicians made sure Texas, Texas A&M, Texas Tech, and Baylor filled out the Big 12. TCU landed in the WAC and then had stints in C-USA and the Mountain West.
The Horned Frogs made the best of the situation and gained national attention by winning seven total conference titles and the 2011 Rose Bowl over Wisconsin; at least as much attention as a private, mid-major school could garner. Eventually the Big 12 came calling after Missouri, Colorado, Texas A&M and Nebraska departed.
Impressive Big 12 Tenure
The Horned Frogs have left a significant mark on the Big 12 in just nine years. Many teams, including football, baseball, soccer, and men's tennis, have won conference championships and are competitive at the national level.
As a result, TCU's brand has grown. Being in the coveted Texas recruiting ground and a top media market also helps. Those traits might save the Horned Frogs in this realignment wave. Baylor has a similar private, Christian school profile without the media market. The Bears can boast longevity at the power conference level, although recent off-field issues do hang in the air.
Time will tell which factors matter more.
Where to for TCU?
No other Big 12 school has officially received an invitation from another conference, but programs like Oklahoma State, Kansas, Iowa State, and West Virginia have gotten targeted interest from one or more conferences. Baylor, Texas Tech, Kansas State, and TCU have talked mainly with the Pac-12, a conference that does not have immediate expansion plans.
The Pac-12 has also been hesitant about accepting religious institutions in the past, which could hurt Baylor and TCU.
Joining the Pac-12 conference makes the most sense for the Horned Frogs based on geography and connections with west coast teams from Mountain West days. Time zone changes and playing night games for television purposes is not ideal for coaches and student-athletes, but better choices may not exist.
Going back to a conference like the Mountain West or AAC might surface as an option. If it does, TCU must quickly find an alternative. Try convincing fans, donors, coaches, student-athletes, and administration that a $30 million drop in conference payout money is worth the move.
That won't work.
In theory, the Pac-12, ACC, and Big 10 have eight spots which the Big 12 could fill and create four 16-team super-leagues. The Pac-12 needs four teams, the ACC could grab two and the Big 10 would need two as well.
This assumes all four conferences want 16 teams, each Big 12 team fits certain criteria laid out by other conferences, and all the other Power 5 teams stay put.
Also, the group of 5 teams that have been knocking on the door for years – Cincinnati, Houston, BYU, UCF, and Boise State for example – will not just sit by and do nothing. This is a chance to copy TCU and reach the power conference level amidst chaos.
Notre Dame could be another wildcard, but it will likely remain independent. Their current television deal and the potential new playoff set up provide little incentive to join a conference for football.
The schools left in the Big 12 have entered survival mode, both as a group and individually. Money, politics, television deals, and name recognition can easily shift potential plans. Those factors have helped and hurt TCU during previous conference realignments and can do the same thing now.
The Horned Frogs are in better position than 1996 or 2012. Still, TCU needs a selfish and aggressive approach to keep a spot in the power conference world.