Big 12 News
College Football Expansion Possibly on Hold Due to Oklahoma, Texas to SEC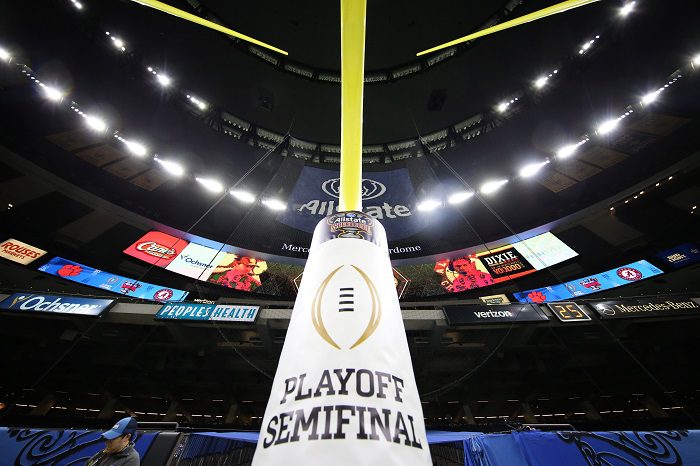 Oklahoma and Texas leaving the Big 12 for the SEC isn't just having a major impact on conference realignment, it could also impact the future expansion of the College Football Playoff.
It was just two weeks ago at Big 12 Media Days that Big 12 Commissioner Bob Bowlsby said that College Football Playoff expansion would be resolved this year.
"I hope the College Football Playoff is resolved by September, and because it's that single-sport issue, it could be resolved soon," Bowlsby said.
He added it will be a "tremendous asset" for the regular season with up to 40 teams during the season having a chance to make the Playoff, while adding this is not about a money grab for the sport.
But now, all that could be up in the air with the Power 5 conferences in upheaval.
CBS Sports' Dennis Dodd talked to sources who admit that the idea of expanding to a 12-team playoff is going to now need to be reconsidered for obvious reasons. One source told CBS Sports, "With 12 teams, we could just be watching a lot of SEC teams in the 12-team playoff."
One Power Five AD added: "Why on God's green Earth would the Pac-12 and Big Ten hand over these [playoff] rights, which only strengthens the SEC?"
A second Power Five AD agreed: "I don't care if there are 10 SEC teams in; we just can't make that a bonanza [every] year for them. You can't strangle everybody else financially."
Exactly right. We're going to watch 6-8 SEC teams play in the Playoff every year? No thanks.
But what's interesting is that it would make sense that Oklahoma and Texas were more interested in the SEC with an expanded Playoff, since winning the SEC would be harder than the Big 12, but with more slots available, it would become easier to get in with an at-large bid.
Imagine if Oklahoma and Texas legally agree to go to the SEC, and then the Playoff doesn't get expanded and their changes of reaching the Playoff plummet, especially as long as Nick Saban is at Alabama? Boy, talk about buyer's remorse.