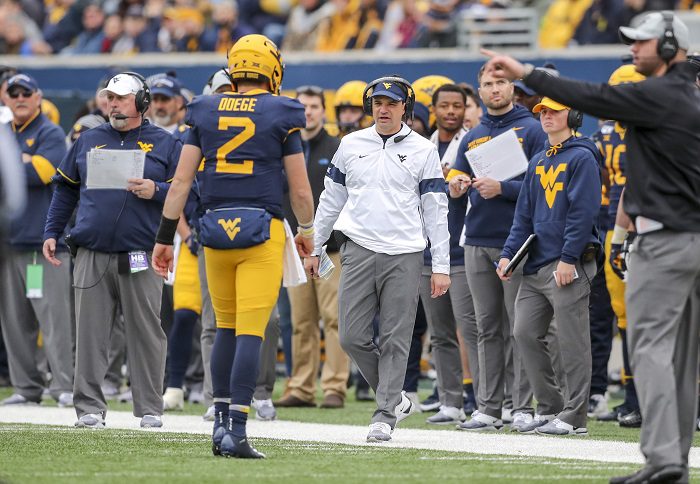 It's year three of the Neal Brown era at West Virginia and Mountaineer fans are expecting improvement from their 4-4 conference and 6-4 overall record last season. The offense appears to be pretty well set going into the fall, while their defense, great in 2020, has some holes to fill and quite a few question marks.
The schedule isn't easy, especially the non-conference portion, with a trip to Maryland and a home game against Virginia Tech. The major Sportsbooks have put their total win over/under at 6.5. That seems doable. Let's take a closer look at their schedule.
September 4 at Maryland
Maryland was picked by the media to finish 5th in the Big 10 East division this season. I don't know much about them, but I believe the Mountaineers will take care of business and win despite this being a road game.
Prediction: Win
September 11 vs. LIU (Long Island University)
Every West Virginia schedule I saw lists this game as "LIU." I had to look up who "LIU" is. It's Long Island University and they're an FCS team that plays in the Northeast Conference. This should be an easy victory for the Mountaineers.
Prediction: Win
September 18 vs. Virginia Tech
Virginia Tech looks to be a middle-of-the-pack ACC team this season, and West Virginia appears to have the experience edge on them. Add home-field advantage to that and I'm going with the Mountaineers.
Prediction: Win.
September 25 at Oklahoma
West Virginia got handed the toughest Big 12 opener, traveling to Norman to play the Sooners. It's a huge early test for them. I think this is their first loss.
Prediction: Loss.
October 2 vs. Texas Tech
There are too many questions for Texas Tech going into this season to predict that they beat West Virginia. I'm going with the Mountaineers.
Prediction: Win.
October 9 at Baylor
West Virginia should be 4-1 going into this game against Baylor in Waco. I think the Mountaineers get the victory here to go to 5-1.
Prediction: Win.
October 23 at TCU
This game will be a battle of two of the top defenses in the league. I don't have a strong feeling about this this game right now, but I'm leaning towards TCU getting a close victory.
Prediction: Loss.
October 30 vs. Iowa State
It helps to get Iowa State at home, but the Cyclones get the nod here.
Prediction: Loss.
November 6 vs. Oklahoma State
This should be fun to watch Oklahoma State's offense vs. West Virginia's defense. With a few unanswered questions on the Mountaineers' defense, I give Oklahoma State the slight edge.
Prediction: Loss.
November 13 at Kansas State
West Virginia beat K-State 37-10 last season and even though K-State should be at full strength this time around, I'm going with West Virginia.
Prediction: Win.
November 20 vs. Texas
There are a lot of unknowns with the Longhorns going into this season and that, along with the experience of the Mountaineers and home-field advantage, makes me think West Virginia has the advantage.
Prediction: Win.
November 27 at Kansas
I predicted everyone is beating Kansas this season, but this could be a trap game going on the road to Lawrence to play the last game of the season. Kansas should get better as the season progresses. Without knowing for sure, West Virginia should get the victory.
Prediction: Win.
Season Prediction: 8-4.
Best Case: 10-2. If my predictions for victories hold true and they can win the TCU and Oklahoma State games, 10-2 is possible.
Worst Case: 4-8. I see four wins at a minimum: Kansas, Texas Tech, LIU, and Maryland.