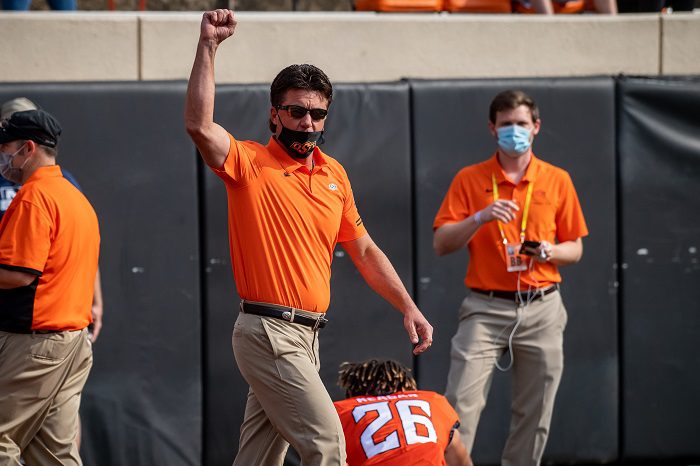 Chalk it up to 2020 being weirder than a spooky old lady nailing dolls to a fence post, but head coach Mike Gundy and Oklahoma State missed an apparent date with destiny last season.  
When Chuba Hubbard and Tylan Wallace both announced they would return following the 2019 season, many expected a cowboy symphony in 2020 that would drive old demons away from the program and land Oklahoma State in the Big 12 Championship game. Instead, we got that old cowpoke tune: 8 Wins and Another Loss to OU.  
With 2020 in the books and Hubbard and Wallace off to the NFL, most in the college football world expect that same cowpoke song to play on for another year. Many even speculate that the Pokes will take a step backwards this season.
However, that same old song had a different arrangement in 2020 featuring a defense that could keep the beat when the offense was out of tune. Most of that defense returns for a 2021 encore, and coach Gundy has more than canned beans in his offensive cupboard.
Is it possible 2021 will turn out to be what many thought 2020 would be for the Cowboys, or will the Pokes stay nailed to that 7-to-8-win post?  
The Case for Oklahoma State
1. Renaissance Men
The Big 12's current defensive renaissance truly arrived in 2020 as West Virginia, Oklahoma, Iowa State, and Oklahoma State played the roles of de' Medici, da Vinci, Michelangelo, and Copernicus in a league long known solely for its offensive supernovas while the defenses languished in the dark. OSU finished last season ranked #1 in the nation in 3rd down defense while tying for first in defensive touchdowns with Alabama, LSU, and others. There's room for improvement in the red zone and on first down, but the Pokes return nearly all the key playmakers who helped them hold opponents to just 23.45 points per game in 2020, including safeties Kolby Harvey-Peel and Tre Sterling, linebacker Malcom Rodriguez, and defensive ends Trace Ford and Tyler Lacy.  
2. Not Their First Rodeo
Chuba Hubbard is gone, but the OSU ground game should be fine with seniors LD Brown, Dezmond Jackson, and Utah State transfer Jaylen Warren entering the season with a combined 434 career rushing attempts for 2,412 yards (just under 5.6 yards per carry). This trio of veteran backs should allow Gundy the luxury of keeping legs fresh while playing the hot hand all season long. With the ground game acting as the bedrock, OSU should be able to get the passing game going in time for the two-headed monster of a road trip to Austin and Ames that follows the Pokes' bye week.  
3. The Arkansas Waterfall Factor
Most of Oklahoma State's questions entering this season revolve around the offense, but as many have pointed out: it's a Mike Gundy team, so the offense is going to be good. The sometimes-eccentric Gundy, who jokingly once called his mullet haircut "The Arkansas Waterfall," built Oklahoma State on explosive offense and has always had a knack for finding elite talent the wide receiver position. Thus, an argument in favor of the Cowboys is that if the biggest concern is replacing a trio of wide receivers, there's not much to be concerned about at all. Just sit back and enjoy the natural wonder as Gundy reloads with Brennan Pressley, Braydon Johnson, and Washington State transfer, Tay Martin.  
The Case Against Oklahoma State
1. The Force Is Not with You
The one comment about Oklahoma State that I've heard the most this offseason is that this is a make-or-break year for quarterback Spencer Sanders, who tends to over-reach under pressure and force the ball downfield. Sanders trying to force miracles has led to 19 interceptions over the past two seasons. It would have been worse without Tylan Wallace there to bail Sanders out – and the days of flinging it up and letting Wallace sort it out are over. The feeling among many is that if Sanders doesn't have this cleaned up early in the season, Gundy is likely to turn to sophomore Shane Illingworth, a former four-star recruit and the heir apparent to the OSU offense. While Illingworth gained valuable experience early last season and has a higher ceiling than Sanders, a move at quarterback would either result in a season-long quarterback battle, or OSU just taking it lumps along with Illingworth while he makes inevitable mistakes as the Big 12 season grinds on in places like Ames and Morgantown.  
2. No Road Schedule for Young Men
While Oklahoma State has the odd year blessing of having five home conference games this season, the road trips couldn't be much worse: at Texas, at Iowa State, at West Virginia – those are tough places to play. Then there's a classic trap road game at Texas Tech the week before Bedlam. Even with a veteran quarterback, it's *possible* OSU loses all four conference road games, but if Sanders can't clean his game up and take the starting job by the reigns, losing at least three seems likely. And don't forget that in 2019, the last time OSU rolled into Lubbock with a green QB, Tech opened up a 45-21 lead in the 4th quarter before hanging on for the 45-35 win.  
3. Same Old Cowpoke Song
The second most common thing I've heard about OSU this offseason is that *this* is who Oklahoma State is: a team that wins 7 to 8 games a year – no more, no less. It's been a decade since Oklahoma State won its only Big 12 title in 2011 and four years since stringing together three consecutive 10-win seasons from 2015 – 2017. College football is funny this way: Team A loses several close games in a season, and people say it's a sign that Team A will win more games the next season; Team B loses several close games in the same season, and people say Team B is garbage. TCU has three consecutive mediocre seasons, and people say, "Don't bet against Gary Patterson;" OSU has three consecutive mediocre seasons, and people say, "This is who OSU is." Fair or not, Oklahoma State has fallen out of the 10-win groove and into the 7-to-8-win groove, and it missed its date with destiny last season.  
Conclusion
Oklahoma State is one of two teams in the Big 12 (the other is Texas) that I cannot point to and confidently say, this team will be better than it was last season. In fact, I think there's a good chance that 90% of the Big 12 qualifies for bowl games in 2021, and staying the same while nearly everyone else gets better is not going to get OSU to Arlington at the end of the Big 12 season.
However, while I cannot confidently say the Pokes will be better, they certainly might be.
I expect the offensive line, which was a horror show last season due to injuries and transfers, to be much improved, and that will at least keep OSU from taking a step backwards on offense despite losing Hubbard and Wallace. Second, while the defense loses a couple of key contributors from last season (cornerback Jarrick Bernard-Converse and linebacker Amen Ogbongbemiga), with so much of last season's defensive production returning, there's no reason not to think the unit as a whole will continue to improve.  
In the end, it all seems to pivot on Sanders. If OSU's veteran QB can improve his game and help his young receiving corps instead of trying to force miracles on them, the Cowboys will be better. Whether or not such improvement translates into a trip to Arlington remains to be seen, but it should at least free OSU from that 7-to-8-win post they've been nailed to for the last three seasons.