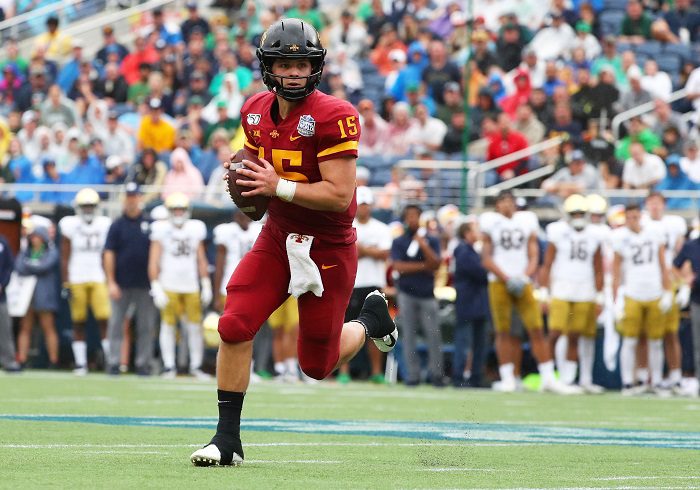 Well it's been a wild couple of weeks for the Big 12 Conference, but thankfully we can get back to talking about what's going to happen on the field with fall camp is right around the corner. The Iowa State Cyclones broke through in 2020 reaching the Big 12 Championship game, and now they go from being the hunter to the hunted. Can they handle it? Let's dive into our game-by-game predictions for the Cyclones.
September 4th- UNI:
In the first 5 years of having coach Matt Campbell at the helm in Ames, Iowa State has played UNI 3 times. Campbell and the Cyclones have gone 2-1 in those games. However, don't be fooled, those wins haven't come easy. Campbell lost his very first game as the head coach at ISU in 2016. In 2017, they handled UNI 42-24. However, in 2019 they struggled mightily against the Panthers, winning in triple OT. With that said, I fully expect this year's game to be more similar to the 2017 game. UNI won't have much of a break in between seasons given they just got done playing the spring FCS season a few months ago. The Panthers will be tired and no where near where they need to be to take down the Cyclones.
Result: Win
September 11th- Iowa:
The Cyclones have dropped 5 straight contests to the team out east. Campbell has yet to beat Ferentz. This will be bar none the most hyped Cy-Hawk game in the history of the rivalry. When these two teams meet in Ames ISU will be a top 10 team & Iowa should be a top 15 squad. Iowa will undoubtedly have a strong defense as they always do. However, as long as the Cyclones put up more than 21 points in this game they should be alright. With ISU having one of the top defenses in the country and a lot of question marks on the Iowa offense, especially from signal caller Spencer Petras, expect the Cyclones to finally end the 5 game losing streak to Iowa.
Result: Win
September 18th- At UNLV:
Athlon sports has UNLV ranked as the 120th best team in America- there are only 130. The Rebels are without a doubt one of the worst teams in America, and coming off of an 0-6 campaign in 2020, expectations are not high for 2021. UNLV does return 10 starters on defense, however, that won't be enough to slow down the offensive firepower that the Cyclones bring with two Heisman hopefuls. On top of that you have Iowa State fans buying UNLV season tickets just to get seats to this game! It may be in the Vegas, but it might as well be a home game for the Clones- just wait, you'll see.
Result: Win
September 25th- At Baylor:
The Cyclones open up Big 12 play against Dave Arranda's Baylor Bears. The last time the Cyclones opened up Big 12 play in Waco was 2019. Most fans remember that game as the one where it was ungodly hot on the field, so much so that fans mostly sat only on the shaded side of the stadium! It was also the game where Baylor refused to give Iowa State's bench shades to help keep players cool on the sidelines. This was just another piece that has added to the recent rivalry. Baylor gave Iowa State a great fight in Ames in 2020, but ultimately the Clones pulled it out. But for Iowa State, they've got the advantage here as the rebuild continues in Waco.
Result: Win
October 2nd- Kansas:
The Kansas Jayhawks have only won 9 games since 2015. That is not a typo. This offseason, KU fired head coach Les Miles, and made a surprisingly nice move in hiring Buffalo head coach, Lance Leipold. A lot of people have faith that Leipold can help turn the program around. With the current roster the Jayhawks have, this year still won't be a success. Iowa State has beaten Kansas 6 years in a row- mark it down for 7.
Result: Win
October 16th- At Kansas State:
Last year Iowa State obliterated a COVID-riddled Kansas State squad 45-0. While I ultimately have faith in head coach Chris Klieman I tend to think K-State will struggle more before they start to see improvement. The Cyclones have struggled in the Little Apple over the years, but ISU's defense will be too much for K-State stars Skylar Thompson and Deuce Vaughn. When the clock hits zero, the Clones will be up and win back-to-back games against the Wildcats.
Result: Win
October 23rd- Oklahoma State:
Looking back at the last 5 years. one would think ISU would have their biggest struggles with Texas and Oklahoma. Surprisingly, not the case. ISU has only beaten the Cowpokes once in Campbell's time in Ames. That lone win? Brock Purdy's breakout game. Since that day in 2018, no other quarterback has started a game for the Cyclones since. Oklahoma State was also Iowa State's lone conference loss in the regular season in 2020. Given this game is in Ames, Chuba Hubbard is no longer playing for OSU, and the inconsistent play from Spencer Sanders I think the Cyclones get it done in 2021.
Result: Win
October 30th- At West Virginia
Arguably the biggest trap game on the 2021 schedule for Iowa State. Sandwiched between a difficult game against Oklahoma State and a game with direct conference championship game impacts against Texas. West Virginia had one of the best defenses in the nation last year, they did lose a lot of important pieces from that team. I also have very little faith in Jarret Doege at quarterback. He appears to be that guy who can beat who he is supposed to beat, but unable to beat the teams that are clearly better. Without any magic in Morgantown from the offense, expect the Cyclones to win a close one.
Result: Win
November 6th- Texas
Iowa State has had Texas's number as of late. The Clones have beaten Texas 3 times going back to 2015. Normally I wouldn't be very confident in saying ISU will beat Texas a third year in a row. However, Sam Ehlinger is no longer the quarterback in Austin, we have zero clue as to what to expect from Steve Sarkisian as the head coach, and The Jack will be rocking. We still aren't even 100% sure who will be the new starter repping the burnt orange. With so much uncertainty in Austin, chalk another one up for Iowa State.
Result: Win
November 13th- At Texas Tech
Similar to the West Virginia game, this one down in Lubbock is similar. This game is sandwiched right between Texas and a trip to Norman to face the Sooners. While Texas Tech is most definitely not on the same level as West Virginia, the Red Raiders have a dangerous run game with tailback SaRodorick Thompson. Facing Iowa State though, unless the Cyclones actually fall into the trap, there is too much fire power for Iowa State to falter here.
Result: Win
November 20th- At Oklahoma
The Cyclones and Sooners have put up quite a series the last few years. ISU has beaten OU twice since 2017, including a win down in Norman. In 2019 Iowa State was a 2 point conversion away from beating them a second time in Norman! However, this game will be down in Norman and the Sooners will be out for blood attempting to lock up their spot not only the Big 12 Championship game at this point in the year. OU's defense has significantly improved under defensive coordinator, Alex Grinch. On top of the growth Spencer Rattler is expected to make, expect another close game. Ultimately though, the Sooners get the job done & Iowa State suffers their first loss of the season.
Result: Loss
November 26th- TCU
Another fun series over the last few years, Iowa State has had a good amount of success against the Horned Frogs. TCU is coming off of 3 very mediocre seasons, and no one really knows what to expect this year. Last year was supposed to be a big year for Max Duggan, unfortunately he had a number of health issues. Most notably a heart condition before the season and he battled COVID. Facing TCU in Ames, in November, I really like the Cyclones chances. Given the amount of uncertainty facing TCU going into 2021, and the experience Iowa State brings back, Clones roll.
Result: Win
2021 Season Result: 11-1
Yes, I'm buying into the Cyclone hype. Maybe that's wrong, as some teams get to this point and then fall flat on their face. I don't think that will happen with Matt Campbell and the veterans on this team. So many of these guys came back for this opportunity with 19 of 22 starters back and it's my belief they will indeed live up to it and be playing for a Big 12 Championship as a one-loss team and a chance to reach a College Football Playoff.