Big 12 News
Bob Bowlsby, ESPN Agree to Not Escalate Feud Publicly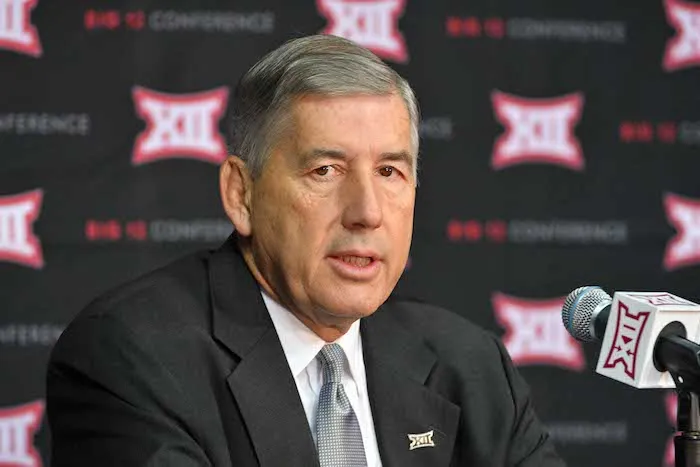 The Texas Senate is meeting on Monday to discuss the economic impacts of Oklahoma and Texas leaving for the SEC. At this point, there doesn't appear to be much the state legislature can or will do, but at least this may give some guidance to the remaining Big 12 programs in Texas, which includes Baylor, TCU and Texas Tech.
Representatives from those universities, plus Texas president Jay Hartzell were all set to appear, along with Big 12 officials, led by commissioner Bob Bowlsby.
Bowlsby publicly went to war with ESPN last week when he sent a cease and desist letter. In many ways, it was the gutsiest thing Bowlsby has done since he signed on as Big 12 commissioner.
But when he testified on Monday, he implied that the public war with ESPN is likely to calm down, when he said, "We [ESPN and the Big 12] have agreed to not escalate this publicly. It's in neither party's best interest to do so."
Is that the right play for Bowlsby? Time will tell, but considering his allegations that the TV network worked behind the scenes to try and destroy the Big 12, it's hard to see how this relationship drastically improves.
There are jobs and livelihoods on the line, which makes this all the more painful and concerning for many.
As for the economic impact in Texas, the Perryman Group evaluated two scenarios in which the Big 12 remains intact without high-profile programs in UT and OU, or if the schools end up in a non-power conference. Here's what their data showed: The Big 12 staying intact would result in a total annual loss in the three communities of $397.7 million in annual gross product and 5,322 jobs. If teams end up in lesser conferences, the combined loss would be $569.1 million in annual gross product and 7,615 jobs.
None of this is going to bring OU or Texas back, but it will hopefully help the Big 12 make a plan for the best way forward.