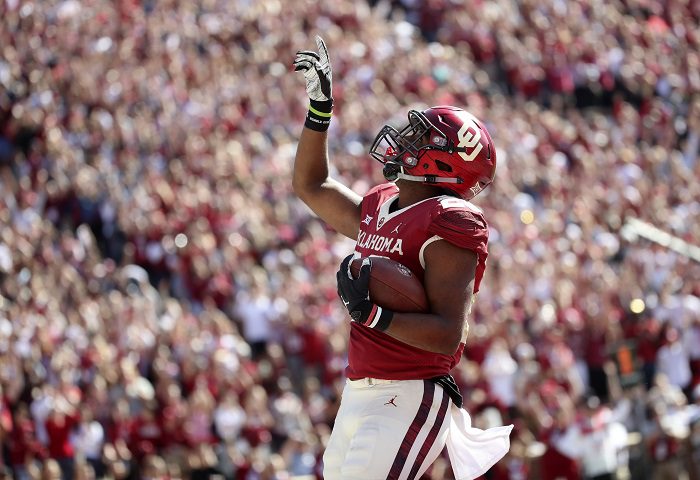 When fall camp begins next month, the Oklahoma Sooners will have two players battle for the starting running back slot, and the two combatants could be the best running back tandem in the Big 12 Conference in 2021. 
Redshirt junior Kennedy Brooks is returning to the lineup after taking off last season due to the Coronavirus concerns. Every Sooners fan knows what he can do. The 5-11, 215-pound back had rushed for 2,067 in the two years before opting out of 2020. Brooks had an impressive 7.9 yards per carry in those two seasons and scored 18 touchdowns. 
The biggest question is how well he'll perform after a season layoff. He only carried the ball twice for 8 yards in the Red-White Game last April and Lincoln Riley said at the Big 12 Media Days that Brooks looked rusty early in Spring practices, but that Brooks continued to keep in shape during his time away. 
"You can't miss a year of football and come back right away," Riley said. "But I give him credit. He's worked hard. I think Coach (DeMarco) Murray has been good, really good for him. It's been good seeing them get a chance to work together. Finished spring really strong. The guy has had so much production for us, and he's done it in big games and big moments and knows our system inside and out. He's really pushing himself to try to be the best version that he can be here towards the end of his career. 
"I think for him, there's a sense of not having last year and maybe kind of a little bit more of an appreciation for the process and all that it takes and the opportunity to play. So, we're thrilled to have him back and excited to turn him loose." 
New Kid on the Block
Tennessee transfer Eric Gray (5-9, 206, junior) is expected to see plenty of action too. Gray was impressive in the R-W Game. He carried the ball four times for 23 yards but made some impressive moves, especially on a 19-yard TD run. 
"He had the best day of the (running back) group," head coach Lincoln Riley said. "And I thought he ran the most aggressively, kept his footing, did some nice things. So, I thought he was really impressive. There's no surprise, I mean, he's just one of those guys that shows up and works every day, and you know what you're going to get out of him each and every day, and so (I've) been impressed there." 
Riley foresees both Brooks and Gray getting a ton of game-time reps. 
"It's hard for me to imagine a world where both Gray and Brooks don't play a ton. I mean, they are two real quality players. They've played in games. They've produced. They're smart. They're certainly two of our stronger weapons on the offense. We'll see how it evolves. I think we have two starters, really. Hopefully, it will be like the runs we've had where we felt we had two great tailbacks that we can attack people with."
The Other Guys 
Redshirt sophomore Marcus Major (5-11, 222), LSU transfer Tre Bradford (5-11, 211), junior Jaden Knowles (5-7, 195), and redshirt sophomore Todd Hudson (5-7, 180) will provide valuable depth at the running back slot.
Major had played in 13 games the previous two seasons. He rushed for 187 yards on 35 carries and scored three times last year. Major's best game was carrying the pigskin nine times for 100 yards, including a 46-yard TD run, against Florida in the Cotton Bowl.
Bradford logged 10 carries for 53 yards in only five games for LSU last year. He also hauled in three passes for 13 yards and a TD.
Knowles, a transfer from Southwestern Oklahoma State, had three carries for 31 yards and scored a TD in the R-W Game. He also caught four passes for 48 yards.
Hudson, who played twice a year ago, carried three times for 38 yards in the R-W Game. He rushed six times for 8 yards against Missouri State last year and twice for 12 yards in the Cotton Bowl.