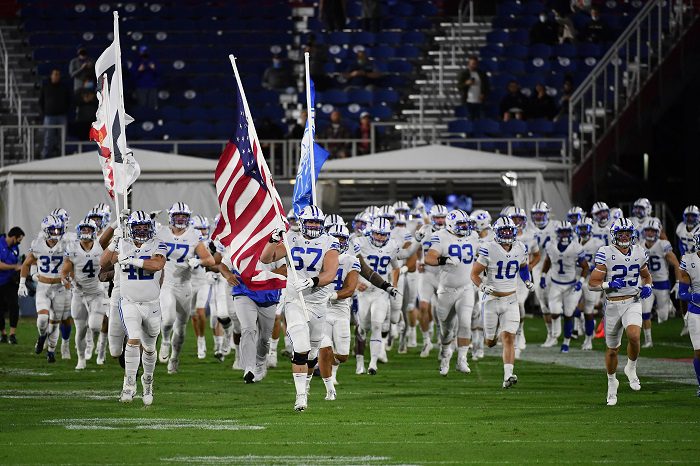 So, for now, the eight remaining Big 12 members want to hold it together. But they probably need some help. What about the BYU Cougars?
The Cougars have always been a tricky program to think about when it comes to expansion talk. When the Cougars decided to go it alone a decade ago, they left behind the Mountain West Conference. Before the Mountain West, the Cougars were a long-time member of the Western Athletic Conference (which, incidentally, is bringing back football this year at the FCS level).
What's the TV Deal?
The Cougars signed a TV deal with ESPN, a contract that was extended for seven years in early 2020. Finding the financial details were tricky, as BYU hyped the fact that most of its games will be on some sort of an ESPN platform. Fansided.com's BYU site tried to put a finer point on it a few years ago, using sourcing from Cougar Club releases to estimate that the Cougars were pulling in about $4.5 million in revenue from all of its TV deals, including ESPN. As a private school, BYU isn't obligated to release financial data publicly.
READ MORE: Here's Why It's Likely the 'Other Eight' Big 12 Teams Stay Together, For Now
READ MORE: Big 12 Break-up Power Rankings: Oklahoma State, Kansas Lead the Way
In 2020, the Mountain West signed a new Tier-1 and Tier-2 rights deal with CBS and FOX, one that KSL.com estimated would net each member school a little less than $4 million per year.
If all of that sourcing is accurate, BYU doesn't look much better off than its former conference mates. But, BYU controls broadcasting for most of the rest of its sports and controls its own brand. Because of that, it doesn't have to share with anyone.
Would the Cougars trade that for more revenue in a potentially re-made Big 12?
Of course, we have to figure out exactly how MUCH more revenue the Cougars could gain in a reimagined Big 12. But the Big 12 also has to decide exactly what the Cougars have to offer.
Football History and Branding
The Cougars won the 1984 national championship in football, has a former Heisman Trophy winner in Ty Detmer and has won 23 conference championships. Despite what you might think, BYU is a national brand. It may not be on the level of a Notre Dame or a Texas, but I've been to BYU games on the road and the Cougars travel well. Plus, their alumni base is spread around the country.
Television market has to be taken into account. While BYU is in Provo, they're part of the Salt Lake City market, which is No. 30 in the country. That's notable, as the Big 12 would have to re-negotiate its TV contract and it would need all the help it can get. As I pointed out in my Cincinnati article, several of the remaining Big 12 markets lag behind Cincinnati. Well, they lag behind Salt Lake City, too — Kansas City (No. 34), Oklahoma City (No. 44), Des Moines-Ames (No. 68), Waco-Temple-Bryan (No. 83) and Lubbock, Texas (No. 145). Plus, the Salt Lake City Designated Market Area has more than one million TV sets.
Yes, Salt Lake City is outside of the current geographic footprint. Then again, so is West Virginia (though the Mountaineers could solve that problem on their own by leaving for the ACC). And geography isn't a driving factor in college sports now. It's about generating television revenue and with that TV market and those TV sets, the Cougars would be attractive.
Plus, the Big 12 isn't poaching the Cougars from anyone (at least not in football).
For the Cougars, there is likely more revenue in joining the Big 12 and leveraging its brand with the remaining programs. Plus, with the expansion of the College Football Playoff, there may be more access as a conference champion (Top 6, if the current proposal is adopted) than as an independent trying to get in as an at-large team. The Cougars can be competitive in this conference within a year or two of joining. And, if the Cougars get time to ramp up, they could have an immediate impact.
BYU is a viable option for the Big 12 in an expansion phase. The national brand, combined with the TV market and the program's solid history in football means the conference's remaining teams should be interested. And the Cougars should be a program the league calls first. Based on a report last week, it's possible the Big 12 already has.
You can find Matthew Postins on Twitter @PostinsPostcard.
**Want to win a $20 gift card? Go sign up here and join our conversation! The best poster each week wins a gift card to your favorite establishment!**