Big 12 News
Texas Tech Coach Matt Wells Insists There's Still a QB Competition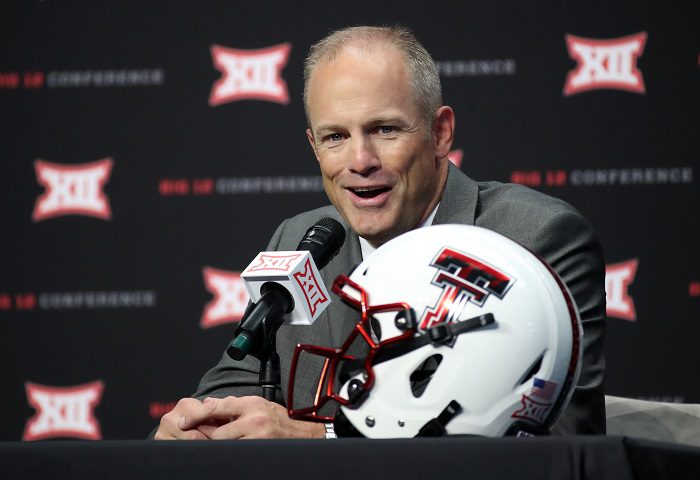 Fall camps are opening across college football, and while the biggest quarterback competition to watch in the Big 12 is in Austin, Texas, don't overlook Lubbock.
At Texas Tech, head coach Matt Wells said on Thursday that the quarterback position has not been settled, adding, "Yeah, absolutely there's a competition. … Nobody is enshrined as a started."
That QB battle appears to be down to Tyler Shough and Henry Colombi. Shough is the transfer from Oregon who played and started in all seven games for the Ducks in 2020. This was his first year as the starting quarterback for the as he finished the 2020 season throwing for 1,559 yards and 13 touchdowns, completing 106 of his 167 attempts, and also threw six interceptions. Shough also ran for 66 carries in 2020 and finished the year with 271 yards on the ground and two more touchdowns.
Meantime, Colombi played in six games last season with mixed results. He finished with a 65% completion rate, while throwing for 1,065 yards and eight touchdowns to four interceptions. He also had 51 rushes for 103 yards and one touchdown. The Red Raiders went 2-4 in those games.
Shough should still remain the frontrunner, and it's fair to wonder how much of this is keeping the competition going for the sake of it, but Shough is considered a possible First Round NFL Draft pick next year. In fact, he even got Vegas odds to be the No. 1 pick next year. If he can't beat out Colombi that would be a huge letdown for the Red Raiders.
Regardless, Matt Wells knows he needs improved production at the position. In Wells' two seasons at Texas Tech, he's a combined 7-14 in two seasons after going 4-8 last year and 4-6 this season. The Red Raiders finished ninth in the Big 12 last year and eighth in the Big 12 this year. Tech has won a combined five conference games in Wells' two seasons on the job.