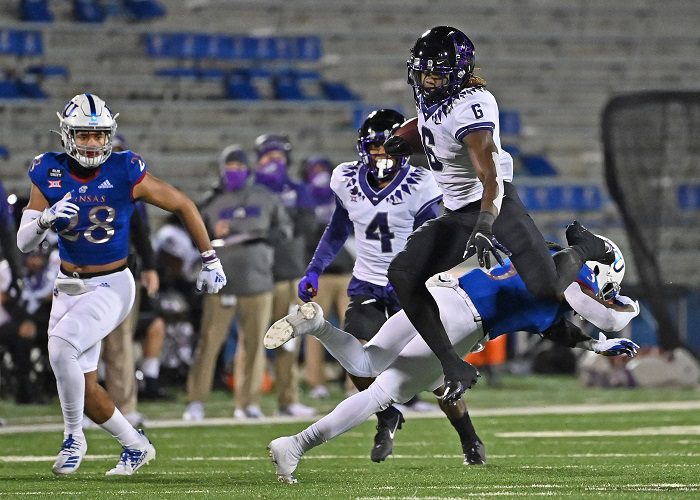 Almost every season, TCU's running back depth rivals the best teams in the Big 12.
The Horned Frogs boasted the conference's top rushing attack in 2020 at 214.7 yards per game. Depth and versatility defined TCU along with youth and inexperience at the collegiate level.
TCU should excel at running the ball again this fall, but it needs a leading rusher that does not take snaps under center.  
Quarterback Max Duggan led the Horned Frogs with 526 rushing yards and 10 touchdowns on 116 attempts over 10 games last season. Duggan is clearly a strong runner, but his passing stats must improve if the Horned Frogs want a more balanced offense and a shot at the conference title.  
Duggan threw for 179.5 yards per game, good for No. 8 in the conference, and completed 60.8% of his passes.
A healthy offensive line will help the passing numbers, but a featured running back would also take pressure off Duggan and open up the playbook even more.  
Evans to the Rescue, With Help
Sophomore running back Zach Evans could answer that call.
Evans, a former five-star recruit, emerged as an elusive, speedy runner with 54 carries for 415 yards and four touchdowns over nine games. He also caught eight passes for 76 yards, including five for 56 yards against Oklahoma.  
Evans came on strong late in the season, posting 100 yards on 12 carries at Kansas and another 130 yards and two scores off seven touches in the season finale against Louisiana Tech. After being named to the 2021 Doak Walker Award watch list for the nation's top running back, the expectations are mounting on Evans.
He does have assistance in fellow sophomore Kendre Miller.
Miller and Darwin Barlow provided additional speed and balance last season. Barlow posted 428 yards and four touchdowns on 73 carries while Miller had 54 carries for 388 yards and two scores. Like Evans, Miller shined in the last game with 136 yards and two touchdowns on five touches.  
Barlow, however, left for USC over the summer, putting more responsibilities and pressure on Evans and Miller.
Both Evans and Miller struggled with consistent play last season as they adjusted to the collegiate game. Their season-ending performances showed growth, but putting up strong numbers every week against Big 12 competition is a different beast.
Hopefully a year of experience and a proper offseason provide the right jumping off point for 2021.
Senior running back Emari Demercado provides a great third or fourth option. Mercado rushed 46 times for 199 yards and caught 10 passes for 110 yards last season. Even if Evans and Miller establish a potent one-two punch and Demercado gets less touches, he provides valuable leadership.
Redshirt sophomore Daimarqua Foster averaged 3.3 yards per carry on 22 attempts, but missed half the 2020 season due to an injury. Foster might be a good short-yardage back while working back into the rotation.
TCU could continue its running back by committee approach and remain the top rushing team in the conference. However, the talent exists for a featured back look while maintaining top results.
Evans might not be ready for a 1,000 yard season, yet, but he can lead the rushing attack. Miller provides a dangerous second option with Demercado and Foster filling in the gaps.
It's time for Duggan to air it out and the running backs to take back the ground game.