Oklahoma Sooners
Paul Finebaum Blames Bob Bowlsby for Oklahoma, Texas Leaving Big 12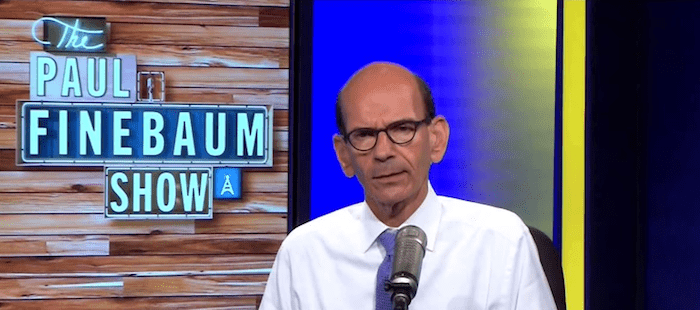 There's no shortage of finger pointing going around college football for Oklahoma and Texas' decision to leave the Big 12 for the SEC.
Many are blaming Oklahoma and Texas. Also, ESPN is shouldering some of the blame. Then of course the SEC. And some Big 12 fans are blaming commissioner Bob Bowlsby.
That list would include ESPN and SEC talking head Paul Finebaum, who is putting this squarely on the shoulders of the Big 12 commissioner.
"We found out it was important to keep it under wraps based on Bob Bowlsby's reaction," Finebaum said on the On Second Thought podcast. "Again, it's his fault for not having an idea that this could happen … I know it for an absolute fact, even though David Boren — the old OU president — laughed it off, that OU, as far back as 5-6 years ago, has made behind the scenes outreaches to the SEC. This is not the first time I've said that. Texas never has, and that's what was so interesting about this."
In fairness, Finebaum isn't exactly an unbiased voice on all of this as the biggest name who advocates on behalf of the SEC and is also employed by ESPN.
But Bowlsby certainly has had a strong reaction to the news of OU and Texas bolting, including zeroing in on ESPN as an enemy, which puts the conference in an unusual spot given that ESPN is the Big 12's largest TV partner.
After Bowlsby shot off a cease and desist letter to ESPN, alleging collusion in helping Oklahoma and Texas move to the SEC, the network fired back last week. The network responded directly to Bowlsby on a letter, saying, "The accusations you have made are entirely without merit. Apart from a single vague allegation that ESPN has been 'actively engaged in discussions with at least one other' unnamed conference, which ESPN disputes, your letter consists entirely of unsubstantiated speculation and legal conclusions. To be clear, ESPN has engaged in no wrongful conduct and, thus, there is nothing to 'cease and desist.'" 
Earlier this week, Bowlsby said in front of the Texas state Senate that the feud with ESPN would be less public moving forward.
But given the hundreds of millions of dollars at stake, along with the massively bruised egos, we will see how long that lasts. And of course, there's Paul Finebaum ready to throw fuel on the fire as an SEC fan boy.