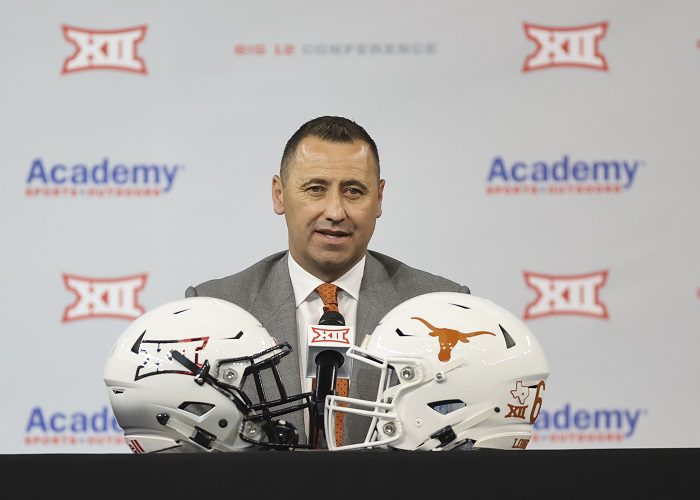 There are plenty of people who despise the Texas Longhorns. Anytime Texas is on the road, you will see plenty of horns down and people screaming "Texas sucks!" at the top of their lungs.
Yet despite all the hatred that comes their way, Texas is not the Texas teams of the 2000's. Let's face it, the product on the field over the last ten years has been mediocre at best but no matter what the results look like, they have been and will always be a polarizing program.
Texas is hoping to turn their program around with new head coach Steve Sarkisian. Sark has been on the job for about seven months now and while he has spoken to the media before, Thursday was his first presser since Texas decided to bolt for the SEC.
"I didn't take this job blind," Sarkisian said. "We're everybody's biggest game. I think coming out of [the SEC move] and the talk of what's happened, our bull's-eye got a little bit bigger. We can't be naive to that. Whether it's crowd noise, whether it's yelling at us on the bench, whether it's the 'Horns Down' signal, all those things are really irrelevant to our ability to execute and succeed at a really high level."
Being a former head coach at USC, Steve Sarkisian is familiar with high expectations. The man was also the offensive coordinator at Alabama the last two seasons under Nick Saban, so I am sure he knows what pressure feels like as well.
While I do agree with Sarkisian that Texas always will have a bullseye on their back, do they really have the biggest target and are they everyone's biggest game? My answer is no.
Why? Well, it is simple. Texas simply hasn't won anything. Since 2010, Texas has had four different head coaches, one ten-win season and zero Big 12 titles. Sure, Texas is still the big-name program, but like I said earlier, this program is still a ways away from being taken as a serious conference title contender no matter what the national media says.
So, who is everyone's biggest game? It's Oklahoma. The team that has won six straight Big 12 titles and counting. They are once again favored to win this year and if they do, that will make seven in a row. This year's Oklahoma team is loaded with talent and arguably has their best team in over ten years. There aren't just Big 12 title and playoff hopes with this team, there are national title expectations.
Oklahoma has been that program that other Big 12 teams want to be. You do that by winning on the field not by running your mouth in press conference or being cocky. By no means am I saying that Steve Sarkisian is being cocky here, but Texas should not be anyone's biggest game this season, despite what the tv ratings say. Like the Dallas Cowboys of the NFL, just because a ton of people watch your product doesn't mean the product is worthy or regarded highly.
If you want me to show respect to your program or team, shut up and start winning where it matters, on the field.