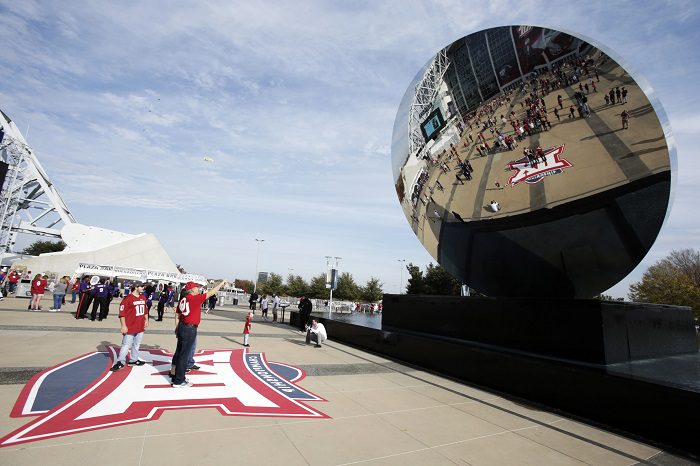 The last three weeks have been a whirlwind for those of us who cover and follow the Big 12 Conference. We were barely one week removed from Big 12 media days, where Bob Bowlsby joking thanked the media for not asking anything about conference realignment, when the blockbuster news broke that Oklahoma and Texas were on the verge of leaving the Big 12 for the SEC.
It was one of the best-kept secrets in the history of modern day sports. For months, those involved have been having these conversations, and it never leaked until the final days. In the social media age we are living in in 2021, that is unthinkable for something of this magnitude.
But they were able to pull it off.
In many ways it has overshadowed the typical "preview" conversations and content that we like to produce leading up to a season, but that's OK, because you, the reader, wants to know everything about the latest realignment conversations, reports, and possibilities. And we will always continue to provide that to you at Heartland College Sports.
But with all that being said, let's not forget that the 2021 season has been shaping up to be a great year for this conference.
Oklahoma, Iowa State Lead the Pack
When's the last time this conference had two teams that were consensus College Football Playoff contenders? Baylor and TCU in 2014?
Regardless, these two teams are so stacked that even ESPN talking heads are predicting that the Big 12 has the best chance to get two teams into the College Football Playoff. That's when you know this is legit. Both teams return players who could be in contention for a Heisman Trophy and will be household names around college football throughout the fall.
It would also be the first time since the Big 12 Championship Game was brought back in 2017 that we could have a repeat match up. For the last six years that OU has dominated the conference, the question has always been: Well who is No. 2 in the league? That isn't the case heading into the 2021 campaign. It's a clear 1-2 and everyone will be gunning for these two teams. Having a clear-cut 1-2 makes the conference an even more fun ride to follow throughout the season.
Who's Number 3?
This is a debate we could have for the next couple of weeks until the season starts and you can make the case for several teams. Fan bases for TCU, Oklahoma State and Texas are the ones most likely to find themselves in the conversations with the strongest case. But just maybe if the stars align, that conversation can include West Virginia or Kansas State. Heck even Baylor or Texas Tech fans might be saying, "Don't forget about us!"
That's what will make this such a fun season for this league. Teams three through nine are going to have a heckuva time going head-to-head and the difference between third place and eighth place in this league could be 6-3 and 4-5.
The Oklahoma, Texas Factor
And of course, with the two blue bloods leaving the league sometime in the next 1-4 years, you better believe that there will be plenty of extra juice for when these teams go on the road to opposing Big 12 stadiums. That's typically the case when Oklahoma and Texas visit Stillwater, Lubbock, Ames, Manhattan or anywhere else in the league. But it will be that on steroids this fall, especially since fans aren't sure if OU and Texas will try and bolt before their contractually allowed to in 2025. We know they both want out sooner than later, but it remains to be seen if they can make it happen. For that reason, the road games involving these two will be that much more intense.
So now that we are within a month to the Big 12 season starting on September 4th, I've been living through this whirlwind of a few weeks as much as all of you have. But I'm also doing my best to take a step back, when the news reports allow, and making sure I allow myself to enjoy what's to come this fall. I would've preached that message anyway heading into the 2021 Big 12 season, but now with the future in jeopardy, it's that much more important we take that message to heart.
And we'll be enjoying the ride with you at Heartland College Sports.