Trending Now
Former Florida State, West Virginia Coach Bobby Bowden Dies at 91 Years Old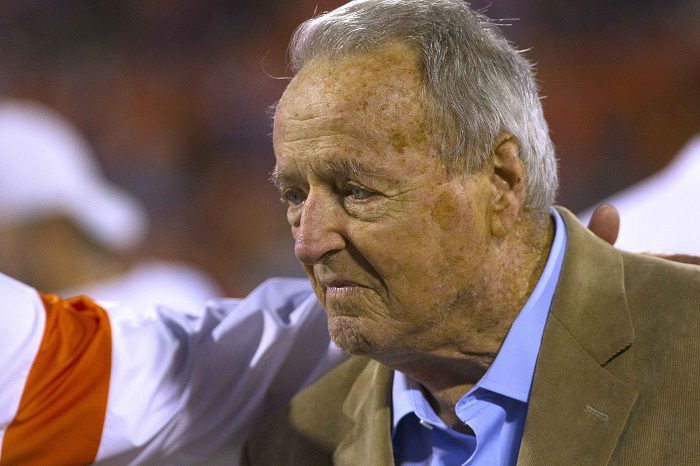 Bobby Bowden, the longtime Florida State, and former West Virginia football coach who ranks second all time in Division I wins, has died, the school announced Sunday morning.
Bowden had been battling a terminal medical condition since July. He did not disclose what the condition was at the time, although his son Terry later told reporters that it was pancreatic cancer.
"I've always tried to serve God's purpose for my life, on and off the field, and I am prepared for what is to come," Bowden said in a statement announcing the condition. "My wife Ann and our family have been life's greatest blessing. I am at peace."
Before he became the legendary coach at Florida State, which ultimately defined his career, Bowden spent several years at West Virginia.
From 1954 to 1965 he spent time coaching at Samford, South Georgia State and Florida State (as a WR coach), before spending the next ten seasons at West Virginia as the offensive coordinator (1966-1969) and then he was named head coach in 1970, and had a 42-26 record with the Mountaineers. In 1976, he took the Florida State job, which he held until 2009.
The tragic Marshall plane crash in 1970 affected Bowden in his first year as head coach and he petitioned the NCAA to wear Marshall jerseys and play their final game for them, however the NCAA turned him down. So instead, the players added green crosses and "MU" to their helmets. Interestingly, Bowden's career could've gone in a very different direction. He said later that Marshall wanted him to be its next head coach. But he wound up choosing Florida State because it was warmer in Tallahassee and closer to his mother. 
Bowden and Penn State coach Joe Paterno rank No. 1 and 2 on the winningest coaches list. He was inducted into the College Football Hall of Fame in 2006.
Bowden and his wife had six children, including two college football coaches, former Clemson coach Tommy Bowden and former Auburn coach Terry.
Bowden was 91 years old.