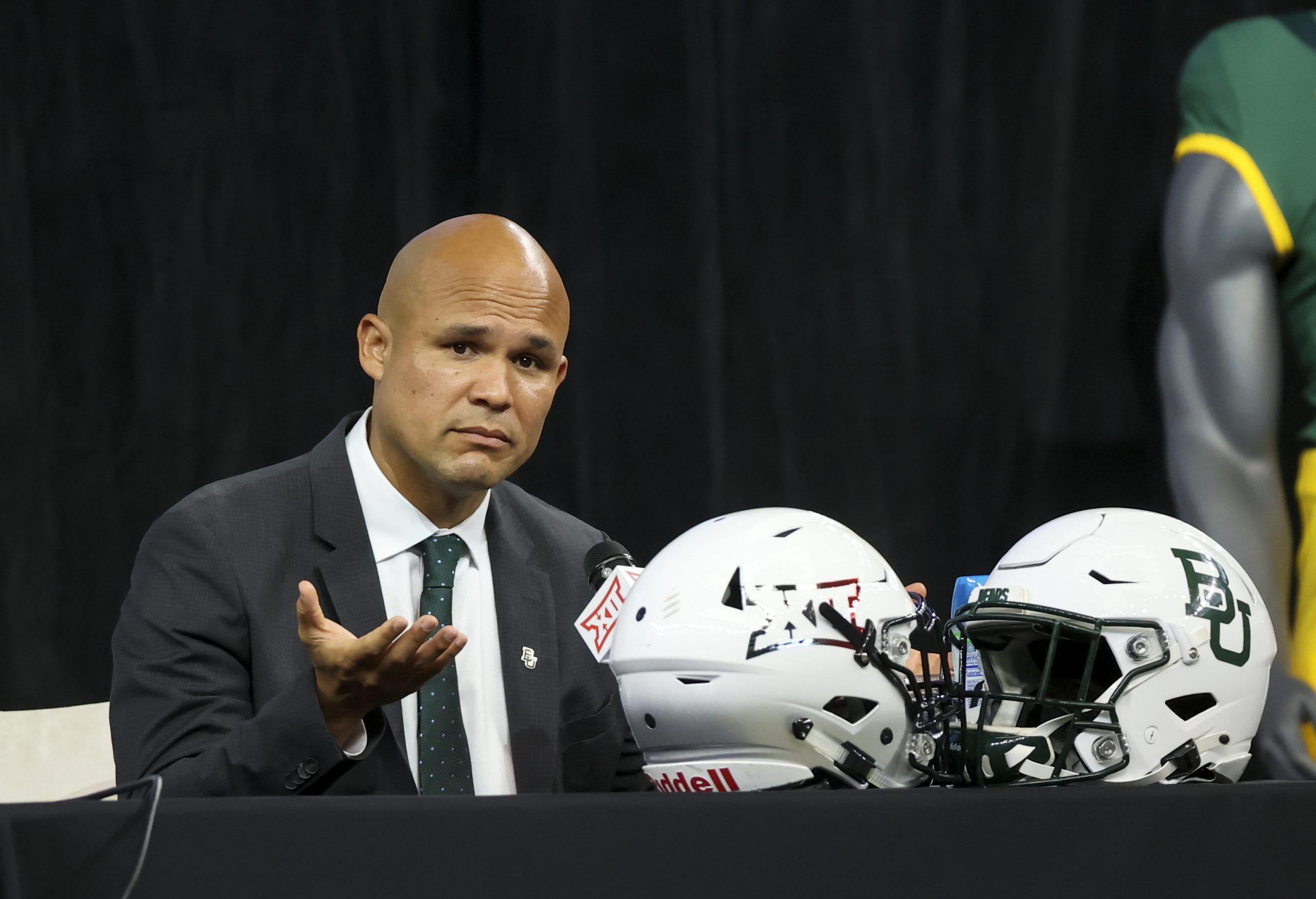 Dave Aranda may not ooze positive energy like Matt Campbell or have the colorful personality of Mike Gundy or carry the mystique of Gary Patterson, but after watching the Big 12 media days this spring, if I could sit down and talk football with one Big 12 head coach, it would be Aranda. He's a deep-dive kind of guy, cerebral and calculated as a chess master, and while he may be in over his head at Baylor as some have claimed, I like his chances of rapidly climbing the learning curve.  
After winning just two games last season, Aranda and the Baylor Bears, like most of us, would like to forget 2020 ever happened. Aranda's first season as Baylor's head coach was plagued by Covid issues, and Covid protocols likely hampered Aranda's impact as a first-year coach tremendously. The sheer bulk of Baylor's Covid issues in 2020 is so great that that it would be unfair to base Baylor's 2021 outlook solely on what happened last season.  
Covid challenged every team in 2020, but those challenges certainly had a greater degree of difficulty for a first-year head coach. How do you create a culture and build relationships with your players via Zoom or with faces hidden by masks? Moreover, Baylor was one of the teams in all of college football hardest hit by the virus itself last season: the Bears were frequently just barely able to field a team, and they were forced to postpone games and even suspended all football activities for a period.
Possible future issues with the Covid Delta variant notwithstanding, looking ahead to the coming season, Baylor has plenty of question marks, particularly on offense, but there may be enough answers on defense for the Bears to take a big step forward and reach the post-season at 6-6. And anything above 6-6, while not completely out of the question, would put Aranda in strong contention for Big 12 Coach of the Year.
Preseason prognostication often seems more akin to astrology than analytics, and this is especially true coming off last season where the numbers probably don't mean much as some would hope. All we can really do is the ponder the tea leaves and assess the knowns and known unknowns. In that spirit, here's a deeper dive into Baylor's 2021 outlook based on its offense, defense, and schedule.
Baylor Offense 
Aranda was so disgusted with Baylor's 2020 offensive production, as it failed to surpass 24 points in six of its nine games, that he fired offensive coordinator Larry Fedora and hired his former LSU colleague, Jeff Grimes, away from BYU.   
Perhaps the most critical offensive takeaway from the 2020 season is that it resulted in the transfer of quarterback Charlie Brewer to Utah. With Brewer gone, the Bears will turn to an inexperienced signal caller in either Gerry Bohanon or Jacob Zeno, who both made positive impacts for the Bears during the 2019 Big 12 Championship. Another quarterback to keep an eye on is incoming 4-star recruit, Kyron Drones.  
In Grimes' offensive, which recently featured BYU's Zach Wilson, Bohanon is likely the best fit due to his ability to run the ball and execute Run-Pass-Option (RPO) plays. However, his effectiveness in drop-back passing situations will need to improve if he is to take full control of the starting job as he appears to struggle to read coverages and blitzes while often failing to get the ball out on time.  
Zeno is Bohanon's alter ego. He's not an effective runner and doesn't bring the X-factor that Grimes seems to favor, but he appears to be better than Bohanon at reading coverages and blitz packages, and he delivers darts right on time. How the battle between Bohanon and Zeno shakes out might be the biggest story coming out Baylor's fall camp.
Drones is the wildcard in all of this. While he is more likely to redshirt than push for the starting job, his recruiting videos reveal a dual-threat QB with good improvisational skills, a big arm, and an ability to make tacklers miss in open space. For that reason, he might emerge as a dark horse for the two-deep as the season moves on.
If I had to guess who will start under center when Baylor opens the season at Texas State, I'd have to give the nod to Bohanon, but whoever wins the starting job with have an explosive and experienced group of receivers in need of a step forward, particularly in RJ Sneed and Tyquan Thornton.
Sneed moved from the slot to wide-out last season where he buttered his bread with out routes and, in the red zone, post routes. He'll need to improve his production on shorter routes to provide Baylor with the kind of possession-receiver they'll need to keep the chains moving.
Thornton, despite a disappointing 2020, is Baylor's best deep threat. After providing the Bears with a reliable field-stretching option in 2018 and 2019, he was plagued by injury in 2020 and made just one catch targeted at 20+ yards downfield. The Bears need Thornton to have a big bounce back this season and return to or improve upon his 2018-2019.
Another reason Baylor may look to Bohanon and his ability to run at quarterback is the departure of running back John Lovett, who transferred to Penn State after an injury limited him to just five games in 2020. The Bears will probably turn to Craig Williams, who averaged 7.5 yards per carry through four games last season, and super-senior Tristan Ebner to carry the majority of the load in the running game this season.
Despite questions at quarterback, receiver, and running back, the biggest thing going against the Bears ahead of the 2021 season is the questions along the offensive line. Baylor's O-line struggled mightily last season, and that is not going to be a quick fix after losing three of last season's starters.  
Help is on the way via transfer portal, however, particularly from guard Jacob Gall, who accompanied Grimes from BYU, where he ranked among the best guards in all of college football last season.
Baylor Defense
Dave Aranda is a defensive coach, and the pieces are there to improve on a good to fair showing last season. If things go as expected, the defense will be the bedrock of Baylor's season. The potential is there for this to be one of better defenses in the conference and good enough to give a young offense the chance to cobble together just enough points to stay close in nearly every game.  
While the Bears probably lack the personnel to play as much man-to-man as Aranda would like, the secondary should be a strength of the defense this season. The safety positions are in good hands with JT Woods and Christian Morgan. The corners will be manned by Raleigh Texada and Kalon Barnes. Texada was a shut-down corner last season until the final game when he suddenly looked pedestrian against Oklahoma State's Dillon Stoner. Barnes has flashed a lot of potential, but he needs to be more consistent this season.  
If the secondary is a strength of the defense, the linebacking is the strength. Jalen Pitre and Terrel Bernard combine to create one of the best linebacking duos in all of college football. Pitre's on the field dynamite makes him a force as a run-stopper, a pass-rusher, and in pass coverage. Bernard only saw action in five games last season, but he is reliable and highly productive at stopping the run.
Baylor's defensive line could be something of a force as well. All eyes will be on LSU transfer Siaki Ika, a 6-4, 350-pound monster of a nose tackle. If he can live up to his larger-than-life biometrics, he will go a long way toward plugging up the middle and likely demand double and triple teams to be blocked. TJ Franklin returns to man the strong-side defensive end spot, but weak-side rusher William Bradly-King is off to the NFL and the Washington Football Team.
Baylor Schedule
Chronological likely wins: at Texas State, Texas Southern, at Kansas
The Bears have a nice of base of three almost surefire wins. The fact that these three easy wins come in the first three games of the season should give the Bears a much needed opportunity to gel and work out the kinks before a long stretch of difficult games begins with Iowa State coming to town in late September. 
Chronological potential wins: West Virginia, BYU, at K-State, Texas Tech
None of these games will be easy but getting BYU and Tech at home will help tremendously and could possibly result in Baylor being favored to win.
Baylor took West Virginia to double-overtime last season before falling 27-21 to the Mountaineers. While WVU looks on paper to be the better team heading into the season, the Bears might use the homefield advantage to return the favor and steal a close win.
The Bears just squeaked by a depleted K-State last season, 32-31, with a 30-yard field goal as time expired, so winning in Manhattan against Skylar Thompson and Deuce Vaughn might be a tall order, but the Bears have had K-State's number of late.
Chronological chances at home for a big upset: Iowa State, Texas, Oklahoma
Getting Iowa State in late September probably doesn't help the Bears who will still be figuring out who they are in their first real test of the season. Iowa State is known for playing lights out in October, not September, and Baylor managed to get out to an early 14-0 lead in Ames last season before falling, 38-31, but it will take a mammoth effort for the Bears to topple the Cyclones in Waco this season.
Texas offers Baylor its best chance to notch Aranda's first signature win. The Horns come to Waco on Halloween weekend for a battle of former SEC offensive coordinators turned head coach, and Texas could be in for quite a scare if Aranda's defense can clamp down on Steve Sarkisian's offense.
Baylor held Oklahoma to just 27 points in Norman last season, so an upset over the Sooners may not be completely out of the question. However, Baylor's offense is going to have to fire on all cylinders to keep up even if its defense is playing at the top of its game.
Conclusion
With a solid base of three wins, a number of winnable games at home, and getting three of the Big 12's most talented teams at home, Baylor has a real chance to get to six wins this season and finish off the year playing in a bowl game. The offense will likely be a work in progress all season, but the defense should be good enough to keep the Bears in almost every contest.
The Bears will likely have a few games that leave fans wondering where the offense went, but the defense should provide enough space for the Bears to put together six wins one way or another. If the line for Baylor wins is 5.5, I wouldn't bet the house, but I'd take the over.