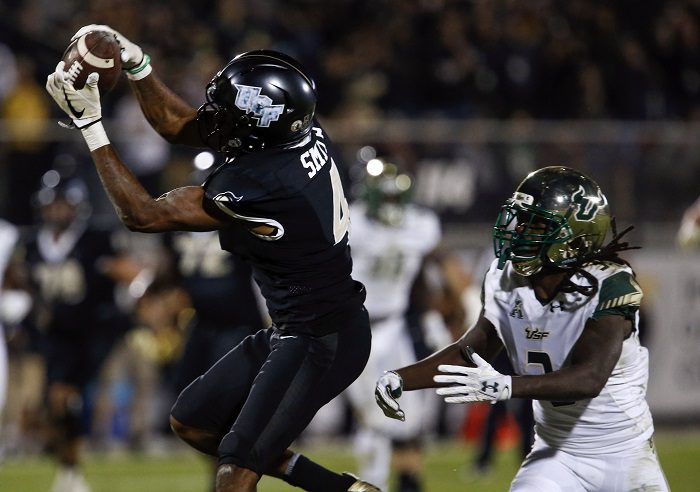 So, for now, the eight remaining Big 12 members are exploring their options. But to keep this league together it will need help. What about the UCF Knights?
There are few schools that get mentioned more than the Knights when it comes to conference expansion. Why? There are several good reasons.
On-Field Success
First, there's the on-field success the Knights have had recently. The Knights have won four American Athletic Conference crowns since 2013, and they had back-to-back undefeated seasons in 2017 and 2018 under two head coaches — Scott Frost (now at Nebraska) and Josh Heupel (now at Tennessee). Plus, the Knights are 2-1 in New Year's Six bowl games in that span, beating Baylor in the Fiesta Bowl in 2013 and Auburn in the Peach Bowl in 2017. The Knights fell to LSU in the 2018 Fiesta Bowl.
READ MORE: Despite Conference Realignment, 2021 Can be Special for the Big 12
READ MORE: Kansas U.S. Senator Believes Big 12 Schools Could End Up Suing ESPN
So, in the context of the 'Group of 5' conferences, the Knights have been the most prevalent team in terms of 'crashing the party,' even though it hasn't led to a College Football Playoff berth.
Market Size
Next, there's the market. Based in Orlando, Florida, the Knights are in the No. 17 television market in the country. The Knights boast a large student base. UCF had more than 72,000 students in 2020-21, though it should be clear that some of those are graduate students and online-only students. But UCF confers more than 17,000 degrees a year. That's a lot of alumni and a lot of donors down the road. Additionally, as the theme park capital of the world, Orlando gets a lot of foot traffic every day.
So, the Knights check two big boxes — a program with a strong on-field presence and a market that a conference like the Big 12 would love to have on its side. Many of the Big 12 markets lag behind Orlando — Kansas City (No. 34), Oklahoma City (No. 44), Des Moines-Ames (No. 68), Waco-Temple-Bryan (No. 83) and Lubbock, Texas (No. 145).
Location
Plus, one must consider that brining UCF on board would give the Big 12 access to Florida's fertile recruiting grounds, something they don't have at this moment.
Now, as someone who has covered football in Florida and covered games in Orlando, I would not call Orlando a 'college town,' in the tradition of a place like Manhattan, Kansas, or Ames, Iowa. But in fairness, we know this process won't necessarily be about which town is the 'best college town.'
The Knights are not a national brand, like BYU, which I profiled recently. Their national profile, to me, doesn't quite measure up to Boise State's either, but the Knights are at least in the neighborhood after their recent success.
The geography isn't great for the Big 12, but it doesn't necessarily hurt, either. The Knights would give West Virginia a travel partner for Olympic sports, and if the Big 12 were to adopt a divisional format, they could minimize some of the rest of the teams' travel to the East Coast.
UCF, to me, is a good option for the Big 12, especially if they decide to talk with several American Athletic Conference teams about joining the conference. On its own, there is a lot to like about UCF, especially that TV market and program success.
You can find Matthew Postins on Twitter @PostinsPostcard.
**Want to win a $20 gift card? Go sign up here and join our conversation! The best poster each week wins a gift card to your favorite establishment!**