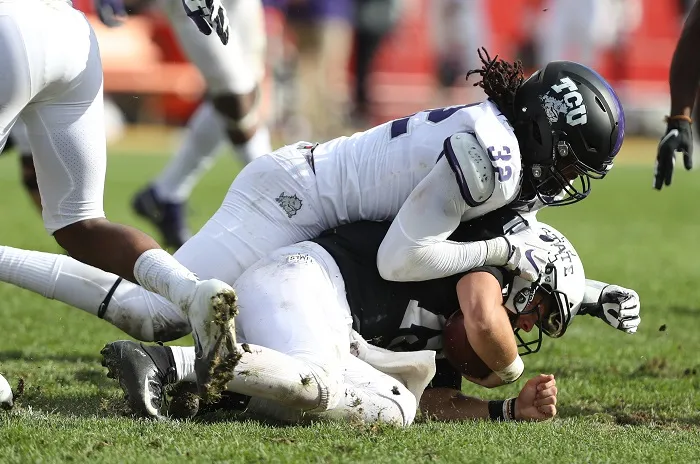 Ochaun Mathis' TCU bio says he chose the Horned Frogs over Big 12 rivals like Oklahoma, Texas and Texas Tech. To hear him tell it, there wasn't much of a choice.
He took one visit before he chose a college to enroll in for the fall of 2018. That visit was to TCU. And that visit was enough.
"A year before I actually came to TCU, looking at Ben Banogu and just watching him, just knowing that they needed another (defensive) end, and there were no options there as far as I knew, I kind of jumped the gun," Mathis said. "It was like, 'You know what I'm gonna just go up here and ball out.'"
Mission accomplished.
READ MORE: Despite Conference Realignment, 2021 Can be Special for the Big 12
READ MORE: Kansas U.S. Senator Believes Big 12 Schools Could End Up Suing ESPN
Mathis enters the 2021 season coming off Second-Team All-Big 12 honors in 2020, along with earning 2020 Honorable Mention Big 12 Defensive Lineman of the Year. He did it with a season in which Mathis had a TCU-best nine sacks, which were the most by any Horned Frog since Mat Boesen had 11 1/2 sacks in 2017, one of the players Mathis just happened to watch before he enrolled.
It represented a big leap in production for the Manor, Texas, product. He had just 2 1/2 sacks during his redshirt freshman season in 2019.
It's also a big leap in leadership for the defensive end who is now draft-eligible and could draw attention from the NFL next offseason. You could see that leadership at Big 12 Media Days last month in Fort Worth.
Mathis' socially-distanced media session with reporters at AT&T Stadium was much different than head coach Gary Patterson's session with the media that morning. Patterson's was moderated. Reporters had to raise their hands and get a microphone to ask a question. Mathis was sitting in a suite area on the field level of AT&T Stadium behind a microphone but had to crane his head at times to hear reporters who didn't have microphones to speak to him.
Mathis ended up moderating his own session, setting a pecking order for reporters to ask questions. That isn't just leadership, Patterson said. That's Mathis' nature.
"He's a very considerate kid, he wants to make sure everybody gets an opportunity to ask their question," Patterson said. "He's that way. He's been that way since he came to our place. He was a lot quieter, and he's trying to come out of his shell and that's one of the reasons why I brought him here today."
Leadership Grows
A more vocal Mathis has company this season. Mathis is part of an experienced front four that features Khari Coleman on the right side, along with Terrell Cooper and Corey Bethley inside. Cooper has been a consistent contributor inside for three years. Bethley's return could be huge for TCU, as he missed most of the 2020 season due to an injury.
Coleman, meanwhile, had a breakout year as a true freshman, earning Freshman All-America honors and finishing second in the Big 12 with 15 tackles for loss. It's this pairing with Mathis, who mans the left end, that could define how good TCU's pass rush can be in 2021.
"Just being able to see him on the other side of me, he'll make eye contact like, 'You know it's ready to go. Let's do this in the pocket.' So we just get back there and make plays, and I can't wait to do that."
TCU's early schedule gives the Horned Frogs the chance to build up a critical mass going into Big 12 play, as they host Duquesne, Cal and SMU before opening Big 12 action with Texas on Oct. 2, also at home.
Mathis seems primed for an eye-opening year. Not bad for a player that took just one visit and made just one commitment.
Patterson is grateful Mathis came to Fort Worth.
"I feel like I owe Ochaun a lot because he committed to us and he never took another visit," Patterson said. "That's really uncommon in this day and age. He knew what he wanted, he understood the relationship, and he helped us. So when somebody does something like that, it means a lot to me."
You can find Matthew Postins on Twitter @PostinsPostcard.
**Want to win a $20 gift card? Go sign up here and join our conversation! The best poster each week wins a gift card to your favorite establishment!**