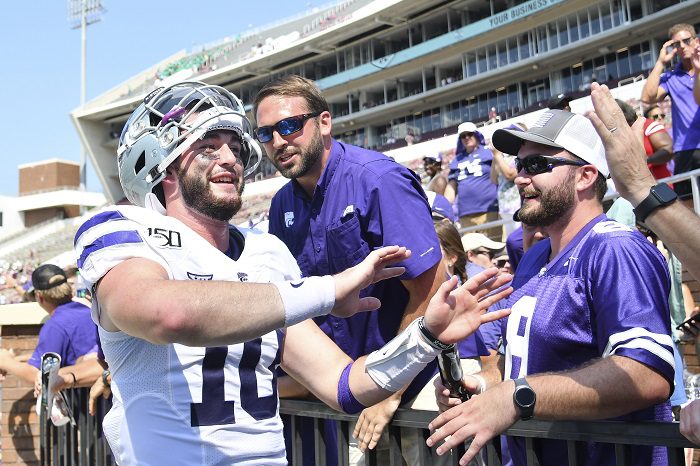 Call them flaky, volatile, bipolar, or "just open to new experiences, man," but Kansas State enters the 2021 season as the biggest wild card in the Big 12.
With a 5-1 record versus Oklahoma, Iowa State, and TCU, K-State's Chris Klieman enters just his third season as a Power-5 head coach having already proven that his Cats can beat any team in the Big 12 and sometimes look good doing it. However, Klieman's Cats have also been mediocre at times and looked completely unprepared to play at others such as 2020's season-opening loss to Arkansas State or the 45-0 collapse at Iowa State.   
K-State followed up an 8-5 effort in Klieman's first season with a rollercoaster ride to a 4-6 clunker in 2020. Will the 2021 version of K-State more closely resemble the team that won eight games in 2019 or the team that won four in 2020?  
Like Baylor, K-State was riddled with injuries and Covid issues last season more so than the average team, and as the season wore on, more and more players without experience or adequate preparation were thrown into the fire. The K-State that closed last season against Texas was a shell of the team that toppled Oklahoma early in the season.
With Skylar Thompson returning as a super-senior at quarterback, a veteran 10-man-deep offensive line, and Deuce Vaughn being a year stronger and wiser, the outlook for the 2021 Wildcats is better than most probably expect. In fact, if K-State's defense had fewer question marks heading into this season, I would consider the Cats a potential dark horse in the Big 12 title race.  
K-State's floor this season isn't much below six wins and a bowl appearance, and the ceiling could be as high as eight or nine wins if everything goes right. Here's a closer look at K-State's offense, defense, and schedule to explain why K-State is likely to return to the postseason in 2021.
Kansas State Offense
The only real question for the Wildcats' offense entering 2021 comes in the passing game. However, indications are that K-State's receiving corps should be greatly improved due to better health and buy-in, along with the improvement of young players, such as Keenan Garber and Landry Weber, who were buried on the depth-chart last season. More help is coming with the addition of Nebraska transfer, Kade Warner, the son of NFL Hall of Famer, Kurt Warner, and Tyrone Howell, who transfers in from the JUCO national champs, Hutchinson Community College. Malik Knowles, who has long been considered to have the tools to become one of the better receivers in the Big 12, appears to be on track to build off his effort against Texas to close last season in which he had six receptions for 95 yards and two touchdowns. Speed demon Phillip Brooks also returns along with Chabastain Taylor, and both have high upsides. Taylor, however, has been hampered all off season by an ACL tear suffered during the 2020 season finale and has yet to see the practice field this year.
The addition of tight-end Daniel Imatorbhebhe through the transfer portal via USC and Illinois should help the passing game too, as should the return of fullback Jax Dineen, who flashed not only pass-catching ability against Oklahoma State last season, but the ability to rumble for yards after catch.
Deuce Vaughn's ability as a pass catching running back and as an elusive and explosive rusher are well known. Behind him K-State has a pair of dynamic backs that appear poised to make a lot of noise this season in Joe Ervin and Jacardia Wright. You may not know these names now, but odds are you will before the 2021 season is over.  
The offensive line is 10-deep and appears to be a strength for the team. Last season, K-State was replacing all five starters along the offensive line, but the process of replacing those starters last season should pay dividends this season.
The quarterback position is in good hands with the return of super-senior Skylar Thompson, who has received a smattering of NFL draft buzz this offseason. Thompson is an elite passer in play-action packages with the ability to make plays with his legs, but his drop-back passing and his ability to read coverages leaves something to be desired. Nonetheless, he's a tough and wily veteran, and veteran quarterbacks tend to do well in the Big 12.
In sum, the offense is the strength of this team and should be in the top half of the league.
Kansas State Defense
The defensive secondary, which was abysmal in the latter half of the 2020 season, also looks to be improved due to improved health and an influx of talent via the transfer portal. The corner position looks especially solid with Ekow Boye-Doe, Justin Gardner, Tee Denson, and Iowa transfer Julius Brents. Brents has been raved about all offseason and most believe he will be an NFL draft pick come 2022.
The D-line has to replace stars Drew Wiley and Wyatt Hubert but appears to be solid and deep with Bronson Massie, Eli Huggins, Felix Anudike, Jaylen Pickle, and Charlette transfer, Timmy Horne, a 6-5, 326-pound Coke machine that turned heads this spring. K-State is rumored to be moving to a three-man defensive front. However, practice observations have yet to really bear this out, and the linebacking corps as well as the options at nickelback don't appear to be strong enough to warrant the move.
Time will tell if the Cats do employ more of three-man front this season, and they very well may; however, this look might exaggerate the defense's weakness.
The Achilles heel of K-State's defense will likely be the linebacking corps, where little was done to strengthen the unit. Daniel Green, a former Rivals 4-star recruit, and Cody Fletcher should get the majority of snaps at linebacker this season, but unless they take a big step forward the line-backing will be a work in progress all season long.
In sum, the defense has a number of question marks but there may be enough answers to get K-State to six wins or more.  
Schedule
Chronological likely wins: Southern Illinois, at Kansas
Southern Illinois is coming off its best season in recent memory with a win the FCS playoffs. This is a good FCS team and should present some problems for K-State; however, I have little doubt that KSU will notch the win. I believe Kansas will be better in year one under Lance Leipold; however, the Jayhawks will still be a mess and are not likely to beat their in-state rivals.
Chronological potential wins: Stanford, Nevada, at Oklahoma State, at Texas Tech, TCU, West Virginia, Baylor, at Texas
We'll know very quickly what K-State is capable of as the Cats' first six games include Stanford, Nevada, at Oklahoma State, Oklahoma, and Iowa State. The game against Stanford in Arlington to kick off the season is very winnable, and I expect K-State's maturity on offense to be the difference. Nevada is a very a dangerous team with a probable future NFL draft pick in quarterback Carson Strong. Nevada might be K-State's toughest non-conference opponent, and that's not a knock on Stanford – it's just to say that Nevada is probably a lot better than most readers realize.
K-State has been snake-bit in Stillwater, but games between the Cats and Cowboys are almost always close, and it is yet to be seen how well OSU adapts to the losses of Chuba Hubbard and Tylan Wallace. Getting West Virginia and TCU in Manhattan is a big break for K-State, and I can see that Cats splitting these two games. Baylor and at Texas Tech will not be easy games by any means, but K-State certainly has the ability to win them both. The season finale at Texas is probably a loss, but a lot is going to happen between now and then, so I'm not ruling the possibility of a K-State win out yet.  
Chronological chances at home for a big upset: Oklahoma, Iowa State
We all know the story with Oklahoma and K-State, and the majority of us feel that there is no way K-State can topple the Sooners for a third straight season. However, this will be Oklahoma's first Big 12 road game of the season and Spencer Rattler's first Big 12 road game with a capacity crowd. Add in the fact that K-State has no reason to doubt its ability to beat the Sooners and the target on Oklahoma's back as the Big 12 team to beat and as one of the two teams responsible for putting K-State's future in a power conference in jeopardy, and the opportunity for Thompson and K-State to upset the Sooners yet again may present itself.   
Iowa State has not won in Manhattan since 2004, and K-State has won 11 of the last 13 contests between the two. While Iowa State absolutely demolished K-State in Ames last season, games in this series are typically close and decided in the fourth quarter. I suspect Iowa State wins this one, but I don't think it will be a blowout, and if everything goes K-State's way, the Cats could extend the Cyclones' losing streak in Manhattan.
Conclusion
Of all the Big 12 teams that failed to qualify for a bowl game last season, K-State likely has the best opportunity to return to the post-season this year. Despite facing a brutal schedule through its first six games, this should be a team that surprises a few people this season, and K-State might make more noise than simply qualifying for a bowl game. If the line on K-State wins is 5.5, I'm taking the over without hesitation.