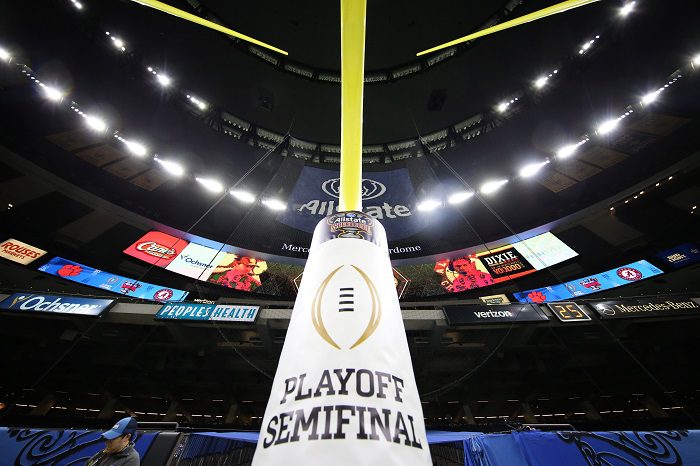 While we are past Big 12 media days, we still have some time left before the actual season kicks off. That time will be spent breaking down title contenders, which coaches are on the heat seat and of course, which teams will be going bowling this season.
We may not have those answers as of now, but CBS Sports threw out their bowl projections for the 2021 season. Despite the Big 12 having just ten teams, CBS projects that seven of the ten Big 12 teams will go bowling this season.
I will list out all their Big 12 bowl projections and give my probability rating of each game. My ratings will be either Very High, High, Good, Low and Very Low. 
CFB Playoff Capitol One Orange Bowl (December 31st in Miami, Florida)
Oklahoma vs Alabama
Probability: Very High
This year's Oklahoma team has a chance to do something special. This will be the best team they have had in over ten years and as they look to capture their seventh straight Big 12 title, they still are looking for their first playoff win. However, that's not all this team is hoping for. This group wants to bring home the national championship and I will say that could very well end up happening this season as other big-name programs will be replacing their quarterbacks in 2021. The Sooners belong in the top four when the season ends.
Allstate Sugar Bowl (January 1st in New Orleans, Louisiana)
Iowa State vs Georgia
Probability: Very High
If there is any team in the Big 12 to give Oklahoma a run for their money, it's Iowa State. The return an excellent defense and bring back a ton of star power on offense between Brock Purdy, Breece Hall, Charlie Kolar and Xavier Hutchinson. Plus, they will probably have their best offensive line of the Matt Campbell era this season as well. They are a shoe in to finish second and in the top ten this season however I would not be completely shocked if the Cyclones ended up hoisting the Big 12 trophy this season either. For now, I still think this is where they end up.  
Valero Alamo Bowl (December 29th in San Antonio, Texas)
Texas vs USC
Probability: Good
I personally don't think Texas deserves to be in the Alamo Bowl slot right now as I have four Big 12 teams finishing ahead of them this season. And before Texas fans start sharpening the pitchforks at me, the questions I have are on the offensive side of the football from offensive line to receiver and most importantly quarterback. I am not saying Texas is not capable of putting together a good season, but I need to see it to believe it. With that said, even if Texas finishes fourth or fifth in the Big 12 this season, the Alamo Bowl LOVES the Longhorns as they have played there the last two bowl seasons. I mean, it's a good draw for the Alamo Bowl since Austin isn't too far from San Antonio.
Mercari Texas Bowl (January 4th in Houston, Texas)
Oklahoma State vs Mississippi State
Probability: High
If the Cowboys finish in the top four this season in the Big 12 then they should be one of the shoe ins for this particular bowl game. I went to their last trip to the Texas Bowl in 2019 and for their sake, I hope it goes better than that game did against Texas A&M. I could see other teams such as Texas or TCU potentially go here but since the Alamo Bowl gets to pick ahead of the Texas Bowl, I think either Oklahoma State or TCU would be the fit here. But hey, I would not mind watching Mike Gundy and Mike Leach coach against one another like they did when Leach was at Texas Tech.
Cheez-It Bowl (December 29th in Orlando, Florida)
UNC vs West Virginia
Probability: Low
If Oklahoma and Iowa State use up the NY6 spots for the conference and if the Alamo Bowl spot is already taken, the Cheez-It Bowl is next in line for their bowl pick. It's hard for me to see West Virginia as a top four or five team in the Big 12 this year and for that reason, I don't believe they will be the team going to enjoy the delicious Cheez-Its in Orlando. If the Mountaineers go bowling (which I think they will) then I would see them in a different bowl game such as the Guaranteed Rate Bowl or the Liberty Bowl.  
AutoZone Liberty Bowl (December 28th in Memphis, Tennessee)
Kansas State vs Minnesota
Probability: Good
If Kansas State makes a bowl game this season, this would be one of two bowl options I think they would get. It would be either the Liberty Bowl or the Guaranteed Rate Bowl in my opinion. I don't see the Wildcats as a threat to win a Big 12 title, but they should be one of those 7-5 type of teams this season, so I don't think the Liberty Bowl is out of the question at all for them.
Guaranteed Rate Bowl (December 28th in Phoenix, Arizona)
TCU vs Tennessee
Probability: Very Low
For those who have listened to me at all this summer know that I am high on TCU this year. I understand some people have bene overhyping them for the last three years, but I was never in that group. However, I do think this is the year where it all comes together for Max Duggan and that offense and when you combine that with a good defense, they could surprise some people this season. I think this bowl projection is a slap in the face to TCU and they should easily be in consideration for the Alamo Bowl or the Cheez-It Bowl. I don't see TCU being a fringe bowl team and this is a bowl game for those types of teams.